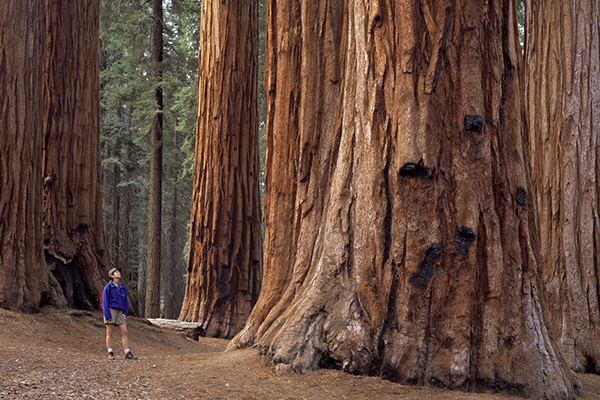 These national parks in Southern and Central California are within a day's drive of San Diego.

Celebrate the 100th anniversary of the National Park Service with a visit to one (or more) of these scenic destinations. Seven of America's natural treasures are located within 400 miles of San Diego, allowing local families awe-inspiring opportunities to experience everything from crashing coastal waves and majestic green forests, to stark sizzling deserts.

Always stop into a park's visitor center upon arrival to request information on current conditions, road closures and safety alerts. Also ask about Junior Ranger Programs for a fun way to engage the kids.


Death Valley
A setting of extremes, Death Valley is one of the hottest, driest and lowest places on earth. Nonetheless, it manages to offer a comfortable visit – particularly in early spring or late fall. Don't let the park's name fool you; more than 1,000 plant species and dozens of types of mammals and reptiles thrive within its 3,000 square miles near the California-Nevada border.

Visit salt-flats, sand dunes, badlands, valleys, canyons, mountains and mining ruins. Impressive wildflowers bloom from late February to early June, depending on elevation. Be sure to stop at Badwater Basin (282 feet below sea level, and with less than two inches annual rainfall), Furnace Creek (a natural oasis), and the Ubehebe Crater (resembles the surface of Mars). Snow-covered Telescope Peak towers over 11,000 feet.

Visitation is fairly steady all year; although cooler months are more pleasant, many come in summer to experience the infamous heat. A variety of lodging and camping options are available within the park.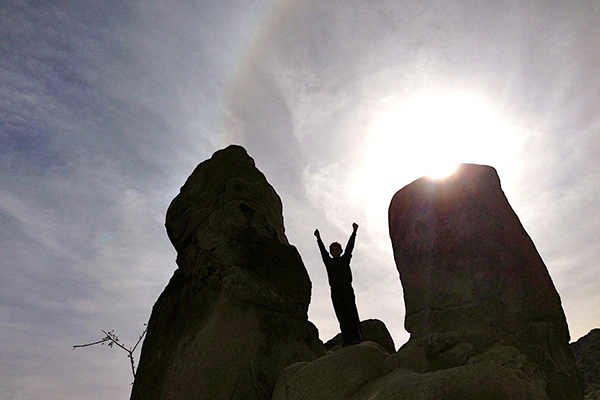 Photo by Lisa Pawlak
Joshua Tree
Few places on earth offer such a wondrous and seemingly out-of-this-world experience as Joshua Tree. Located a mere 175 miles away, the park has enormous rock formations, unusual Joshua trees, rugged mountains, sand dunes and green oases.

Throughout the year, family-friendly outdoor activities include camping, hiking, stargazing, wildflower and wildlife viewing, rock climbing and bouldering.

Get tips for traveling with the family to Joshua Tree National Park in our article.

Pinnacles
Our newest National Park offers a peaceful, scenic landscape that rests in stark contrast to the volcanic eruptions that formed these geologic wonders millions of years ago. Notably, Pinnacles operates as a rare release site for captive-bred California condors.

The park, filled with chaparral, oak woodlands and canyons, also holds unusual talus caves and towering rock spires, along with over 32 miles of trails. Hikers and climbers love the park's many adventures, including explorations of Bear Gulch and Balconies caves; enjoy stargazing, wildflowers in the spring, and fall foliage later in the year. Abundant wildlife includes raptors, mountain lions, foxes, bobcats, rabbits, deer, lizards and snakes.

Most popular during cooler months, the park has two entrances: East and West. Inner roads do not connect the two. Pinnacles Campground lies within the park and accepts reservations. There is no other lodging inside the park, but find a variety of options in nearby Soledad, Hollister or Salinas.
Channel Islands
Located off the coast between Santa Barbara and Los Angeles, these five islands are paradise for marine animal and bird lovers; view whales, dolphins, seals, sea lions, sharks and almost 400 avian species. Outdoor enthusiasts will also enjoy camping, kayaking, hiking, photography, boating, snorkeling and scuba diving. Don't miss the interactive exhibits and Junior Ranger Program at the Channel Islands Visitors Center, located in Ventura.

Sequoia and Kings Canyon
At these adjoining parks in the southern Sierra Nevadas are giant sequoia trees, black bears and mountain lions, one of the continent's deepest canyons, remote wilderness, huge granite walls, shady forests, peaceful meadows, roaring rivers and splendid waterfalls. The entire region is pure bliss for hikers, climbers and nature lovers.

Take a scenic drive along Generals Highway (check road conditions—it can close in winter), which runs between the two parks. Stop at Giant Forest for the one-mile paved Big Trees Trail or to climb Moro Rock's 400 steps to fantastic views. A tour of Crystal Cave requires advance ticket reservations. Grant Grove is home to some of the largest trees on the planet and Kings Canyon Scenic Byway (closed in winter) heads into the mile-deep, glacially carved canyon.

Weather varies significantly with the seasons and due to elevation changes. Winter conditions can limit accessibility, but also allow for fun snow activities. There are four park lodges (two open year-round) and 14 campgrounds. Backcountry hikes include parts of the Pacific Coast Trail and Mount Whitney, the highest peak in the lower 48 states.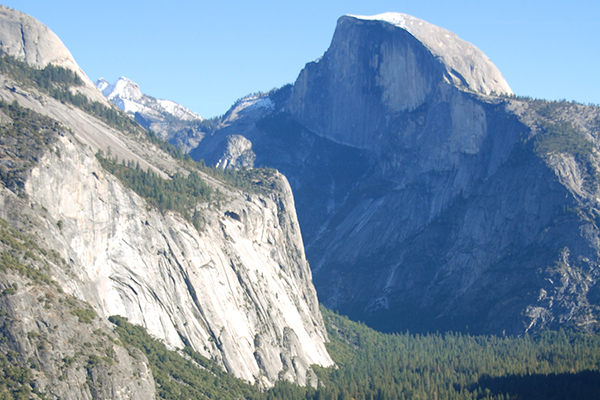 Photo by Kim Platt

Yosemite
Yosemite's majestic beauty is truly a site to behold: the astounding waterfalls, grandiose rock formations, flowering meadows, giant sequoias, panoramic viewpoints, mirror lakes, rushing rivers and remote wilderness areas. Both relaxation and adventure await millions of visitors each year.

Yosemite Valley (about 400 miles from San Diego) can be toured via park shuttles and offers a variety of hikes and activities, including many geologic marvels. Cook's Meadow trail is a serene one-mile walk that offers views of popular Glacier Point, Half Dome, Sentinel Rock and Yosemite Falls (the highest waterfall in North America). El Capitan, an enormous granite monolith, hosts world-class climbers. Lower Yosemite Falls and Bridalveil Fall can be reached via short trails. When you leave the valley, the Tunnel View Overlook is not to be missed.

Along with scenic drives and hundreds of hiking trails, there is ample opportunity for photography, biking, bird watching, camping, fishing, horseback riding, backpacking and winter sports. The park is open year-round and accommodations include everything from backcountry camping and campgrounds, to tent cabins and luxury hotels.

Park rangers recommend starting the day equipped with plenty of water, food and gas. Wear appropriate footwear and weather protection, use careful footing, and appreciate wildlife from a safe distance.
---

Lisa Pawlak is a contributing writer, Encinitas resident and mom of two boys.