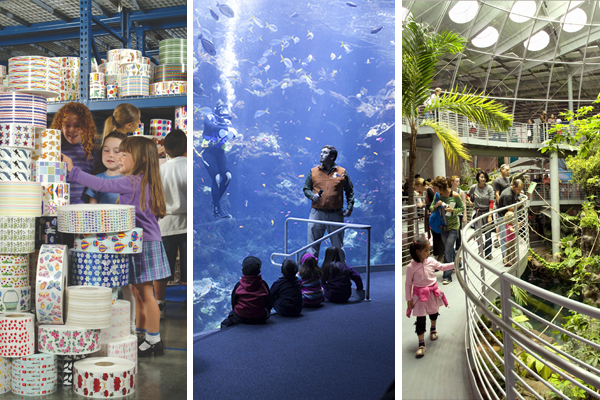 Planning a road trip to the San Francisco Bay Area? Here are five kid-friendly stops from Gilroy (south of San Francisco) to Fairfield (north of San Francisco). Each super fun spot will entertain, educate and inspire the whole family. So start planning your northern California road trip now!

Gilroy Gardens Family Theme Park
Gilroy, 408-840-7100
www.gilroygardens.org
Hidden in the beautiful trees of the Garlic Capital of the World (Gilroy) is a unique theme park that delivers family fun while inspiring an appreciation for horticulture and the importance of trees. Geared towards kids ages 2–10, the park features whimsical rides like the Strawberry Sundae, Artichoke Dip, Garlic Twirl and paddle boats designed like ducks and swans. The beautiful landscaping and majestic gardens create an unusual (but welcome) serene environment amidst the usual fun of a theme park. You have to experience it to believe it. If you visit during the warm summer months, Bonfante Falls, the Water Oasis and Splash Garden are sure to cool down the kids.
Gilroy Gardens is closed in January and February.
If you're driving to the Bay Area from San Diego, this could be your first stop as it is located about 80 miles south of San Francisco.


California Academy of Sciences
San Francisco, 415-379-8000
www.calacademy.org
Having grown up in the Bay Area, I was a bit embarrassed to admit I had never been to the California Academy of Sciences in San Francisco. My teens were begging me to go, so we did. Wow, what an awesome field trip full of discoveries! The biggest surprise: a huge underground aquarium with a touch-tank tidepool. We could have spent three hours in the aquarium alone, but there were so many other exhibits to explore. Even more impressive is the four-story rainforest featuring free-flying birds, butterflies and exotic reptiles. It is amazing. Other highlights include planetarium shows, the natural history museum, a living roof and the earthquake exhibit. Experience San Francisco's two biggest quakes with a visit to The Shake House.

Families with young scientists-in-training should visit the Early Explorers Cove, a learning play space with activities designed for children ages 5 and under.


Exploratorium
San Francisco, 415-528-4444
www.exploratorium.edu
Recently named by Fodor's Travel as one of the best children's museums in the United States, the Exploratorium is a thrill for all ages. "Don't come with a plan because you'll never stick to it," advises 12-year-old Maya. "There's something for everybody here, so we always start and finish in a different place."

Discover six main galleries featuring hundreds of hands-on science experiments, art activities and interactive exhibits that provide hours of thought-provoking fun. Engage your senses, investigate living things, explore the local environment and "think with your hands." You're guaranteed to learn something new.

After 44 years at the Palace of Fine Arts, the Exploratorium is now located at Pier 15, not far from the Ferry Building.


Mrs. Grossman's Sticker Factory
Petaluma, 800-429-4549
www.mrsgrossmans.com
(See UPDATE at end of paragraph.) Factory tours are a blast—and who doesn't love stickers? Get the best of both worlds at Mrs. Grossman's Sticker Factory—a family-friendly field trip that is sure to delight all ages. Behind-the-scenes tours of the working factory reveal fascinating sticker history and little-known facts as you stop at six different stations, where each visitor receives free stickers. The tour wraps up with a fun, hands-on sticker art project. A stop at the store is fun for kids and a trip down memory lane for parents. UPDATE, August 2019: Sadly, Mrs. Grossman's Sticker Factory no longer offers tours, but check their website for monthly pop-up shops and factory visits, open to the public.

The factory is located in Petaluma, a 40-mile drive north on Hwy 101 from San Francisco. Tours run Monday through Thursday and reservations are required, so be sure to call before visiting.


Jelly Belly Factory
Fairfield, 800-953-5592
www.jellybelly.com/california-factory-tours
About 60 miles northeast of San Francisco (and directly east of Petaluma), you'll find the Jelly Belly Factory in Fairfield. It's a fascinating and "sweet" experience to learn the process of making a Jelly Belly (and the irregular "Belly Flop"), which is detailed in a series of videos throughout the free working factory tour. Other highlights of a visit include tasting free samples, seeing Jelly Belly art, eating Jelly Belly-shaped food in the cafeteria and stopping at the Jelly Belly Candy Store and gift shop.

Tours are held daily (except certain holiday) and depart every 15 minutes, but be prepared to wait in line during peak times. Please note that during weekend tours, candy-making machines are not in operation.


--------------------
Lisa Gipson loves exploring and traveling with her family. She is the managing editor at San Diego Family Magazine.
Photo credits: Photos were provided by Mrs. Grossman's Sticker Factory, California Academy of Science and Chris Picon.