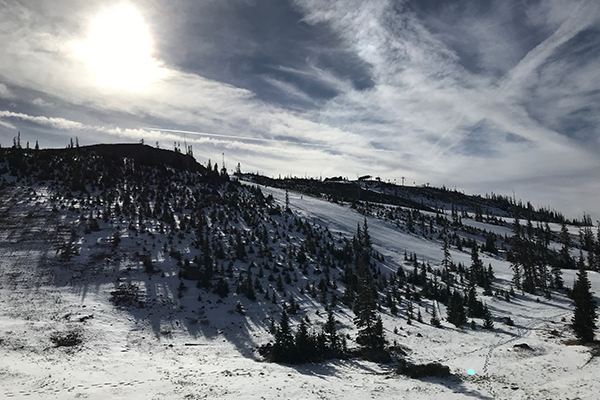 Ready to take your family on a winter getaway close to San Diego? Head to the mountains for a fun-filled winter vacation at Big Bear. Winter activities include skiing, snowboarding, snow tubing and sledding, ice-skating, bobsledding, snowshoeing, zip-lining and snow play — all within a few hours of San Diego! Read on to learn about this family-friendly winter destination.
Skiing and Snowboarding
Big Bear Mountain Resort includes sister ski areas Bear Mountain and Snow Summit, conveniently located right in town. You can even ski both in a single day, since a free base shuttle operates between the two resorts and lift passes are exchangeable. Don't worry about lack of winter storms because snow machines are busy pumping out the fluffy white stuff. Southern California resorts generally rely heavily on artificial snow to operate.
For beginners, Bear Mountain is a great place to start. It is home to the region's largest learning area, with the highest acreage of beginner terrain and a Skill Builder Park, which contains safer, smaller versions of the mountain's famous freestyle features that attract professional skiers and boarders. Recent renovations feature two new Magic Carpets – a simple conveyer-belt style ski lift (placed at snow level) to safely transport learners to the top of beginning ski runs.
Both ski areas have undergone significant renovations to base lodge facilities, streamlining the equipment rental process and introducing new, family-style locker rooms. Snow Summit offers night skiing, snow tubing, and the Adventure Academy – a one-stop-shop learning center for all kids' rentals, tickets and lessons.
About 20 minutes southwest of Big Bear Lake, Snow Valley Mountain Resort is open for skiing, snowboarding and snow play.

Photo credit-Geno Pawlak
Snow Tubing and Sledding
If you're looking for high-speed thrills that require less money, skill and gear than the big slopes, consider snow tubing or sledding. Note: evening sessions are generally less crowded.
Options include Big Bear Snow Play's daytime or evening sessions, which claim the longest runs and offer glow-tubing after dark, Alpine Slide's authentic bobsledding (daytime only) and snow tubing experiences, and Snow Summit's Grizzly Ridge Tube Park . All three are served by Magic Carpets, so you can save your energy for downhill fun. Nearby Snow Valley's snow play area offers a scenic chairlift to access downhill sledding.

Other Winter Activities
For some high-flying fun, try a winter zipline tour with Action Zipline Tours. Transportation via shuttle vans and off-road safari jeeps is provided to the 9-zipline course, which also includes an adrenaline-pumping suspension bridge crossing, all located deep within the forest. The friendly guides create a fun, safe experience that will leave your family thirsting for more adventures. Afterwards, you might even splurge on the photo package.
Off-road Jeep tours are offered year-round, weather dependent. You'll also find snowshoeing, cross-country skiing and ice skating. Kids love the Big Bear Alpine Zoo, which features over 60 Alpine animals, including grizzly and black bears, mountain lions, snow leopards, eagles, owls and foxes.
The Big Bear Discovery Center offers a wealth of free and low-cost family activities throughout the year, such as nature walks and crafts, snowshoe eco-tours, bald eagle counts and celebrations, and Winter Trails Day – a good opportunity to try snowshoeing and other winter sports.
During inclement weather, head over for some indoor fun at The Bowling Barn, which has gutter bumpers for kids and arcade games.
General Information + Where to Eat
Big Bear Lake is tucked away in the San Bernadino mountains at an elevation of 6,750 ft., with the surrounding ski slopes rising to 8,805 ft., so be sure to take altitude sickness prevention measures such as drinking plenty of water. For the drive, which is about three hours, you may need to rent or bring tire chains. Check road conditions here.
The area's accommodations range from high-end resorts and vacation condos, to rustic private cabins and budget motels. Many families find it helpful to reserve a place with a kitchen; groceries are readily available.
There are also excellent restaurants -- don't miss Grizzly Manor Café for breakfast, where the pancakes are bigger than the plates. Two adults can easily share a breakfast entree. If there's an outdoor wait, ask for a cup of coffee to keep you warm. For dinner, head over to Big Bear Village, which is a festive area of restaurants and shops. There, Saucy Mama's Pizzeria is a favorite – but if it's too busy, try Fire Rock Burgers & Brews just around the corner. Just be sure to save room for their dessert options, which include ooey-gooey, fresh skillet-baked chocolate chip cookies a la mode, and a variety of ice cream floats.
Fun village shopping sites include The Toy Galley, North Pole Fudge and Ice Cream Co., and Bear Essentials gift shop. You'll also find horse-drawn carriage rides and the Big Bear Visitors Center. To entertain the whole family during this excursion, play smart-phone based local scavenger hunts, or try a geo-caching adventure.
More information on where to stay, places to eat, and things to do in Big Bear can be found at www.bigbear.com.
Lisa Pawlak is a contributing writer, Encinitas resident and outdoor enthusiast. Photo credit-Lisa Pawlak.