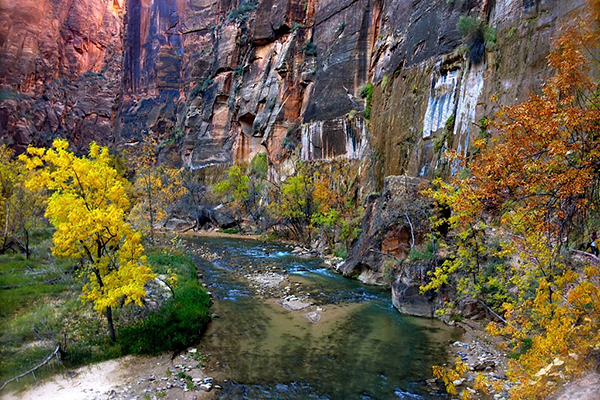 Photo by Lisa Pawlak
Breathtaking, colorful Zion National Park embraces towering cliffs, glimmering waterfalls, emerald-green pools, blue skies, red sandstone river canyons and massive multihued rock formations. It offers the perfect extended weekend get-away, with activities for everyone in the family—memorable scenic drives, panoramic views, relaxing picnic spots, wildlife viewing, nature walks, strenuous hikes and extreme adventures. Located in southwest Utah, about a 7-8 hour drive from San Diego, Zion is gorgeous to visit during all seasons. Experience spring blooms, starry summer skies, fall foliage or winter snow dustings that will welcome your family into this natural wonder.

Where to Stay

The comfortable Zion Lodge is the only lodging (and dining) option within the park's boundaries, though the nearby town of Springdale has a range of motels, hotels and eateries.
Campers will enjoy the park's two campgrounds located near the south entrance. Both offer flush toilets, fire pits and water—and they fill up quickly. Watchman accepts reservations during high season (mid-March through October), South is first come, first serve. A third campground with primitive sites, Lava Point, is located an hour outside Zion Canyon. Permitted backcountry camping within the park's boundaries is an option. Privately owned campgrounds are available outside the park.

Getting Around the Park

Zion is divided into two sections: Zion Canyon and Kolob Canyons. Internal roads do not connect the two, so you have to exit the park to move between them.
Most first-time visitors spend their time in Zion Canyon, which is often considered the heart of the park. Along Zion Canyon Scenic Drive, travelers can stop at any number of recreational sites that include everything from restful areas to exciting explorations.
During high season, no private vehicles are allowed in the park; however, an eco-friendly, free shuttle system is provided. Those who get an early start can catch a shuttle directly from the Zion Canyon Visitor Center, otherwise, visitors will need to leave their cars in Springdale and ride a shuttle from there.
Most visitors self-tour and hop on and off the general shuttles, but a narrated two-hour Ride with a Ranger shuttle is also available. These run every 15 minutes, so long waits are rare.
The Kolob Canyons area is located in the northwest portion of the park. Due to its isolated location, it has fewer visitors and is better suited to those wanting to get off the beaten path. One backcountry destination, the Kolob Arch, is one of the world's largest and most impressive freestanding arches. Kolob Canyon Road offers a gorgeous 5-mile drive into the wilderness.

Nature Walks and Hikes
Many of Zion's treasures are best seen on foot. A variety of family-friendly hikes are available and easily accessible in Zion Canyon from nearby shuttle stops.
Emerald Pools Trails, located just across from Zion Lodge, has several path options to visit three separate green pools. The lower pool trail (1.2 miles, round-trip) is paved, shaded and stroller-friendly, though the hiking becomes more challenging if you continue towards the middle and upper pools.
Weeping Rock is another good stop. A short nature trail (half-mile, round-trip) brings you up behind an overhanging rock, where you can view water seeping out from the rock. Additionally, more strenuous trails start from this area, if time and energy allow.
The Riverside Walk, starting from the Temple of Sinawava at the end of the shuttle route, is an easy, paved, 2-mile stroll—and the park's most popular trail. At the end of the path, can get a glimpse of (or possibly continue into) The Narrows, Zion's most famous slot canyon.
Those interested in entering The Narrows need appropriate footwear and waterproof gear because it requires walking in the Virgin River. Flash floods, cold water and strong currents are all real dangers, so be sure to check the weather forecast and with a park ranger before venturing out. Monsoon season is mid-July through September. This hike is not recommended for young children.
Another well-known Zion trail is Angels Landing, known mostly because of the precarious, final half-mile. This portion is not for young kids or anyone who fears heights; it requires the use of safety chains along a narrow ridge, with huge drop-offs. However, if the family can make it as far as Scout Lookout (located before the final half-mile, but after the trail passes through Walter's Wiggles' 21 switchbacks!) the views are well worth the effort.

Other Activities
Beyond day hiking, Zion offers opportunities for backcountry excursions, canyoneering, climbing, river trips, bicycling, horseback riding and more. Permits are required for many of these activities.
Zion also offers marvelous birding and wildlife viewing; it is home to California condors, bighorn sheep, tarantulas, falcons, mule deer (look for them near Zion Lodge) and the endemic Zion snail.
Take some time to simply relax and picnic at the Grotto area or visit Canyon Overlook for a fantastic panorama of lower Zion Canyon. Throughout your visit, look up to see unique hanging gardens high on the cliff walls. At night, if weather allows, stargaze into Zion's dark skies.
The Zion Nature Center offers a range of exhibits, activities and programs for families. Kids ages 4 and up can complete an activity book to earn their Zion Junior Ranger badge.
The stunning beauty of Zion's ancient geologic ripples combined with a wealth of family-friendly recreational activities make for a memorable visit. Don't forget your camera!

More information
Zion National Park
435-772-3256

Zion National Park Lodge
435-772-7700


---


Lisa Pawlak is a contributing writer, Encinitas mom of two boys and a hiking enthusiast.