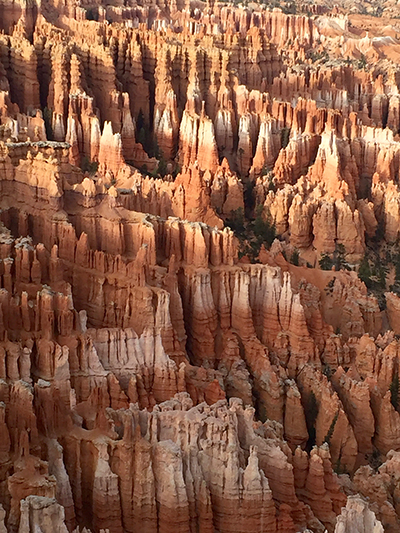 Breathtaking Bryce Canyon National Park offers one of the planet's most surreal landscapes. Within the park's 56 square miles, the geological forces of weather and erosion have carved intense sandstone shapes into multi-hewed rock, forming the world's largest collection of colorful "hoodoos", Bryce Canyon's characteristic stone pillars.

Along with hoodoos, the park encompasses a series of natural, scenic amphitheaters that offer a variety of fun, family-friendly activities. These include fantastic sunsets and sunrises, phenomenal hiking, winter wonderland vistas, snowy action sports, and camping under some of the darkest, starriest skies in the country.

When to Go/Travel Tips
Bryce Canyon is located in southwest Utah, approximately 590 miles from San Diego. Expect congested traffic during peak season (summer). Free shuttles operate mid-May through September, stopping at all major overlooks in the north section of the park. Take note: Thunderstorms are common in summer.

If you visit October through March, you will find peace and solitude. A winter coating of snow in the park means even more beauty to behold, great cross-country skiing and snowshoeing. But these conditions also bring road closures and limited facilities. Whenever you visit, there can be drastic temperature changes throughout the day, so dress in layers.

The park reaches heights of over 9,000 ft., so beware of altitude-related discomforts, especially if you are coming directly from sea level. Drink extra water, get plenty of rest and allow time for outdoor exploration; you might find yourself huffing and puffing even on short excursions—and certainly when hiking up switchbacks out of the canyon!

Where to Stay
Within the park, Bryce Canyon Lodge, a National Historic Landmark, offers log cabins and motel room suites, restaurants (reservations recommended), a gift shop and a general store that sells food and supplies. Learn more at www.brycecanyonforever.com.

The park's two campgrounds fill up quickly during peak season, so reserve in advance. North campground is open throughout the year; Sunset campground is closed in winter. Backcountry camping at primitive sites is available on the Under-the Rim Trail or Rigg's Spring Loop. Permits are required along these routes and no campfires are allowed.

Just outside the park's entrance, Bryce Canyon City offers a handful of services. The historic Best Western Ruby's Inn complex has just about everything: lodging, campgrounds, an RV park, restaurants, service station, gift shop and more. Alternatively, the Best Western Grand is more modern, with comfortable rooms. The charming town of Panguitch (24 miles away) has a variety of budget accommodations and dining options.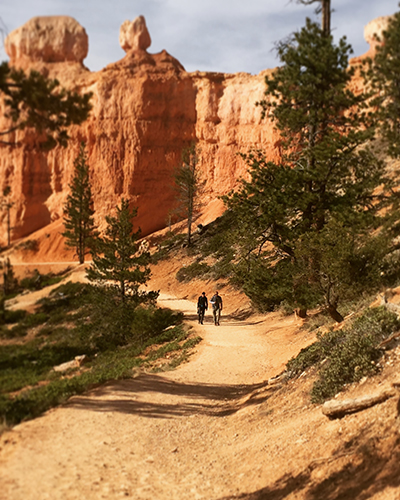 What to Do
Stop at the Visitor Center, near the entrance, for an informational movie and to check for any park alerts. Bryce Canyon's main road, an 18-mile scenic drive, takes you past more than a dozen overlooks. If time allows, drive all the way out to Rainbow Point, stopping at as many sites as you can. Don't miss Fairyland Point, Natural Bridge and the wonders of Bryce Amphitheater, considered the heart of Bryce Canyon.

Bryce Amphitheater, near the park's entrance, is also the location of Thor's Hammer, the park's most recognizable solitary hoodoo. It is home to the park's most popular attractions, including Sunrise, Sunset and Inspiration and Bryce Points. These viewpoints are shuttle stops during peak season, and short walks from adjacent parking areas.

During your visit to this diverse habitat, keep your eyes open for mule deer, chipmunks, elk, jackrabbits, desert cottontails, eagles, peregrine falcons and the endangered Utah prairie dog.

Exploring Below the Rim
There are eight day-hike trails; many are interconnected and can be combined to form loops into, around, and out of the canyon. If you enter the canyon at one point and come out elsewhere, peak-season shuttles can return you to your point of origin, or you can walk back on the gentle Rim Trail. Most importantly, remember as you are heading down that you need to get yourself back up! Expect that the altitude will make this challenging.

Get an early start to avoid crowded trails. Bring plenty of water; refill stations are available throughout the park. Wear appropriate footwear since most trails have uneven, sandy surfaces. Bathrooms are located at most trailheads, but not below the rim.

For an easy stroll, the Rim Trail (1.0-11.0 mi.) offers awe-inspiring panoramic views. Or, at the end of the main road, Bristlecone Loop (1 mi.) takes you through spruce-fir forest and bristlecone pines, alongside some of the highest views in the park.

Queen's Garden Trail (1.8 mi.) is the least difficult descent into Bryce Amphitheater; the Queens/Navajo Combination Loop (2.9 mi) is somewhat more challenging (rated moderate) but allows you to see more sites, including Two Bridges, Thor's Hammer and Wall Street. For something more difficult (and with fewer crowds), try the picturesque Fairyland Loop Trail (8 mi.) or Peekaboo Loop (5.5 mi), which takes you by the Wall of Windows.

If you are not a hiker, but would like to explore below the rim, you can also descend via horse or mule. Tours are available spring through October (ages 7+).

Other Activities
Ranger programs include guided hikes, campfire programs, geology talks, night sky programs and the Junior Ranger Program (pick up a booklet at the Visitor Center). Look for "Hike the Hoodoos!" signs on the trails—kids can receive a small reward by taking photos next to several of these signs.

Be sure to stay late and look up. Bryce Canyon is one of a handful of certified International Dark Sky sites in the United States. The resulting stargazing is, literally, out-of-this world!

Learn more about Bryce Canyon National Park at www.nps.gov/brca.
---

Lisa Pawlak is a contributing writer who lives in Encinitas with her husband and two sons.