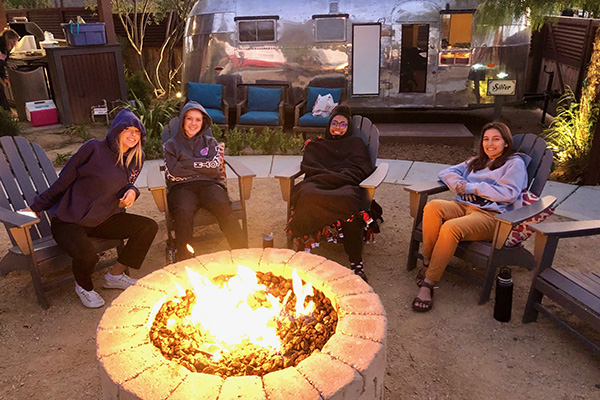 So, what is glamping? Glamping is like camping—but not. Combining the words glamorous and camping, glamping includes amenities and comforts of home (beds, electricity, indoor plumbing). None of this sleeping-on-the-ground stuff. Not that sleeping on the ground is bad; everyone should do it at least once!
Just north of Santa Barbara, in the heart of the Santa Ynez Valley, is the small town of Buellton, California. Perhaps you know Buellton as the "home of the split pea" as it's impossible to travel Highway 101 without seeing billboards announcing Pea Soup Andersen's. What you may not know is there's a mecca of awesomeness for outdoor play enthusiasts hidden behind the trees: Flying Flags RV Resort & Campground.


Inside view of an airstream trailer; outside view of a surf cabin.

FLYING FLAGS RV RESORT
Well worth the five-hour drive from San Diego, Flying Flags offers a variety of unique, fun glamping options: luxurious safari tents, renovated vintage airstream trailers, and adorable furnished cottages and cabins. Plus, everyone receives freshly baked cookies at check-in (as if we needed more convincing). The surf-themed cabins have kid-sized bunk beds, in addition to a full-sized futon and queen bed. There are even teardrop trailers in an area affectionately dubbed "Canned Ham Village," perfect for parent/child bonding as they only sleep two.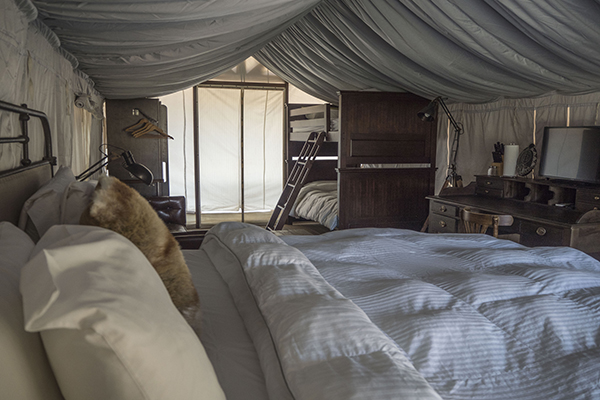 Inside view of a safari tent.
For the ultimate glamping experience, we stayed in Safari Village, which consists of nine safari tents and six shared bathrooms (each with a private sink, toilet and shower). Safari tents feature very comfortable beds, air conditioners (heaters, if needed), a couch, TV, microwave, refrigerator, outdoor kitchen, covered patio table, and all dishes and kitchenware needed for cooking! Glamping in safari tents is amazing—a tenting experience I can get into.
During the day at Flying Flags, kids ride bikes and scooters (brought from home) through the pet-friendly, beautifully maintained property, swim in one of two resort-style swimming pools, challenge friends to bocce ball and horseshoes, and play on the playground. At night, families sit under the stars and roast marshmallows over a fire pit (many sites have their own).
If you don't feel like cooking, grab a meal at the onsite Campfire Café or have a gourmet sausage from the Santa Ynez Sausage Co. airstream trailer—a cute venue to grab a delicious lunch and enjoy at surrounding picnic tables. Don't miss the Flying Flags barbecue every Friday night (first come, first served), featuring tri-tip, ribs, chicken, a variety of rotating side dishes and dessert. Eat around the campfire or take dinner back to your cabin, safari tent or RV.
There's no real need to leave the Flying Flags property, but there are fun things to do in the area that families love!

THINGS TO DO in BUELLTON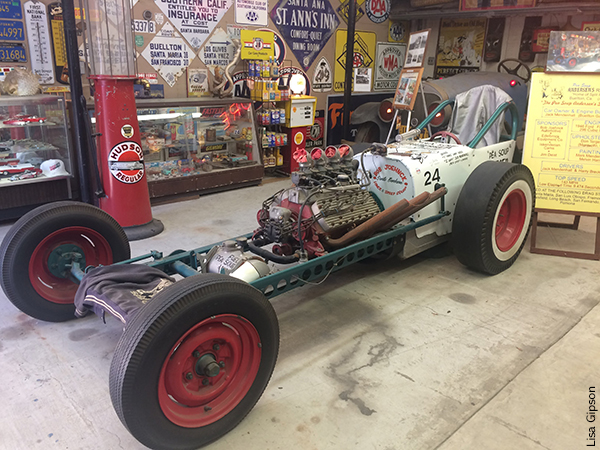 Mendenhall Museum

I wasn't an automobile memorabilia enthusiast until I became an "American Pickers" junkie a few years ago. The thought of checking out antique gasoline pumps and porcelain road signs just like Mike and Frank on TV was exciting to my whole family. The Mendenhall Museum is literally a hidden gem—located behind an unassuming alley fence. As soon as you walk through the gate, the fascinating display—one of the largest petroliana collections on the West Coast—is a colorful feast for the eyes! Every inch is covered with cool antiques, vehicles, gas station and car memorabilia, and more. Started over 50 years ago by the late Jack Mendenhall, the collection is now maintained by his son and daughter-in-law, Mark and Vickie Mendenhall, who live on the property. Even if you're just passing through the Central Coast on Highway 101, it's worth a stop. Reservations required—no group is too small.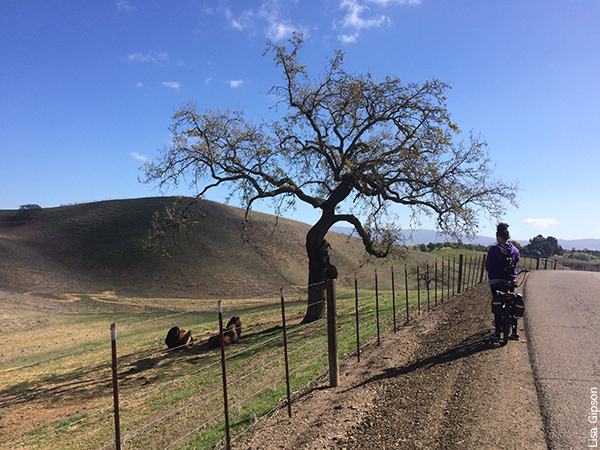 Tour Santa Ynez Valley by Bike
Don't even think about going to Buellton without exploring the backroads of the Santa Ynez Valley (even if you drive). Absolutely gorgeous! The best way to do tour the area is via electric bike. Not only are electric bikes super fun, but they make navigating hills more manageable. Pedal when you want, use electricity when necessary—it's the best of both worlds while enjoying fresh air and stunning landscapes. As our family cruised around, we happened upon a family of bison—definitely a highlight of our trip.
Pedego Electric Bikes is located in Los Olivos (about 10-15 mins. from Buellton). The electric bikes go up to 20 mph; therefore, you must be at least 16 years old to ride them. Helmets are provided.
Wheel Fun Rentals is a good option for families who have young kids—or who prefer to rent traditional bikes, tandem bikes or surreys.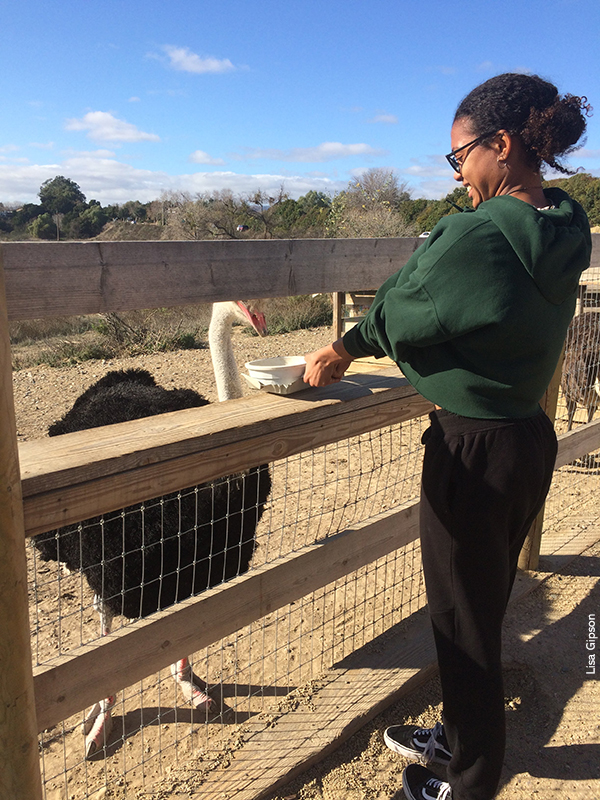 OstrichLand USA 

Have you ever fed an ostrich or emu? OstrichLand USA offers a unique experience that kids and adults will never forget. It's a great stop for families and provides fun photo ops. Located just minutes from Flying Flags RV Resort.
Visit Solvang

Find Danish bakeries, boutique shops and Old Mission Santa Inés in the charming town of Solvang (10 mins. east of Buellton). Be sure to taste aebleskivers while you're there—delicious balls of pancake goodness traditionally eaten with raspberry jam and powdered sugar. Yum!
Quicksilver Miniature Horse Ranch

Quicksilver Miniature Horse Ranch in Solvang (typically open Monday-Saturday from 10am-3pm) is a fun, free stop. Who wouldn't want to visit adorable miniature horses? Get up-to-date information on their Facebook page.

WHERE TO EAT in BUELLTON

Pea Soup Andersen's 

376 Avenue of the Flags

Feeling nostalgic? Stop at Pea Soup Andersen's for lunch (even if you don't like peas)—there are burgers, sandwiches and more on the menu. Don't miss the highlights of Buellton's history upstairs.
Ellen's Danish Pancake House
272 Avenue of the Flags
A local favorite for breakfast especially, you can't go wrong with Ellen's. Plus, breakfast is served all day. Woot!
Industrial Eats
181 Industrial Way
Very popular with locals, Industrial Eats offers artisan meats, wood-fired pizzas and unique eats. Order at the counter and be prepared to share a table, as seating is limited. There may be a big wait during the busiest times, but it doesn't deter locals from having a drink and socializing with "new friends" in the interim.
Bottlest Winery Bar & Bistro
Unfortunately, this restaurant is now permanently closed. Got a couple hours without kids? Bottlest Winery is a nice place to stop for wine and appetizers. Experience the "wine wall" where 52 wines are "on tap" for tastings, half or full glasses. Bottlest also offers online participants (ages 21+) the chance to be a winemaker. Craft a custom wine based on personal preferences and design a label.


Learn more about visiting Buellton at www.discoverbuellton.com/trip-planner.html.
....
Lisa Gipson is the managing editor of San Diego Family Magazine. After years of tent camping, she's ready to trade in her sleeping bag for a comfy bed. Glamping is the way to go! Photos courtesy of Lisa Gipson or Buellton Visitors Bureau.

....