Experiencing both the Skunk Train and world-famous Rail Bikes in Mendocino County inspired me to explore what other fun railways exist in California. Thanks to tips from train-fanatic friends, I found out there are tons! If your family loves trains—and even if they don't—this list offers vacation and daytrip inspiration that will captivate most.
Ready to plan a unique family getaway? Look no further than the fascinating and historically rich train experiences throughout the state of California. How fun would it be to plan a themed family vacation dedicated to train exploration? No matter where you're headed in California, there's probably a train ride nearby.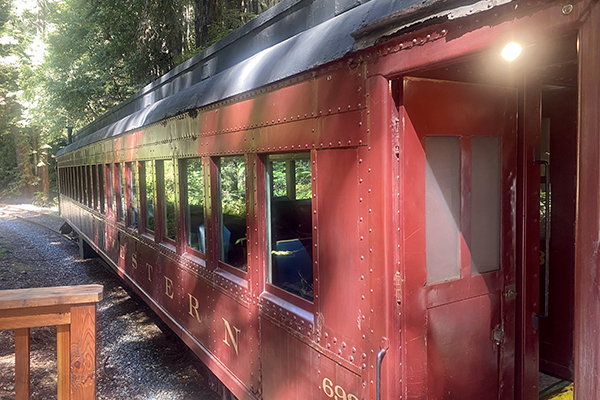 World-Famous Skunk Train, Fort Bragg
Take the Pudding Creek Express on a seven-mile scenic round trip along Pudding Creek Estuary and through ancient redwood trees. The 75-minute experience includes a short stop at Glen Blair Junction, where passengers can explore the trails. Or, take a longer trip on the Wolf Tree Turn route, which departs from Willits (about an hour east of Fort Bragg).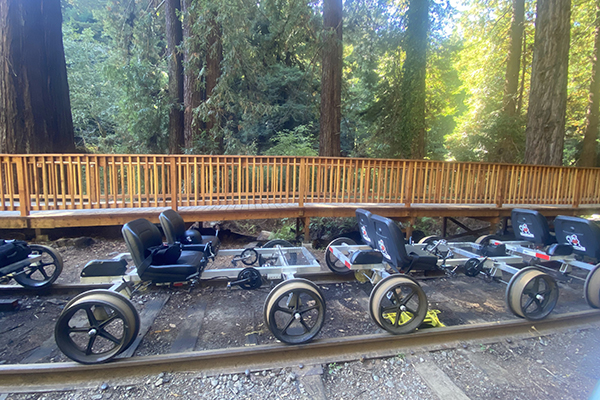 Railbike Excursions, Fort Bragg
Ride the rails on an open-air railbike and experience the train tracks in a whole new way—immersed in nature. The two-person electric bikes are so much fun! Feel the breeze and breathe fresh air as you pedal along Pudding Creek. For ages 6+ (with parent). Also available is Railbikes by Moonlight, an evening expedition that starts 90 minutes before sunset. A more challenging 25-mile excursion is also offered along the Noyo River.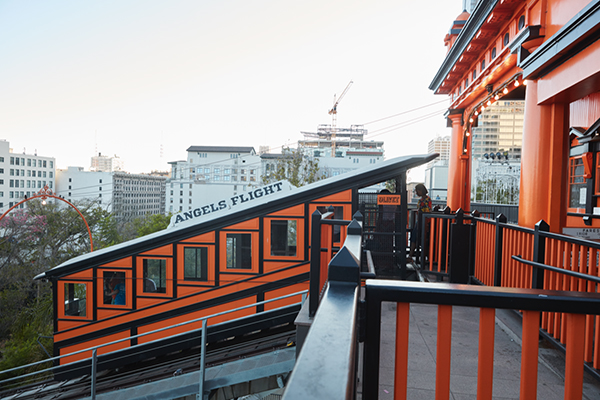 Angels Flight Railway, Los Angeles
If you've seen the movie "La La Land," you've gotten a glimpse of Angels Flight, a funicular that takes passengers on a very short ride up Bunker Hill. Fare is only $1 each way. Consider purchasing a souvenir round-trip ticket for this historic railway car, which originally opened in 1901.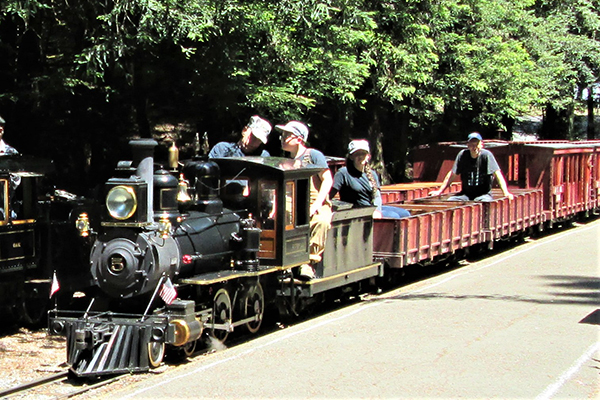 Redwood Valley Railway, Orinda (Berkeley)
Families love riding this miniature steam train that is commonly known as Tilden Steam Train because of its location in Tilden Regional Park. Enjoy a 12-minute ride through the redwoods covered hills of Berkeley. Open daily in the summer; weekends only during winter months.
Griffith Park Train Rides, Los Angeles
There are five miniature locomotives and 21 passenger coaches in operation between Griffith Park & Southern Railroad (open daily, except Christmas Day) and Travel Town Railroad (closed Wednesdays), both located at LA's expansive Griffith Park. Leave time to explore vintage railroad locomotives at Travel Town, too.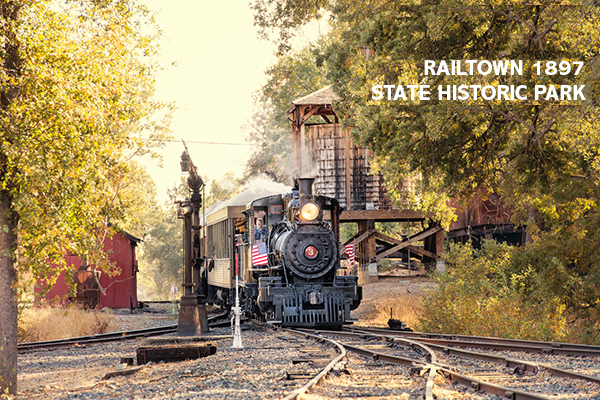 Railtown 1897 State Historic Park, Jamestown
Get a taste of California's scenic gold country on a six-mile, 45-minute ride aboard the historic Sierra Railway in Tuolumne County. Then, explore Railtown, a 26-acre park also known as "The Movie Railroad" since its trains have been seen in more than 300 movies (including Back to the Future III). Don't miss the active roundhouse tour!
California State Railroad Museum, Sacramento
Take a 50-minute round-trip ride on Sacramento Southern Railroad's historic steam or diesel locomotive, which operate April through September. Experience railroading as it was in the early 20th century while riding along the scenic Sacramento River.
Redwood Forest Steam Train, Felton (Santa Cruz)
Visitors to Roaring Camp can ride a steam engine through towering redwood groves and up a narrow-gauge grade to the summit of Bear Mountain. Trains run daily (except Christmas); a 1941 Plymouth Diesel may be used on weekdays January through March.
El Dorado Frontier, Long Beach
Stepping into this mini theme park is a bit like stepping into a time capsule; it's great for little ones. Admission includes unlimited rides on the carousel and the El Dorado Express, which has a 1.5-mile track.
Sonoma TrainTown Railroad, Sonoma
Kids love the quarter-scale railroad and train-themed rides at TrainTown. Each train ride is 20 minutes long, venturing through tunnels and over bridges, stopping at the petting zoo. Open weekends; daily during the summer.
Yosemite Mountain Sugar Pine Railroad, Fish Camp
Hop aboard the Logger Steam Train or Lil' Logger Diesel on a narrated, one-hour ride through the Sierra National Forest. The Moonlight Special evening ride includes dinner and live entertainment during a stop at Lewis Creek Canyon. Trains run April through November.
Billy Jones Wildcat Railroad, Los Gatos
Starting at Oak Meadow Station, families can take a 10-minute train ride on a one-mile loop around Vasona Park. There's a carousel, too!
Niles Canyon Railway, Sunol (Bay Area)
Take an 80-minute round-trip ride on a diesel train through Niles Canyon. Operates the second and third weekends of the month, through October. Holiday trains in November and December.
Pacific Southwest Railway, Campo
Ride the Golden State on an eight-mile trek through San Diego County's rugged back-country. Want to ride the train from an engineer's point of view? A limited number of locomotive cab rides are available for ages 6+ with a paying adult. Visit website for details. Trains run on weekends.
JUST FOR MOM & DAD
Parents needing (wanting?) a break from the kiddos should check out these fabulous adults-only train excursions.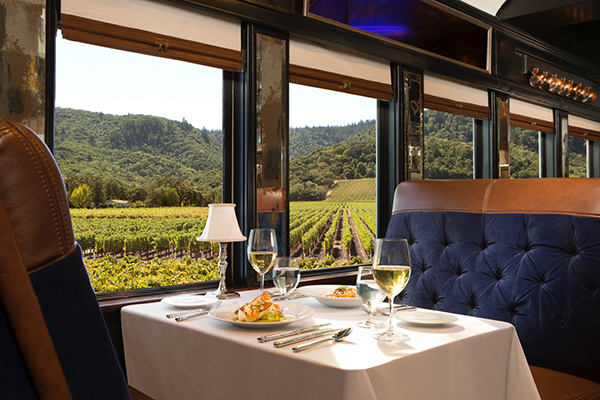 Whether you choose a Napa Valley winery tour, a meal in the vintage elegance of the Gourmet Express, champagne and panoramic views in the curved glass Vista Dome, or the thrill and intrigue of a Murder Mystery dinner, the Napa Valley Wine Train has an experience for everyone!
Kick off your weekend on the Friday night Happy Hour Express, a 90-minute train ride along the river, featuring beer, wine and music. Those who are strictly beer enthusiasts might enjoy the 2.5-hour Beer Train, where passengers enjoy music and eight local craft brew tastings. Discounted tickets available for designated drivers.
Lisa Gipson, who is always up for a road trip, is still discovering fun things to do in her home state of California.
Looking for train rides and museums closer to home? Read "Fun Train Experiences in San Diego."
____________