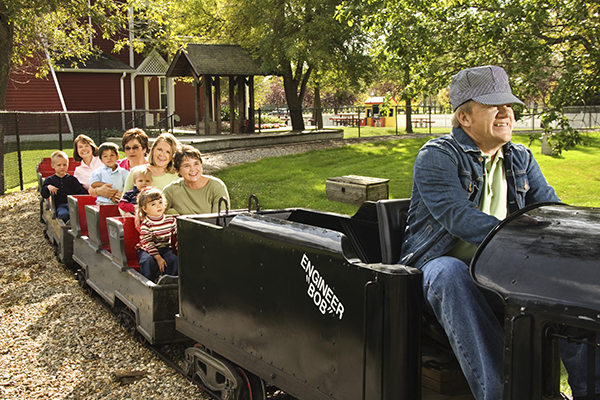 All Aboard! Looking for a fun family weekend excursion? Climb aboard one of these San Diego train rides. Kids (and parents) will enjoy the chugging of the engines and wind in their hair. Here are seven fun train experiences in San Diego:

Chula Vista Live Steamers Train at Rohr Park
4548 Sweetwater Rd., Bonita
Chula Vista Live Steamers built and maintain the tracks at Rohr Park. These train enthusiasts navigate the tracks the second Saturday and Sunday of the month froom Noon to 2:30 pm. Rides are free, but donations are appreciated. After the train ride, hang around Rohr Park for a picnic, play at the playground or kick a soccer ball with the kids.

Balboa Park Miniature Train at the Zoo
1800 Zoo Pl., San Diego
Built in 1948, the train travels along a half-mile of track between the San Diego Zoo and the carousel. Many San Diegans remember riding the train as a child and share that experience with their own children. Kids under 1 ride free.


Pacific Southwest Railway Museum
750 Depot St., Campo
Vintage trains take passengers on a 90-minute trip along the San Diego and Arizona Railway on Saturdays and Sundays. For an additional fee, you can ride in the cab with the engineer. Set aside time before or after your train ride to visit the museum with railroad equipment in various stages of restoration. Check the calendar for special theme train rides during holidays—The Bunny Train, Pumpkin Express and Santa Train North Pole Limited. Reservations are suggested for special event rides.

Poway-Midland Railroad at Old Poway Park
14134 Midland Rd., Poway
Volunteers operate trains Saturdays and Sundays (no trains run the second Sunday of the month). The steam locomotive runs 1st and 3rd weekend and 
the trolley or speeder runs 2nd and 4th weekend. Explore the bridges, fountain and great climbing trees at Old Poway Park after your train ride or head over to the Hamburger Factory for lunch.

San Diego Trolley
Those bright red trolleys are exciting for kids. Park at Fashion Valley Mall and ride the Green Line trolley a few short stops to Old Town where you can explore historical sights and have a delicious lunch. If you're feeling adventurous, keep going down the Green Line to Seaport Village. Enjoy an ice cream or a spin around the hand-carved 1895 carousel. Day passes are available and children under 6 ride free with a paying adult.

Sprinter Escondido to Oceanside
Escondido
Hop aboard the Sprinter at the Escondido Transit Center for the hour-long journey to the Oceanside Transit Center. Need a shorter trip for younger kids? Climb on at any station along the way in San Marcos, Vista or Carlsbad. Sprinter day passes are available and children under 6 ride free with a paying adult. Once in Oceanside, it's a short walk to the beach and Oceanside Pier. Play in the sand or have lunch at Ruby's on the end of the pier.


TRAIN MUSEUMS
There are no train rides here, but kids (and kids at heart) love checking out model trains, history of trains, train activities, camps and more at these cool museums!
San Diego Model Railroad Museum
1649 El Prado, Balboa Park
Train exhibits, summer camps, events and activities for kids and beautiful Balboa Park.
Antique Gas & Steam Engine Museum
2040 N Santa Fe Ave., Vista
A model railroad display, plus learn the history of tractors, steam engines, and much more.

----------------
Adrienne Sigeti is the editorial assistant at San Diego Family. Some of her favorite childhood memories include riding the train through Old Poway Park followed by lunch at The Hamburger Factory.