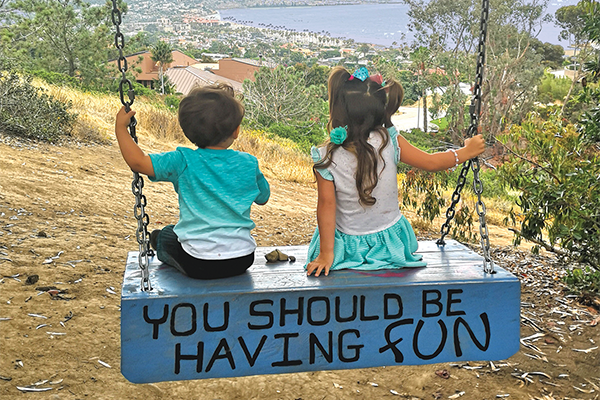 Discover little-known spots and experiences in your own neighborhood. Plan a day to take the kids and explore hidden gems in San Diego. We'd love to see you out and about! Tag us on Instagram @sandiegofamilymagazine and use #sdOutAndAbout or #ShareSanDiegoFamily.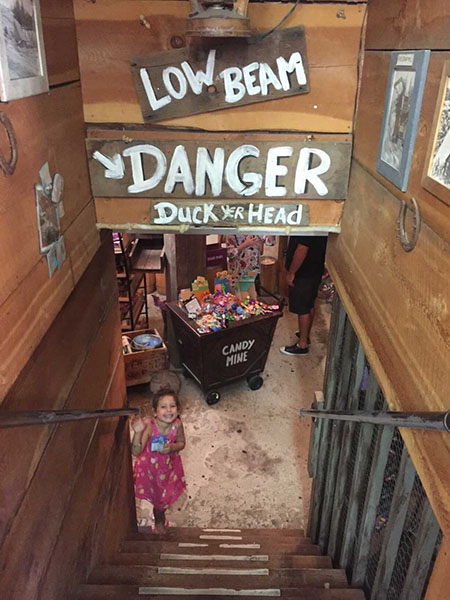 Photo courtesy of @SanDiegoAdventureKids
Literally hidden inside Miner's Diner (Julian's favorite burger spot and soda fountain) is a "Candy Mine" offering barrels of old-fashioned sweets and treats for purchase. While in the diner, be sure to check out the Santa Fe train circling above.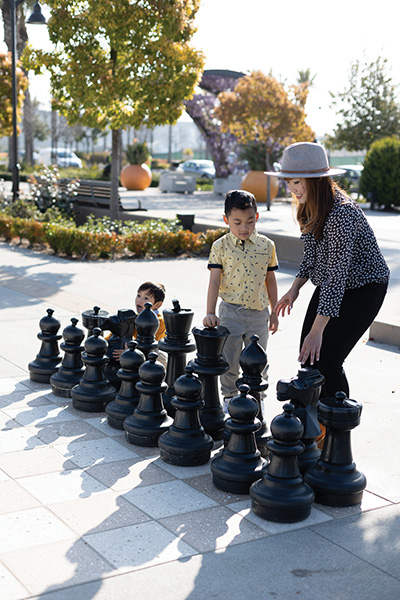 Photo credit: All Colors Photography
Play a life-sized game of chess at Civita Park in Mission Valley.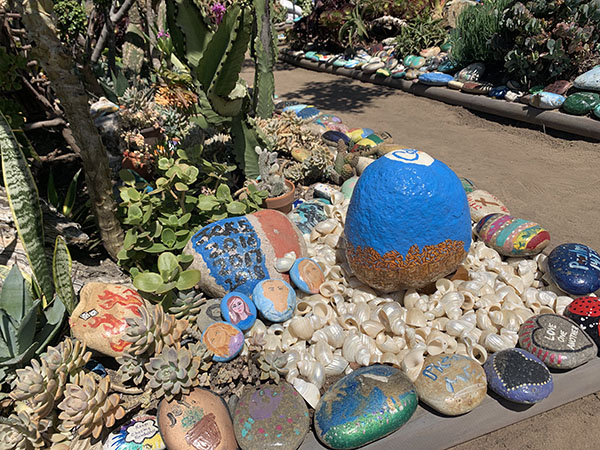 Photo courtesy of Michele Hancock
Dave's Rock Garden is a favorite of artists, families, beachgoers and passersby. Take a stroll through the garden and enjoy a delightfully landscaped oasis with hundreds of hand-painted rocks placed by locals and visitors. Be sure to say "hi" to Dave if you see him working in the garden. 200-298 B St.
Enjoy breathtaking views (and snap an awesome photo) from the La Jolla Secret Swing. Locate the small wooden bridge in the back of Birch Aquarium's parking lot to find the short trail. Sometimes the swing disappears, making it even more mysterious! (pictured at the top) Photo credit: @SanDiegoFamilyAdventures
Stop by Harper's Topiary Garden in Mission Hills to admire 50 life-size topiaries sculpted into playful creatures. 3549 Union St., San Diego.
With a bit of planning, you might catch a glimpse of the SS Monte Carlo, which crashed ashore in Coronado on New Year's Eve 1936. The ship's remains can sometimes be seen during low tide in front of the Coronado Shores Condos.
Oceanview swimming at the Inn at Sunset Cliffs. People not staying at the Inn can pay $10 pp (up to four) for a day pass to use their oceanfront swimming pool (pending availability). Call the day of to check schedule: 619-222-7901.
"Hidden" in plain sight, the big draw of High Pie in Oceanside is that it's the house (now hand pie bakery) made famous by the iconic 1986 movie, Top Gun, as it was the oceanfront residence of Charlie (Kelly McGillis), Tom Cruise's co-star. Super fun photo opportunity!
Explore Queen Califia's Magical Circle at Kit Carson Park in Escondido. Large-scale whimsical sculptures and the circular "snake wall" make perfect play structures. Limited hours. www.escondido.org/queen-califias-magical-circle
Take a family "daycation" at one of San Diego's favorite resort destinations. ResortPass offers single-day access to local pools, spas, cabanas and more at dozens of hotels and resorts across the county. Prices and amenities vary by location. Get the details at www.resortpass.com/hotel-day-passes/San-Diego-3.
Learn how to build sandcastles like a pro! Schedule a family sandcastle-building lesson at www.sandiegosand.com.
Flip your own pancakes (and enjoy a delicious breakfast) at Flap Your Jacks in North Park (tables come with griddles on top).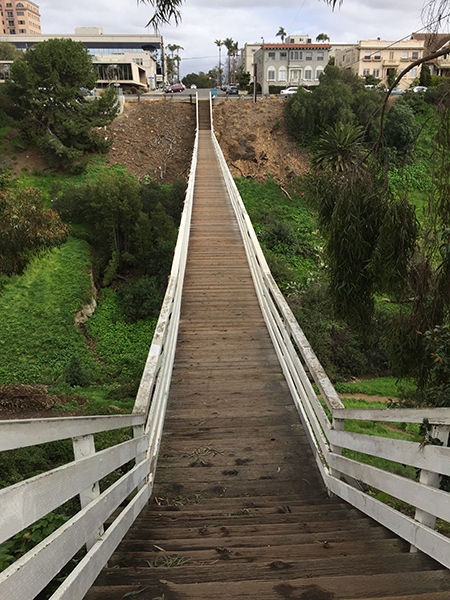 Spend a day doing the self-guided Seven Bridges Walk, a 5.5-mile urban adventure that takes participants through some of San Diego's unique neighborhoods (and across seven bridges, of course). Start on the east side of the Park Boulevard Pedestrian Bridge (near the Rose Garden).
Take a 50-minute gondola ride through the canals of the Coronado Cays. Cruises are private and accommodate up to six people.
Experience Petco Park as players and staff do with a fun and informative behind-the-scenes tour. Learn the history of the ballpark and the San Diego Padres while touring a dugout, the Western Metal Supply Co. building, the Padres Hall of Fame, a private luxury suite, press box and more.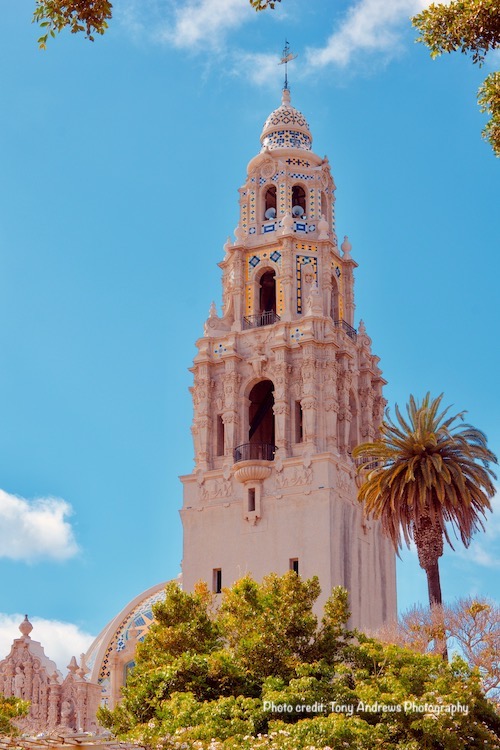 Explore the inside of one of San Diego's most iconic historic landmarks, the California Tower in Balboa Park. A 40-minute tour promises 360-degree views of San Diego from the Tower's eighth-floor viewing deck.
Learn the basics of falconry—holding and releasing birds of prey in a group or private class at Torrey Pines Gliderport. Instructors provide the history of falconry, raptor ecology and conservation. Open to all ages. www.totalraptorexperience.com
Star Wars fans? Take a photo on Mark Hamill Drive in Clairemont Mesa, a nod to the actor's childhood home of four years.
Run a stick along the rails of Song Rail Bridge to hear a tune. This unique work of public art was created by Roman de Salvo, and plays the same tune in both directions. Located at 25th St. Bridge, spanning SR 94 (Golden Hill). Bring a stick!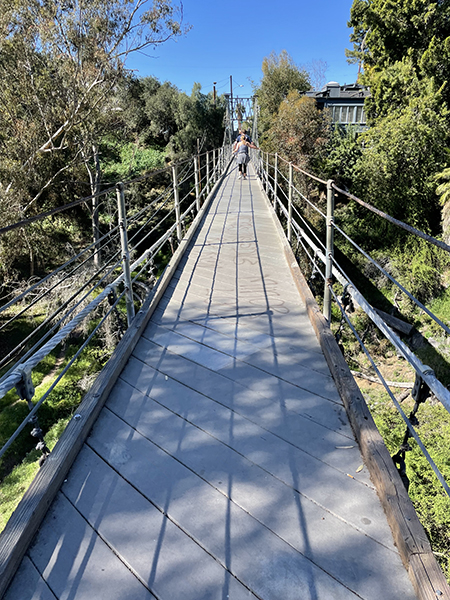 Built in 1912, the Spruce Street Suspension Bridge (a historic landmark) sways as you walk across and view the canyon below. Spruce St. & First Ave., between Hillcrest and downtown.
Get close to and feed gorgeous exotic birds at the Free Flight Exotic Bird Sanctuary on Jimmy Durante Blvd. in Del Mar. www.freeflightbirds.org
Explore eight restored jail cells at The Headquarters at Seaport (the former site of San Diego's Police Headquarters) downtown. Snap a family photo in front of the lineup wall. The exhibit also features historic photos and police memorabilia. www.theheadquarters.com/history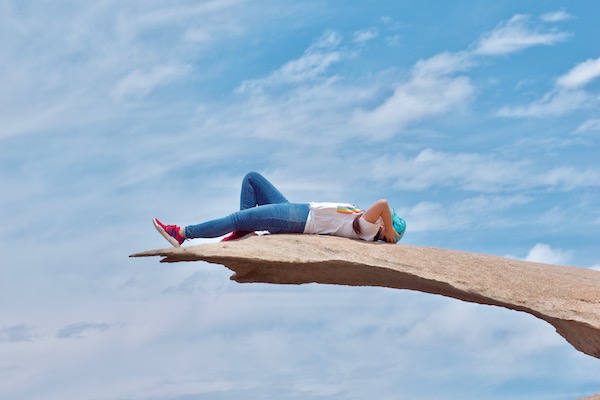 Strike a pose (if you dare) at Potato Chip Rock, an iconic potato chip-shaped rock at the peak of Mt. Woodson in Ramona. Be prepared to wait in line and bring plenty of water.
Dr. Seuss fans love the 16-foot high character murals on display at the Denny Sanford Children's Library inside the San Diego Central Library. Fun fact: it's one of only two libraries in the U.S. with licensed Dr. Seuss murals. www.sandiego.gov/public-library/central-library
Fans of the Wizard OZ look to Coronado to get your fix. Read 7 Must See Sites in Coronado for Fans of Wizard of OZ.
Find tons more family adventures in San Diego's Out & About with Kids, for local and visiting families.
Be sure to let us know if you find a kid-friendly hidden gem that's not on our list by emailing This email address is being protected from spambots. You need JavaScript enabled to view it.. Put "San Diego hidden gem" in the subject line.
_____________