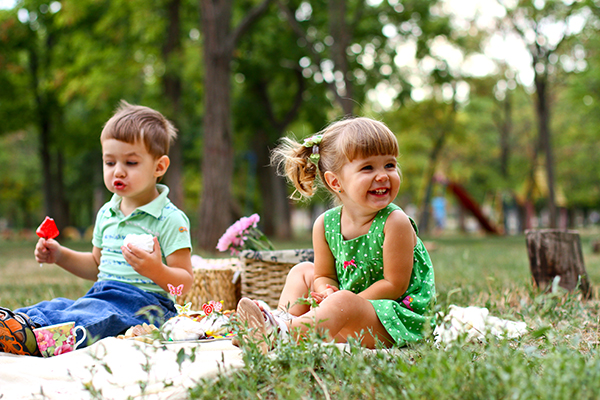 There is tons of research on the importance of connecting with nature. With San Diego's amazing weather and beautiful, natural landscapes it's easy to increase time outdoors.
Find nature anywhere: in a field, beach, canyon, garden or in your own backyard. "It's important to define nature loosely," says Richard Louv, San Diego County resident and co-founder of the Children & Nature Network who coined the term "nature-deficit disorder."
"Nature is all around us," Louv says. "You have to find it, notice it, be aware of it." Here are 12 easy ways to unplug and experience nature, plus 12 family-friendly nature programs in San Diego, .
12 Easy Ways to Unplug and Experience Nature
Pack a picnic and watch the clouds.
Fly a kite.
Surf, bodyboard, paddleboard or kayak.
Walk barefoot on the beach.
Make time for unstructured outdoor play in the backyard or a park.
Go for a family bike ride.
Walk through the neighborhood and look for bugs, birds and fruit growing on trees. Notice different colors.
Look at the night sky — find the moon, stars and constellations.
Plant a container of flowers or vegetables, or find a community garden near you.
Camp in the backyard.
Play with mud and sticks.
Find smooth rocks to paint.
12 Family-Friendly Nature Programs
Family Adventures in Nature San Diego Meetup Group
Go to www.meetup.com/FamilyAdventuresinNature
Local parents Janice and Ron Swaisgood founded Meetup group Family Adventures in Nature San Diego in 2008. The group sponsors weekend hikes, tide pooling and tree climbing expeditions, and several camping trips each year. Outings are designed for the family to experience nature together.
Check Out Nature Backpacks
San Diego Library patrons can borrow Check Out Nature Backpacks. Each pack contains a field guide, activity book, binoculars, bug kit, and compass to make exploring easy and fun. Go to www.sandiego.gov/public-library/check-out-nature to request one.
Get Outside San Diego
Find accessible beaches, urban hikes and streams, dog parks and adventures to suit your needs at www.getoutsidesandiego.org.
Kids in Parks Program
Partnered with Trail TRACKer, this innovative program allows kids to register their participation online, keep track of progress, earn Trail TRACKer Gear, and work toward a goal. The site offers seven easy 1–2 mile hikes, fun activities, and tips for keeping kids interested while hiking.
www.kidsinparks.com/find-an-adventure/map?keys=CA
San Diego Audubon Society
Check the calendar to pre-register for family-friendly birding events. www.sandiegoaudubon.org/events/field-trips
Blue Sky Ecological Reserve
This canyon in Poway offers a variety of guided hikes and youth activities, including a Junior Nature Ranger program most weekends. www.blueskyreserve.org/index.html
Elfin Forest
Walk the one-mile self-guided, botanical loop In Escondido marked with over 25 interesting plant facts. Guided walks held second and third Sundays each month. https://elfinforest.olivenhain.com
Mission Trails Regional Park
The visitor's center hosts self-guided activities with beautiful views. Family Discovery Walks held fourth Sundays and Wildlife Tracking adventures on first Saturdays. Don't miss weekend special events. Check the calendar at www.mtrp.org.
Morley Field Nature Exploration Area
Located directly south of the Balboa Park Tennis Club, this unique park is designed for creative nature play. Build a fort, make a mud pie, or scramble on rocks and logs. www.sandiego.gov/blog/newly-opened-nature-exploration-area
San Diego Botanic Garden
Whimsical Seeds of Wonder programs introduce little ones to gardening and nature through the arts, with trains in the backdrop. In Hamilton Children's Garden, climb a tree, play in a stream, build a fort, and engage all five senses outdoors. www.sdbgarden.org
San Dieguito River Valley Conservancy
Learn about local surroundings through Watershed Explorers Programs on Saturdays, geared to get the whole family digging deep into science, history and nature. www.sdrvc.org
San Elijo Lagoon Conservancy
Find birds on a stroller-friendly Lagoon Discovery Tour on first Saturdays. Family Discovery Days feature crafts and animal interactions first Sundays at the Nature Center. Join the 30x30 Nature Challenge, which encourages 30 minutes of nature exploration for 30 days. Get daily inspiration and ideas at www.sanelijo.org.
For 500 ways to connect with nature, check out Louv's book Vitamin N: The Essential Guide to a Nature-Rich Life.
Cherie Gough is a freelance writer and local mom of two. She'll be looking for your inspiration on Instagram: #30x30naturechallenge and #GetOutsideSanDiego.
_______