Parks with natural playgrounds are gaining popularity with local families. So, what are natural playgrounds exactly? They are play areas with "structures" and textures from the earth, natural elements and/or recycled features, which create beautiful, exciting playgrounds that are sustainable, fun and safe for kids of all ages. Read the San Diego park descriptions below for more details and let us know if you find others you love!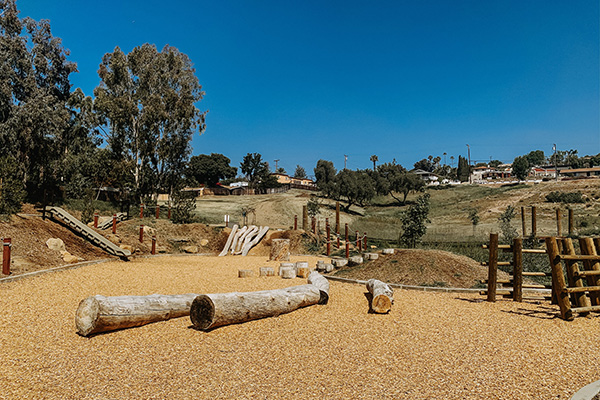 Estrella County Park
9813 Estrella Dr., Spring Valley
The newest natural playground to hit the area is Estrella County Park in Spring Valley. The park features natural play elements such as tree stumps and logs, perfect for children to climb on and jump to. You'll also find a slide built into the hill, a swing and a kid-friendly suspension bridge. Native plants and trees line the walking path to and from the play area. There's also an amphitheater and plenty of picnic tables for a group.
Insider Tips:
Parking is limited to a small section of the street.
There is no shade; lather up that sunscreen!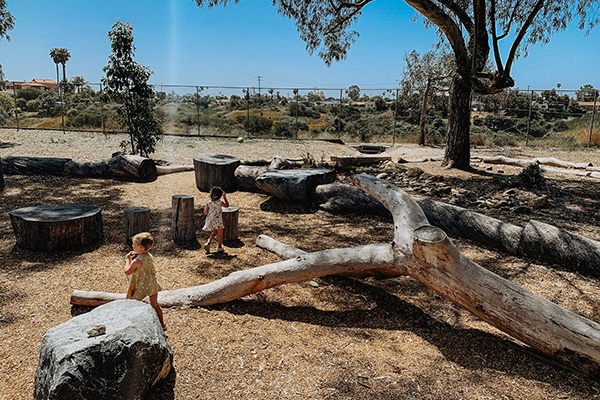 Gershwin Park
3549 Conrad Ave., Clairemont Mesa
Within Gershwin Park in Clairemont is the Jennifer Jones Memorial Nature Exploration Area. This section includes 6,000 sq. ft. of natural play space that inspires imaginative play with tree stumps, big logs, boulders and small trails. Like all natural playgrounds, it was designed to be inviting and educational. It's the perfect place to have a tree stump tea party!
Insider Tips:
There's a large grassy area to have a picnic. Stop by Clairemont Square to grab lunch—Arely French Bakery (4961 Clairemont Dr. #A) is delicious.
There are no restrooms at this park.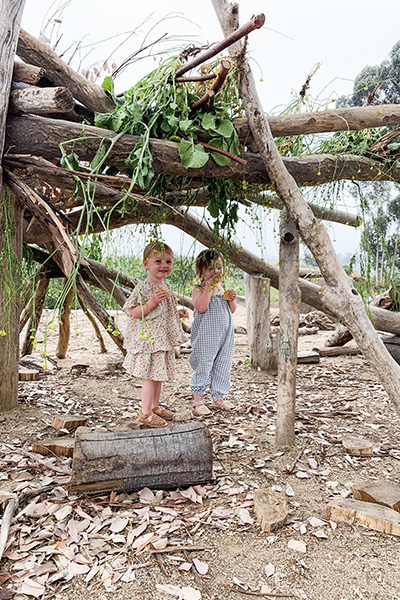 Nature Exploration Area
2221 Morley Field Dr., Balboa Park
One of the first designated natural playgrounds in San Diego County was when the Nature Exploration Area at Morley Field was built in 2015. At first glance, you might walk right past, as it blends in beautifully with natural elements of the park. Give your kids time to explore and soon you'll be building forts with branches and other natural materials left behind. Enjoy a boulder climbing area and a table and chairs made of tree stumps.
Insider Tips:
The area can be a tricky to find—it's directly south of the Balboa Park Tennis Club.
It's also directly adjacent to Florida Canyon Trail, a perfect starting point for a day of nature exploration.
Park in front of the tennis club or in the lot off Morley Field Dr.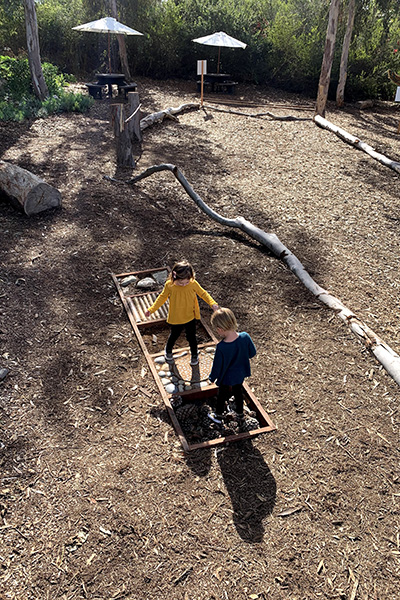 Junior Quail Trail
230 Quail Gardens Dr., Encinitas
Located within San Diego Botanic Garden is a garden designed for families with preschoolers to connect with nature. The area is located at the far end of the garden, in the former Eucalyptus Grove. It features upcycled and natural materials, with a focus on movement and learning from one's surroundings. Logs on the ground become balance beams; tree stumps become jumping platforms; and strategically placed pine cones, twigs, and rocks offer a spot for imaginative play and games.
Insider Tips:
Junior Quail Trail is located inside SD Botanic Garden, which requires paid admission. Daily rates are $10/kids (ages 3–17), $18/adults.
Bring a stroller. The area is located opposite of the parking lot. You don't want those little legs tired before arriving.
Local mom and San Diego blogger Sandra Page can be found adventuring on Instagram at @playdatesandpints.
Looking for SAN DIEGO PARKS WITH HIDDEN TRAILS FOR KIDS? <-- Click this link!
_____________