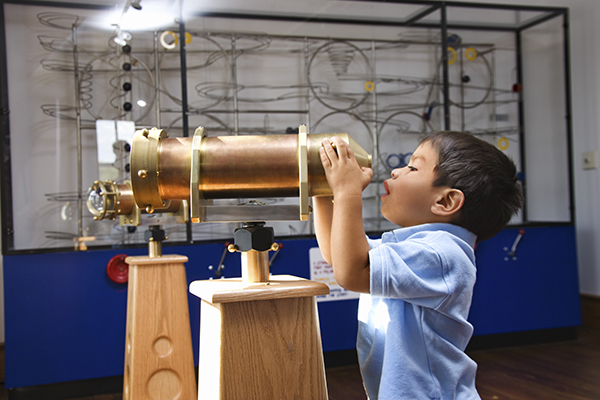 San Diego County offers countless places to engage in educational play. If you're concerned about summer learning loss (aka summer slide), or just want to inspire and stimulate learning while having fun as a family, here are local spots we suggest. The kids will have so much fun, they won't even realize they're brushing up on science and math concepts, history or artistic skills.
STIMULATE CREATIVITY — LOCAL ART LESSONS
Creating art promotes critical thinking and helps develop fine motor skills. Spend some time exploring different art mediums, especially if art is missing from your child's school curriculum.
1. Get started with drawing and painting (or hone your craft) at Little Artists, which has five locations throughout the county.
2. Little Fish Comic Book Studio offers instruction in comic creation, storytelling and digital drawing, by teachers who love what they do and inspire creativity in their students.
3. Take the family for an afternoon of candle making, mosaics and pottery painting at Hot Spot Pottery & Painting.
TRAVEL BACK IN TIME — LEARN SAN DIEGO HISTORY
When kids make connections through experience, the lessons tend to stick. And there's no better way to learn history than bringing it to life.
4. Explore dinosaur fossils, learn about biodiversity and journey through SoCal's unique habitats at San Diego Natural History Museum, which offers extended hours during summer's Nat at Night.
5. Indulge in a day of naval history aboard the USS Midway Museum. Enhance your aircraft carrier visit with an overnight adventure — several Family Overnights are offered throughout the year.
6. Early California history comes to life in Old Town San Diego with self-guided tours of the adobe house La Casa de Estudillo, Seeley Stable (featuring vehicles from the 1800s), demonstrations in the blacksmith shop and much more.
7. Kids can take a Junior Ranger voyage of discovery as they learn about 16th century exploration and military history at Cabrillo National Monument in Point Loma. Bonus: You'll enjoy some of the best views in the county on a clear day!
DISCOVER & EXPLORE — LOCAL STEM LEARNING
San Diego is rich with STEM-centric outings that offer engaging, hands-on learning opportunities. Make discovery a family affair!
8. Plan nighttime adventures at Fleet Science Center with "The Sky Tonight" astronomer-led planetarium shows or Family Nights at the Fleet (extended summer hours).
9. Take a selfie in a Mars space suit at the San Diego Air & Space Museum.
10. Celebrate the 100th anniversary of the completion of the San Diego & Arizona Railway at San Diego Model Railroad Museum.
11. Encourage curiosity and inquiry at the Magnetic Ball Wall or Light Wall (imagine a giant Lite-Brite) at San Diego Children's Discovery Museum in Escondido.
12. Inspire innovation and intellectual development in more than a dozen interactive art installations and studios at The New Children's Museum (Downtown San Diego), including the new climbable structure, Whammock!
13. Explore over 30 aircraft and experience aviation from a pilot's perspective at the Flying Leatherneck Museum, dedicated to preserving aviation history of the United States Marine Corps.
14. Learn all about seadragon conservation at the Seadragons & Seahorses exhibit at Birch Aquarium.
________
Managing Editor Lisa Gipson is inspired by San Diego's plethora of fun educational outings.
––––––––