Get up close and personal with friendly farm animals, big and small, at these local spots that offer hands-on experiences for families. Get your cuddle fix (or the ultimate selfie shot) as you enjoy some one-on-one time with adorable horses, mini pigs, goats, ducks, cows, alpacas and more.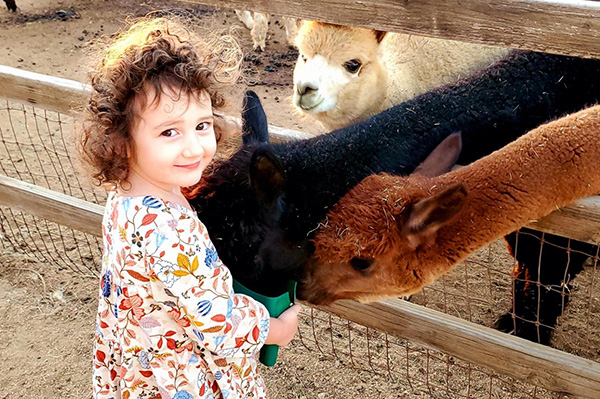 A Simpler Time Alpaca Ranch
El Cajon
www.asimplertimestore.com
Take a private tour of this alpaca ranch that packs a lot of fun! Spend time with gentle alpacas and learn how to care for them, tour a fiber mill where alpaca yarn is made, and do your Christmas shopping any time of year by browsing their boutique featuring clothing, accessories and one-of-a-kind alpaca products (they even have cute alpaca ornaments) made from soft alpaca fiber. Tours are by appointment, Mon.-Sat.
Photo credit: Barbara Davies.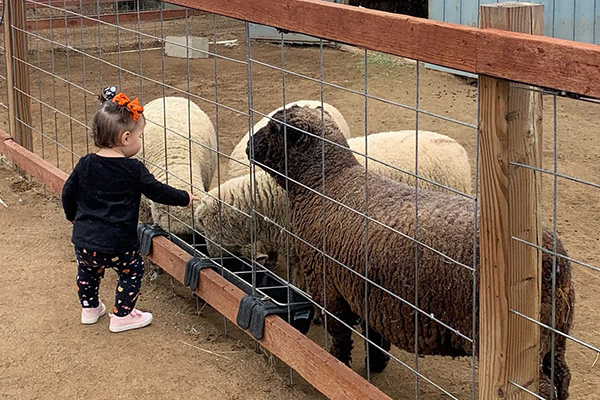 Happy Heart Haven
Valley Center
www.thehappyhearthaven.com
Get up close and personal with over 30 farm animals through private or group tours (up to 10 people). Or, become a behind-the-scenes farmer for an evening and help put the animals to bed with the Goodnight Farm experience (up to 6 people). Collect food at the barn, feed each animal until everyone is safely put away for the evening. Enjoy this VIP experience while taking in the beautiful sunset and peaceful atmosphere.
Photo courtesy of Happy Heart Haven.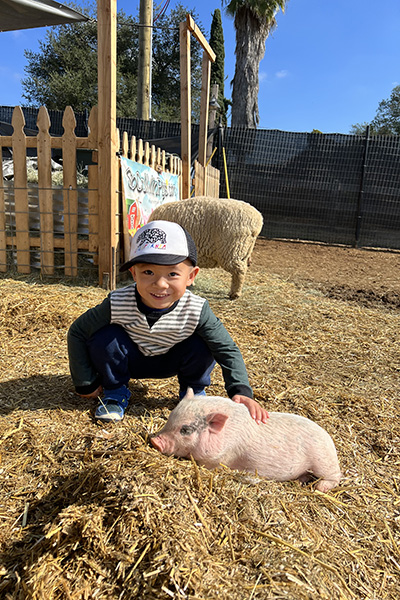 SoCal Mini Pigs
Valley Center
www.socalminipigs.com
Get ready for an overdose of cuteness courtesy of the Mini Pig & Farm Friends Experience where you can spend an hour with mini pigs, sheep, chickens, mini goats, a mini horse and ducks. Learn all about these animals, feed them and give the piggies a few belly rubs! Tours available on weekends.
Photo courtesy of @PlayDateWConnor.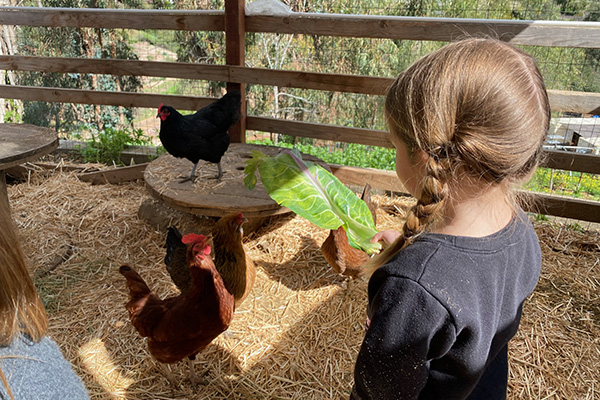 Sand n' Straw Community Farm
Vista
www.sandnstraw.com
Take a guided tour where you can learn about regenerative agriculture as you explore ponds, a food forest, seasonal creeks and more. Be sure to add an animal visit to your tour for an opportunity to pet and feed pigs, sheep, goats, rabbits, chickens and ducks. Also, get the chance to purchase a variety of farm-grown produce to take home. Tours available every Tues. & Fri., 3 pm.
Photo credit: Samantha Polanco.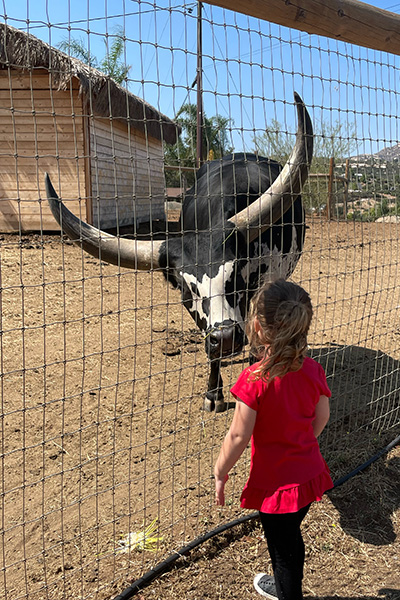 Children's Nature Retreat
Alpine
www.childrensnatureretreat.org
Explore this 20-acre haven that is home to more than 200 animals. For an additional fee, visit an animal enclosure (Barnyard Alley, mini horses and mini goats, sheep and mini donkeys, big horses and more) to get closer to your favorite animals and learn about them from experienced animal keepers. Other interactive activities include 90-minute guided tours and "Be a Keeper for the Day," a unique, daylong experience that allows participants to help animal keepers with daily duties.
Photo courtesy of Jen Kessler.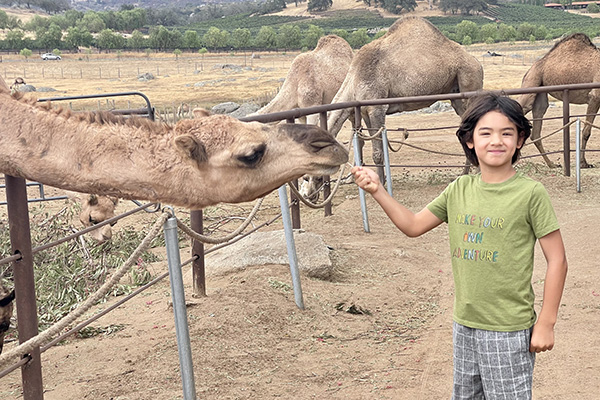 Oasis Camel Dairy
Ramona
www.cameldairy.com
Have a hump-mazing time at this family farm for camel lovers, young and old. Open farm tours include a live show where you can meet captivating parrots and the farm's biggest camel, plus an opportunity to feed the camels and mini sheep. After the tour, browse their shop filled with unique finds (from camel milk chocolate to camel milk bath bombs) or go on a camel ride (ages 4+). Tours available on select Sat. & Sun., starting at 12 pm.
Photo credit: Nancy Riegler.
Julian Farm & Orchard
Santa Ysabel
www.julianfarmandorchard.com
Lots of cool seasonal activities are in store including a petting zoo where you can meet Percy the Cow, donkeys Joey and Chewy, Bubba the Pig, as well as goats, lambs and chickens. Also, a rock-climbing wall, axe throwing, cider apple press demonstrations and tractor-pulled hay rides.
Sugar Sweet Farm
Encinitas
www.sugarsweetfarm.com
Treat the family to a hands-on, educational private tour where participants come face to face with llamas, chickens, miniature horses and goats, a miniature potbellied pig and more. Also offers special Goat Yoga events for adults and children, ages 9+.
Happy Hens
Ramona
www.happy-hens.com
Visit the farm store, petting zoo and playground (free) Monday through Saturday, where you can say hello to goats, sheep, a cow, turkeys, and get a chance to feed chickens. For even more fun, schedule an egg-citing weekend tour for your family, scout troop, homeschool or youth group! Check out an egg-washing demonstration, learn about regenerative farming and how to decode egg labels, and see how the farm's hens are raised in a pasture environment. Tours begin the first week of Oct.
Jennifer Burman is a freelance writer and mom of two.
____________