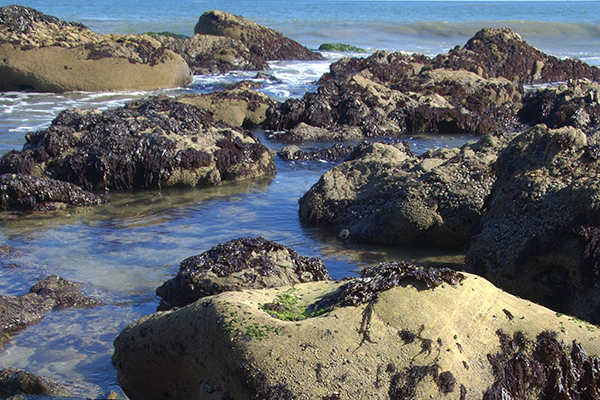 Favorite Tide Pool Spots in San Diego

The San Diego shores offer plenty of tide pool fun for families, but the key is to know when to go. The best time to go tidepooling is in late fall and winter months (Nov.–Feb.) when the tide is low during daylight hours. Plan a family day this winter to explore nature and the wonder of ocean life. Here are San Diego's favorite local spots to go tide pooling.

Cabrillo National Monument Tide Pools
1800 Cabrillo Memorial Dr., Point Loma
www.nps.gov/cabr/naturescience/tidepools.htm
Visit these tide pools to see a beautiful diversity of sea life, including anemones, sea urchins and owl limpets. Also a great hiking location!

Cardiff State Beach Tide Pools
Cardiff State Beach, Encinitas
Not only does this location offer lovely tide pools, but upon visiting you can also see 45-million-year-old sedimentary rocks containing clam fossils.

Shell Beach Tide Pools
Coast Blvd., San Diego
The best time to visit these tide pools is during very low tides, and while there, you can check out their Seal Rock Reserve. Be sure to stay and watch the sunsets; Shell Beach offers a beautiful view.

Tourmaline Surfing Park Tide Pools
600 Tourmaline St., San Diego
Tourmaline Surfing Park is potentially the best tide pool area to find sea snails and hermit crabs, but also offers plenty of other sea life in its sandstone tide pools.

Swami's State Beach Tide Pools
1298 S. Coast Hwy., Encinitas
Apart from the beautiful tide pools at Swami's State Beach, you can also see the reef formation and 45-million-year-old oyster fossils in the rocks.

Dike Rock Tide Pools
8200 Camino Del Oro, La Jolla
Dike Rock offers a peaceful atmosphere with mussel- and anemone-filled tide pools. It also offers a beautiful view of the sunset.
Be sure to check out Birch Aquarium's guided Tidepool Adventures. Find more information at www.aquarium.ucsd.edu.

There's more to know about tide pooling than just when and where to go. San Diego Coastkeeper provides safety tips to help your family enjoy the experience, while diminishing the impact on sea life.

----------
Lorea Mendiguren is a student at the Academy of Our Lady of Peace and a lover of all things marine.