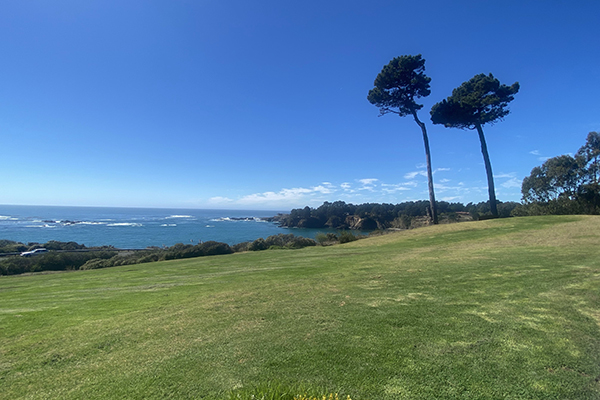 When I was a kid, my parents went to the coastal town of Mendocino to take a break from—well, me. So, I always assumed there was nothing to do there with kids. Boy, was I wrong. The Mendocino Coast offers a plethora of activities for families—Glass Beach, hiking, outdoor exploration, quaint shops, the world-famous Skunk Train, a Pygmy Forest Discovery Trail, fresh seafood restaurants and more; but just as important, it offers a slower pace that lends itself to a peaceful and restful vacation. Read on for tips when taking a trip to Mendocino and nearby Fort Bragg—how to get there, family-friendly activities, where to stay and suggestions on where to eat.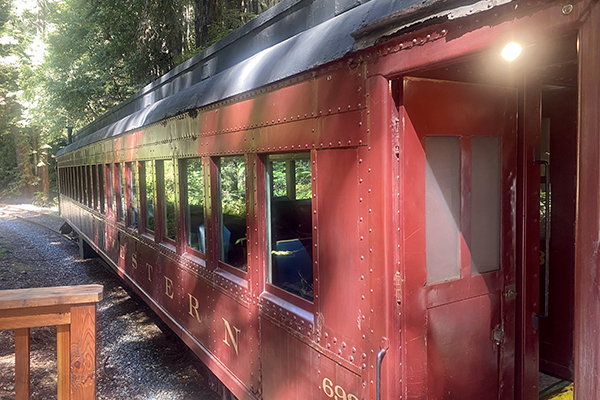 WHAT TO DO in Mendocino & Fort Bragg
World-Famous Skunk Train
100 West Laurel St., Fort Bragg
Right off Main Street in Fort Bragg is the Skunk Train—an absolute must for families with young kids and anyone who loves trains. Take the Pudding Creek Express on a seven-mile scenic round trip along Pudding Creek Estuary and through ancient redwood trees. The 75-minute experience offers a relaxing ride through redwoods and includes a short stop at Glen Blair Junction, where passengers can explore the trails for 15 minutes or explore longer and catch the next train back. Check the schedule for seasonal events such as Cinema in the Redwoods and Magical Christmas Train. Alternatively, a two-hour, 16-mile trip on the Wolf Tree Turn route departs from Willits (about an hour east of Fort Bragg).
Railbike Excursions
100 West Laurel St., Fort Bragg
Ride the rails on an open-air railbike and experience the train tracks in a whole new way—with no walls separating you from nature. Kids, teens and adults will love this adventure as the two-person electric "bikes" are so much fun! Feel the breeze and breathe fresh air as you pedal along Pudding Creek. For ages 6 & up (with parent). Also available is Railbikes by Moonlight, an evening expedition that starts 90 minutes before sunset. A more challenging 25-mile excursion is also offered along the Noyo River.
Mendocino Coast Botanical Gardens
The Sprouts Program offers self-guided activities for kids and parents to do together, such as learning about colors in nature, birdwatching, nature breathing, whale watching and more. Available in English and Spanish. The Quail Trail provides a fun way for kids to explore and learn as they follow Quincy the Quail's instructions and look for 15 markers in the botanical gardens.
Shopping
Both Mendocino and Fort Bragg are chock full of charming shops. Here are a few of my favorites:
Sherwood Company, 350 N Main St., Fort Bragg
This boutique offers specially curated gifts, unique items and home décor that guarantees to lift your spirit. My daughter and I loved this shop so much that we follow them on Instagram to find out what's new in the inventory. Since our visit, they moved into a larger location.
Spunky Skunk, 344 N. Franklin St., Fort Bragg
A wonderful toy store that also offers office and crafting supplies? Yes, please. I could spend hours in this whimsical, engaging shop. While we visited, we observed a little boy who had saved his own money to purchase a little builders/construction bench with tools. He paid cash and was beaming with pride as he completed the transaction. Props to the awesome staff and the way they handled their extra special customer.
Out of this World, 45100 Main St., Mendocino
A must visit—specializing in science toys, educational activities and games.
Village Toy Store, 10450 Lansing St., Mendocino
A charming toy store specializing in non-battery toys and kites.
WHERE TO STAY in Mendocino & Fort Bragg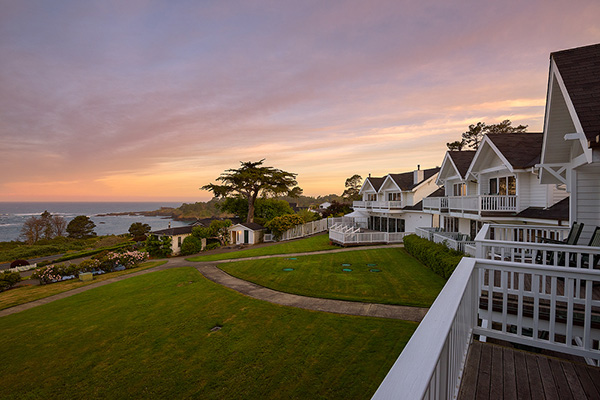 Photo credit: Michael Ryan
Little River Inn
7901 N. Highway One, Little River (just south of downtown Mendocino)
The historic Little River Inn offers spectacular ocean views and a wonderful grassy hillside to relax, soak in the natural beauty of the area or have a picnic. Spacious, comfortable rooms feature large soaking tubs and many have unparalleled views of the Pacific. Lounge in a rocking chair on your room's deck while watching the sunset. On property is also a fabulous restaurant & bar and a 9-hole golf course (the only one on the Mendocino Coast). Little River Inn has been family-owned for decades and is well-known for their hospitality and friendly staff.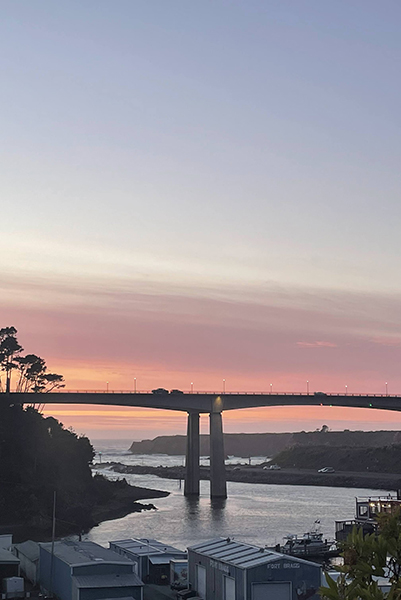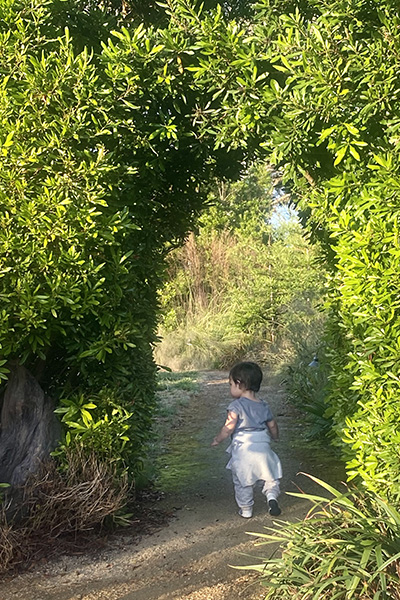 Noyo Harbor Inn
500 Casa Del Noyo, Fort Bragg (about 10 miles north of Mendocino)
Noyo Harbor Inn is a beautiful hotel that has spacious accommodations and suites for families. Perched above the Fort Bragg Port, the hotel is uniquely positioned in such a way that it has views of the working harbor and bridge on one side, and views of the river and boat docks on the other. A highlight was exploring the grounds, which has lovely paths and flower-covered stairways that make it feel like you're in a fairytale.
WHERE TO EAT in Mendocino & Fort Bragg
There's a lot of talk about fish and seafood here, and for good reason—the Mendocino Coast is a prime spot for fresh Pacific seafood as one of the highlights is a working fishing harbor. But rest assured, if seafood is not your "jam," every eatery offers alternative menu items.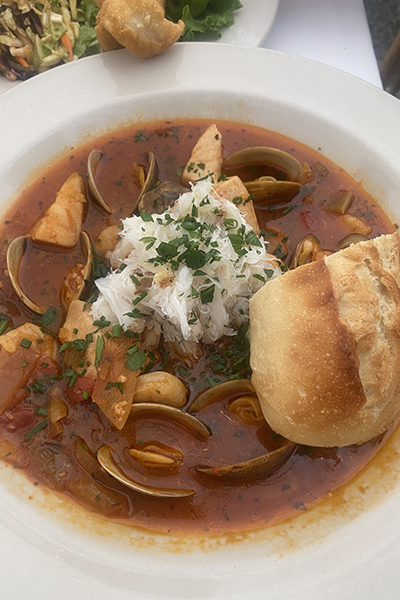 Little River Inn Restaurant (Mendocino)
Even if you're not staying at Little River Inn (but especially if you are), make a reservation for dinner at Little River Inn Restaurant, where the service and food are outstanding. Reserve a table on the garden patio, which is a hidden gem on the property. Try the fish & chips (also on the kids' menu), clam chowder or Cioppino.
Noyo Harbor, the port of Fort Bragg, is a working fishing harbor and home to eateries offering the freshest seafood around.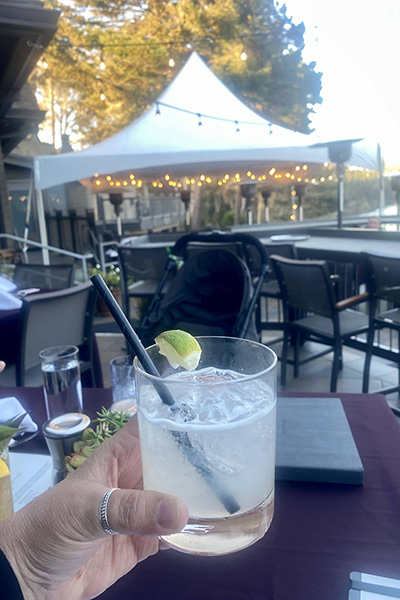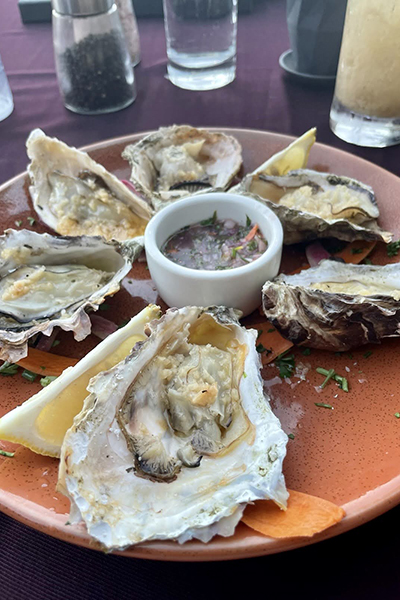 HarborView Bistro & Bar (at Noyo Harbor Inn)
HarborView Bistro & Bar offers daily happy hour, so plan to enjoy craft cocktails on the patio, which overlooks the tranquil river and boat docks. My daughter is a sucker for oysters on the half-shell; my weakness is pan-seared scallops and fried calamari. Not surprisingly, we were both happy as clams (see what I did there?). We also were lucky enough to be serenaded by a seal that was out for a swim. The menu changes with the seasons—and ingredients are locally sourced. Kids' menu available.
Princess Seafood (Noyo Harbor, Fort Bragg)
Princess Seafood is a woman-owned and operated business—boat captain, fishermen—these ladies do it all. Choosing your lunch items will be the biggest challenge: Dungeness crab roll, fresh fish tacos, sashimi-grade poke bowl, king salmon burger... good luck! It was raining the day we went to Princess Seafood, but unlike San Diego, the locals aren't afraid of a little rain. The large outdoor patio (there's no indoor seating) was still packed with people. Kids menu available.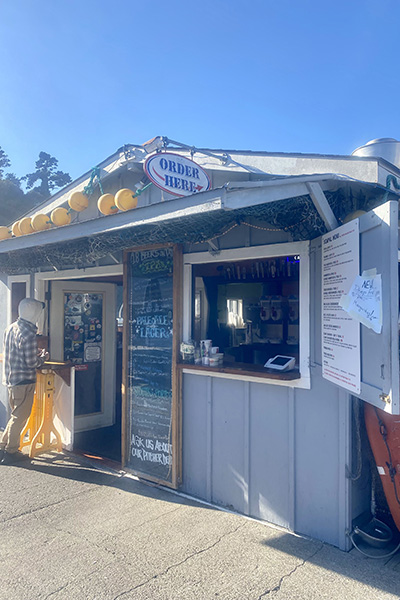 SeaPal (Noyo Harbor, Fort Bragg)
SeaPal is another great casual eatery with daily fresh fish and outdoor seating on the deck. Try the fish sandwich and clam chowder (BLTs and cheeseburgers also available).
HOW TO GET TO MENDOCINO
Driving to the Mendocino Coast from San Diego is not a hop/skip/jump. It's an 11-hour drive from San Diego, but there's so much to do between here and there, it would make a really fun road trip (in fact, see the links below for ideas). If you don't have that kind of time, you can also fly into San Francisco or Santa Rosa and drive to Mendocino from there.
Whether you drive or fly the first part of the trip, you'll drive the last "leg." Unless you're traveling Hwy 1, you'll pick up Hwy 128 from Hwy 101 around Cloverdale (make sure your gas tank is full as gas stations are few and far between until you get to Mendocino) and try not to miss the beauty and intrigue of what lies ahead: dozens of wineries and tasting rooms in Anderson Valley, wide open fields, animals and trees. Lots of trees. If you're a fanatic like me, you'll appreciate the towering California Redwoods that line the winding highway. Be sure to stop and take a photo—there are plenty of spots to pull the car over.
More Kid-Approved Activities
The following are recommendations by guests of Little River Inn. Learn more at www.littleriverinn.com/family-travel.
Best Beaches
Van Damme State Beach – Little River right on Highway 1
Safe, shallow cove with gentle wave breaks; campfire pits available.
Check out the tide pools on the south end during low tide.
Caspar Beach – Point Cabrillo Drive off Highway 1
Fairly well protected from wind; Large beach, so it's easy to keep little ones away from waves.
Good tide pooling during low tide.
Big River Beach – just north of the bridge in Mendocino
Popular beach with lots of activity—surfers, volleyball, etc.
Soft sand; river side is often warmer (but currents can be dangerous).
Family-Friendly Hikes in Mendocino County
The Haul Road at Big River – past the beach parking lot
This is a flat, straight, easy walk into the redwoods with a stroller.
Pygmy Forest – Three miles up Little River Airport Rd, left at "y", then immediate left
Wooden walkway has educational signage about the pygmy forest. The walkway and trail are easy for littles and strollers.
Activities
Point Cabrillo Light Station
State Historic Park, lighthouse, museum and gifts shop
Glass Beach – Turn left on Elm; north end of Fort Bragg
A unique beach with lots of sea glass—it's pretty magical!
CV Starr Aquatic Center – top of Maple Street and Lincoln in Fort Bragg.
Water park with lazy river, water slide (must be 48"), fountains, etc.
Playgrounds
Mendocino Community Center – School Street in Mendocino
Toddler play set and swings, sand box, giant seesaw and activities for kids.
Wiggly Piggly Playground – on Laurel Street in Fort Bragg
Bigger and newer playground (two playgrounds, swings, etc.)
It's fenced in so kids can't escape!
Visit www.visitmendocino.com for more ideas.
Managing editor Lisa Gipson is always up for a new adventure. She looks forward to returning to Mendocino to visit the wineries and spend more time exploring.
If you're planning to take a road trip from San Diego to Mendocino (or any other spot in Northern California), read these articles for ideas of what to do along the way:
______________