Camping Scavenger Hunt
If your family is planning a camping trip to a campground, national park or other outdoor destination, be sure to take along our free, printable Camping Scavenger Hunt! Print one for each child in the family, then encourage them to explore their surroundings (always with a parent or buddy). The kids will love spotting various items on the list and keeping track of how many they find. Winner gets to use the marshmallow roasting stick first!
Click on image below to download a printable pdf.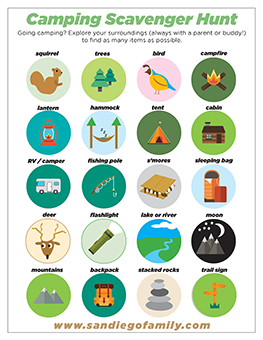 Going camping? Find as many items as possible in our Camping Scavenger Hunt.
Camping scavenger hunt concept by Lisa Gipson. Designed by Rik Thiesfeld, exclusively for San Diego Family Magazine. For personal use only. All rights reserved.
Find more free, printable scavenger hunts, apps and game ideas HERE.
_____________