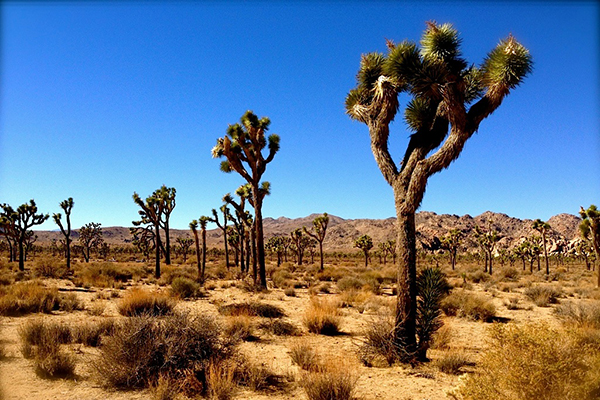 Few places offer such a wondrous and seemingly out-of-this-world experience as Joshua Tree National Park. Located 175 miles northeast of San Diego, entering the park's borders feels like you've rocket-shipped to a desert planet. Check out more than 800,000 acres of unspoiled desert, enormous rock formations, twisty Joshua trees, rugged mountains, sand dunes and green oases.

The best times to visit are fall and spring. During the summer, daytime temperatures can soar well over 100 degrees, and winter nights—especially at altitude—can get quite cold.

Family-friendly outdoor activities are available, including camping, hiking, stargazing, wildlife viewing, rock climbing and bouldering. Plan your visit during the spring to experience desert wildflower blooms!

Driving Tour
There are three park entrances: West, North and South. Expect to spend time in the car, driving from one activity/rest stop to the next. There is no cellphone service in the park (GPS devices are unreliable), but stop at any of the park's four visitors centers to pick up detailed driving directions, trail maps and current site closures.

Many of the park's most popular attractions are in the northwest section, with plenty of easy stops along the main roads to explore. Families can stretch, picnic, walk, rock scramble and more, all while enjoying vast desert landscapes.

Family Programs
The fun, educational Junior Ranger program is targeted for kids ages 5–13. Pick up an activity book at one of the park's four visitors centers, then complete a series of activities to receive a Junior Ranger badge.

Additional programs for kids include Junior Paleontologist, Night Explorer and Wilderness Explorer. Ranger programs for the whole family are also offered, such as free guided walks, talks and evening activities.

Hiking and Nature Trails
Joshua Tree offers trails and hiking for all levels, ranging from short, flat nature walks to strenuous, mountain ascents. Take care to wear appropriate footwear, bring adequate hydration and use sun protection.

For those seeking a shorter hike, Barker Dam is a 1.3-mile loop that is fun for the whole family. Another good option is the 1.5-mile loop to Skull Rock. This trail passes by boulder piles and a large rock formation that resembles a skull. Cap Rock is less than half a mile and stroller-friendly.

If you want something more strenuous, the hike to 49 Palms Oasis is a pleasant, 3-mile round trip venture. Or, for a stunning vista view, the 3-mile round trip climb on Ryan Mountain is worth the effort. There are plenty of longer trails in the park, but if this is your first park visit, several shorter hikes will provide a better park overview.

Rock Climbing and Scrambling
Wherever you see rock formations in Joshua Tree, there will be individuals of all levels climbing them. The world-class climbers in the park are great fun to watch as they work their way up sheer rock faces. To participate, be sure you are properly equipped, trained and guided. Commercial instruction is available.

If your family simply wants to scramble around boulders (climb over while using your hands), there are plenty of great options, including Hidden Valley, Split Rock and Quail Springs. Or, with extra caution, try the House of Horrors!

Nighttime Fun
When the sun goes down, the brilliant stars come out and you'll be glad you have an open view. With no major metropolitan areas in the immediate vicinity, the stargazing is amazing. The Milky Way is best viewed on moonless summer nights, the Perseid meteor shower in mid-August. Much of the park's wildlife—coyotes, kangaroo rats, bighorn sheep, snakes and jack-rabbits—is nocturnal. Enjoy the evening company, best seen at dawn and dusk.

Camping and Accommodations
If you like camping, you're in luck because Joshua Tree offers nine campgrounds, many with campsites alongside fabulous rock formations for climbing and scrambling. Once the park's daytime visitors clear out, these become your exclusive playgrounds to explore or relax.

Most campgrounds operate on a first-come, first-serve basis and do fill up, especially on weekends. Black Rock and Indian Cove campgrounds accept reservations during peak times, October­–May. Group reservations (10–60 people) are available at several sites.

Facilities are simple; expect well-maintained pit toilets and no water, so bring ample water with you. It is only available at a few locations outside the park. Rangers recommend 1-2 gallons of water per person, per day. Also bring firewood for campfires.

Aside from camping, there are no lodging options within the park. However, nearby communities, such as Twentynine Palms, offer affordable motels. A wide range of accommodations can also be found in Palm Springs, about an hour outside of Joshua Tree.

More Information about Joshua Tree
Campsite reservations

Junior Ranger Program

Trail Maps

Wildflower Forecast

Local mom Lisa Pawlak is a contributing writer and Joshua Tree enthusiast.
---
Published April 2016