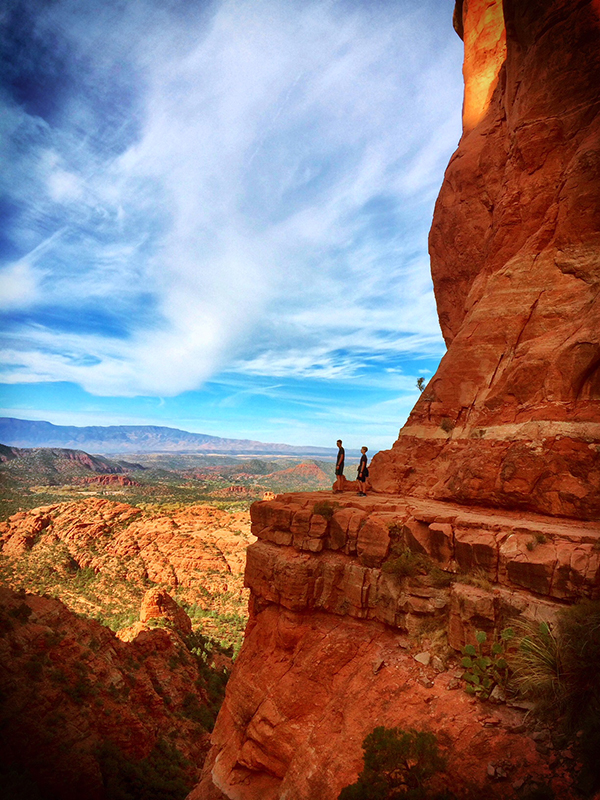 Cathedral rock (photo credit: Geno Pawlak)
If you're looking for an active family getaway that will recharge and renew your spirits, look no further than Sedona, Arizona. This spectacular destination offers the majesty of a national park, with all the conveniences of city life. Recognized by Good Morning America as one of the "10 Most Beautiful Places in America", Sedona is surrounded by breathtaking red sandstone formations, unparalleled natural beauty, and, many visitors claim, the positive energy of uplifting vortexes. There is little doubt that Sedona offers peace and serenity to those who embrace it—along with a multitude of opportunities to explore the impressive natural surroundings.

General Information
Sedona—a four-seasons getaway—is about 460 miles from San Diego. A range of fun, outdoor adventures await your family's arrival, including hiking, rock climbing and bouldering, mountain biking, horseback riding, and off-road scenic jeep tours. There is also excellent dining, shopping, galleries and museums.
If you enjoy lively surroundings, consider staying in—or strolling through—Sedona's Uptown district. Filled with shops, boutiques and restaurants, the area is also packed with wellness centers offering metaphysical experiences such as aura photos and psychic readings. Uptown is also a good starting point for guided tours, which include everything from off-road wildlife jeep tours to meditative yoga trail outings.
Kids and sweets enthusiasts might want to try homemade ice cream, such as local flavor Prickly Pear, from Black Cow Café. Or, nearby Sabrina's Gourmet Ice Cream offers outstanding views from their back patio.
For a more off-the-beaten-path vibe (with amenities), book a room at low-key Sky Ranch Lodge, located on the Airport Mesa. The relaxing grounds include gardens, a wine bar, pool/hot tub, sunset views and easy access to hiking trails. In the evening, take a short walk over to the airport's Mesa Grill. Kids love the restaurant's close proximity to the runway.
There is no shortage of restaurants in Sedona—you'll find everything from standard food court fare to high-end dining. For breakfast, fuel up at Nick's West, then pack sandwiches for the day's expeditions. Grocery options include Safeway, Whole Foods and other natural markets. Or, if you are heading north of town, stop at Indian Gardens Café & Market for lunch; the outdoor patio is charming. Foodies will appreciate dinner at Elote Café (arrive early for first seating) or Cucina Rustica (make reservations); the whole family will enjoy pizza at Picazzo's or burgers at Oak Creek Brewery.
For more information on lodging, dining and activities, visit www.sedona.net and www.visitsedona.com.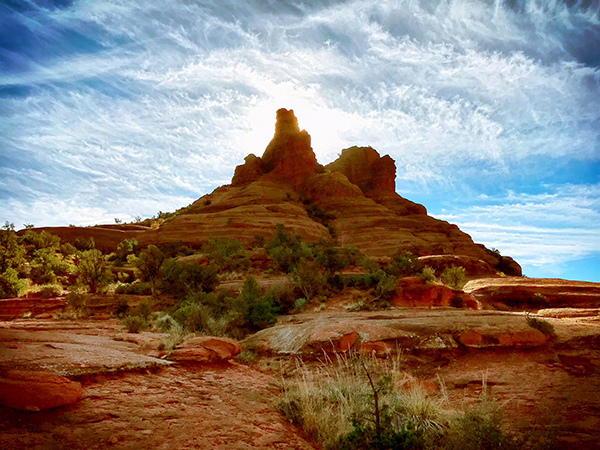 Bell Rock (photo credit: Lisa Pawlak)

Hiking Sedona
The Sedona area offers hundreds of hiking trails for all levels. Don't miss exploring the area's impressive red rock formations on foot. Many of the area's attractions maintain multiple trails up, down, around or along rock formations. For example, energetic family members can attempt a steep climb up to the saddle points of Cathedral Rock (1.5 miles), while others—especially those with younger kids—might be happier on the Easy Breezy trail that meanders below.

Bell Rock offers a fun, moderate hike (3.6 mile loop), circling Bell Rock and Courthouse Butte. Along the way, rock climbers and scramblers can ascend smaller structures or the face of Bell Rock, which requires varying degrees of difficulty depending on the route.
Other popular hikes include the Airport Loop (3.3 miles, easy/moderate), Broken Arrow (3.4 miles, easy), Devil's Bridge (4.4 miles, moderate), Fay Canyon (2.3 miles, easy) and Soldier Pass (4.2 miles, moderate) trails.
Many trail parking areas require a Red Rock Pass, which can be obtained onsite at parking lot vending machines, or in advance from a number of local businesses. Head out early as parking fills up.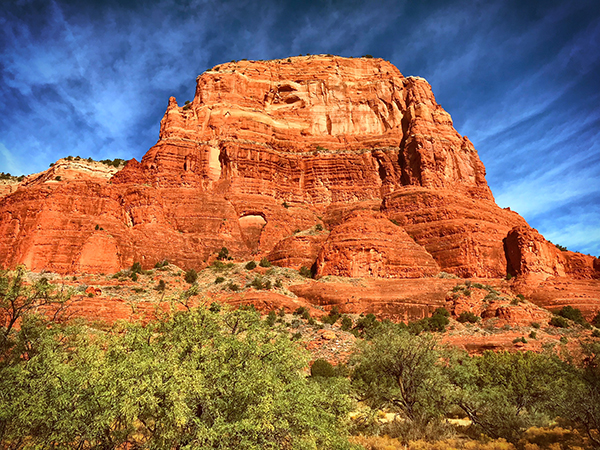 Courthouse Butte (photo credit: Lisa Pawlak)
Other Activities
The Red Rock Scenic Byway, south of town, is a 7-mile scenic drive and gateway to the area's most popular attractions. North of town, Oak Creek Canyon Scenic Drive is 14 miles and offers red rock, oak tree, and creek views. This area is particularly picturesque in the fall when the leaves change colors. During warmer months, nearby Slide Rock State Park offers swimming and a natural water slide. Oak Creek is stocked with rainbow trout for fishing enthusiasts.
Rent or bring bikes to explore mountain biking trails. Or get to know the area on horseback (tours available).
Finally, be sure to venture outside at night and look up. With clear skies the majority of the year, crystalline stargazing will leave the whole family dazzle-eyed and dreamy.
Lisa Pawlak is an award-winning freelance writer and outdoor enthusiast.
Published March 2018
-------------