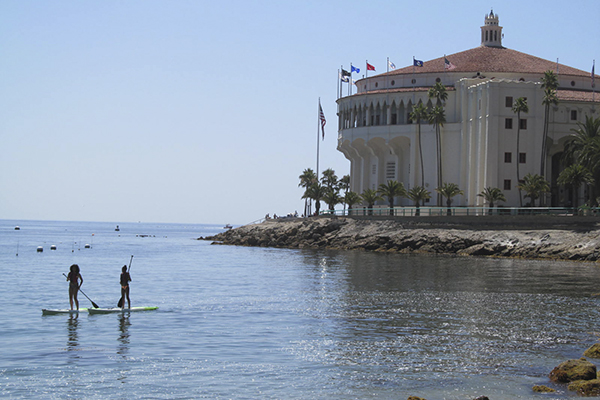 What do wild bison, an awesome zipline, a casino and walking on the ocean floor have in common? Catalina Island, of course.

Looking for a fun family day or weekend trip? I'll let you in on a little secret: There's a fantastic island getaway practically in our backyard, San Diegans. Catalina Island. There is so much to do and discover (or not) and it's all in a fun, relaxed, island atmosphere. It only takes only a couple hours to get there, but feels like you're a world away when you arrive.

Find Insider's Tips When Visiting Catalina here.
When to Go
Peak months to visit Catalina are July and August, but Catalina is a year-round destination, so pick a date that works for your family. The weather is very similar to that of most of Southern California, so most activities are offered year round as well.

Getting There
The most common way to get to Catalina is by boat. The Catalina Express departs from Dana Point (closest to San Diego), Long Beach or San Pedro and takes about 70–90 minutes, depending on your departure point.

Did you know you can also get to Catalina by helicopter? In a mere 15 minutes you'll be transported from Long Beach to the Avalon Helipad. Taking a helicopter is also a great option for those prone to motion sickness.

Fun Stuff to Do
Family-friendly activities abound on the island, everything from adventurous water sports and island expeditions to relaxing on the beach or enjoying a day at Island Spa. There really is something for everyone.

Zipline Eco Tour
If you have a family of thrill seekers, then you must go on the Zipline Eco Tour. The two-hour "tour" is ridiculously fun and was a highlight of our trip! This adventure is a little pricey, but here's why: You will soar through the air on five separate ziplines through Descanso Canyon. Each zipline ranges from 400 to 1,100 feet long and riders reach speeds of up to 40 mph! Since you are 300 feet above ground, the views of the canyon and water are breathtaking (sometimes literally).

Descanso Beach Club
One could easily spend a whole day at Descanso Beach enjoying water activities (kayaking, stand-up paddle boarding, snorkeling, swimming), a rock wall or hanging out on the private beach (nomial daily fee) to collect shells and observe hermit crabs. As an alternative to sitting on the sand, rent lounge chairs or a private oceanfront cabana where you can have food and drinks delivered to you. There is also a beachside drink and snack bar with ample seating on the patio.

Jeep Eco Tour
One of the best ways to explore the island's rugged interior is on a Jeep Eco Tour in an open-air Hummer. We learned a lot about the island as our tour guide shared interesting and entertaining facts. We saw bison, the island fox, mule deer, and enjoyed spectacular views of the ocean. This is also how we learned about the Catalina Island Conservancy.

Casino
The iconic circular building you see in every photo of Catalina Island is the world-famous Casino. Here you'll find the Catalina Island Museum, an enormous art-deco theatre that plays first-run movies, and a gorgeous 20,000-sq.-ft. ballroom. Take a guided tour to get the inside scoop on the Casino's fascinating history that dates back to 1929 and to take photos from the top floor terrace that wraps around the building.

Other fun things your family can enjoy include the glass bottom boat tour, mini bowling (yes, mini balls and mini lanes), hiking, miniature golf and a visit to Lloyd's candy shop where they pull fresh saltwater taffy in the front window. Be sure to stop by Big Olaf's Ice Cream shop for a freshly made waffle cone. As for walking on the ocean floor, that's exactly what you do when you take a Sea Trek Tour (for ages 8 and up).

Getting Around
Almost everything in Avalon is within walking distance. It's an easy 5-minute walk from the boat landing to Crescent Ave., the main street that runs along the harbor and connects all the quaint boutiques and eateries.

Other ways to explore town and the residential areas are by bike (rent beach cruisers, electric bikes and mountain bikes for a nominal hourly fee), by Segway, and by trolley. The trolley makes several stops during its easy 45-minute ride around town. You are permitted to exit and re-board one time. This is a great way to get to Wrigley Memorial and Botanic Garden, but you could also walk or ride a bike.

The most popular mode of transportation on the island is by golf cart (sorry kids, you must have a driver's license to drive a golf cart; and if you're renting one, you must be 25).

Where to Eat
There's no shortage of restaurants in Avalon, from casual corner stands to fine dining. Bluewater Avalon is the perfect spot to enjoy delicious seafood in a casual atmosphere while taking in the harbor view. We had a memorable lunch at Maggie's Blue Rose, an authentic Mexican food restaurant on Crescent Ave. that opened this year. Just upstairs from Maggie's (and owned by the same couple) is Steve's Steakhouse, which is known for its excellent food and service. Coney Island West is a local favorite to grab a hamburger, hot dog or sandwich. Order at the walk-up window and have a seat on the patio.

Where to Stay
We thoroughly enjoyed our stay at the beautifully landscaped Pavilion Hotel, which offers nice rooms, comfortable beds, excellent service and a convenient location. Just steps from the water, the hotel courtyard lends itself to people watching or enjoying the view of the harbor. A real plus for families is the daily complimentary breakfast. Don't miss the wine and cheese happy hour.

Take a break from the chaos of life and plan a day or weekend family adventure in Catalina. You can also camp, backpack, and send your kids to camp on the island. Are you sitting on the edge of your seat with excitement? Excuse me, I have a boat to catch.

Before you go, be sure to read my Insider's Tips when Visiting Catalina.

Find more information about visiting Catalina Island at www.VisitCatalinaIsland.com


-----------
Lisa Gipson is the managing editor at San Diego Family Magazine and is looking forward to her next exciting adventure to Catalina. Photo by author.