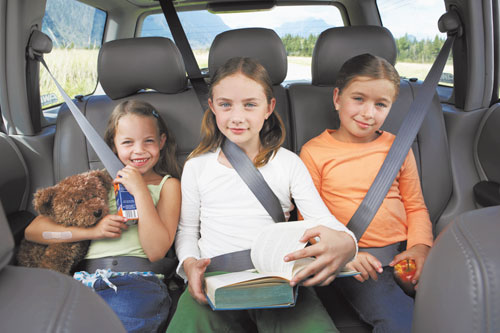 8 Survival Tips for Family Road Trips
Taking a family road trip this year? You are not alone—traveling to a vacation destination via car is still popular with families. While sitting in a car together for hours doesn't sound like a vacation to some families, others believe that getting there is half the fun. If you are looking for ways to make your next road trip more enjoyable, check out these eight survival tips.
Play Games. Choose classic road trip games that you played as a child: 20 Questions, Road Trip Bingo or the License Plate Scavenger Hunt. Pack board games like Trouble or Battleship (where the pieces stay in place) or card games like Apples to Apples that can be played without a table. Bring a small dry erase board and play Pictionary. Put dice in a clear sealable container to keep them from getting lost while you play games like Dice War or Odds and Evens (explained below).
Get Creative. Give your kids an outlet for creativity. Purchase sticker scenes to create their own beach, farm or dinosaur world. Foam sticker mosaics are a less messy version of paint-by-numbers. Take along some colorful pipe cleaners so the kids can make jewelry or fun shapes. Let kids decorate the car windows with washable window markers and stencils.
Listen to Books on CD. Let your child use his imagination while listening to a story. Find something the whole family will enjoy. While your family might like a fiction series like Harry Potter, don't overlook non-fiction books. Check out true stories about inspirational teens, sports heroes or a person who ties into your vacation destination.
Start a Conversation. Families are so busy that they often don't have time to catch up. Not sure how to start the conversation? Get a little help from games like Would You Rather?, TableTopics or the Kids' Book of Questions. You will be amazed what you learn about each other.
Busy Books. Fill binders will fun printables—coloring pages, maps, word searches, mazes, tic tac toe boards—and pack a simple sketchbook and colored pencils so the kids can create pages themselves.
Snacks. When we are on vacation, we allow special treats that we usually say no to during the school year. You'll want to limit sugar since you will be in a small space, but consider letting the kids get a slushee at the gas station or fast food for lunch.
Make the Most of Stops. Kids and parents alike need to run out some sillies after being in the car too long. Plus, a little fresh air makes a better trip for everyone. Stop at a restaurant with kid-friendly play space or a rest stop with playground equipment (or blow bubbles or draw with sidewalk chalk). Better yet, pick up a copy of "125 Wacky Roadside Attractions" by National Geographic Kids to see if any entertaining landmarks will be in your travel path.
Allow a Little Movie Time. If your car doesn't already have a DVD player, pack a small one and bring a couple movies. Allow movie time to wind down after lunch or to get through the last leg of the trip.
Easy Road Trip Dice Games
Odds and Evens
Multiple players; three dice
Place three dice in a sealable clear container to keep them from getting lost in the car. Each player takes a turn rolling (shaking) the dice. Players get one point for each even number rolled (2, 4 or 6). If the player rolls a triple even number (all 2's, all 4's or all 6's), the player gets double their total score. When a player rolls an odd number triple score (all 1's, all 3's or all 5's), their total points are zero. The first player with 100 points wins.
Dice War
Two players; one die
Place one die in a sealable clear container to keep it from getting lost in the car. Each person takes a turn rolling (shaking) the die. The person with the higher number on their roll subtracts the lower number thrown by the other player and his score for that round is the difference between the two numbers. For example, if one player throws a five and the other throws a three, the person that threw the five will get two points. The winner is the highest score after 100 rolls or a set time.
-------
Pam Molnar is a freelance writer and mother of three. Her children are seasoned road trippers and enjoy the car ride almost as much at the destination.
-------