Discover the historic connection between The Wonderful Wizard of Oz series and these must-see sites in Coronado California.
L. Frank Baum, the famous author of America's classic Wizard of Oz series, resided in the Midwest but spent many of his winters in Southern California. He often stayed at our own Hotel del Coronado. While staying at the hotel, not only did Baum enjoy the sunshine, but he also wrote some of his Oz books there.
Here are seven fun and surprising sights around Coronado Island that inspired Baum's literary works or were inspired by the author's visits to the "Emerald" isle.
1. With its iconic red castle-like turrets and fairy tale setting, The Hotel del Coronado was Baum's inspiration for the Emerald City. Did you know that Coronado is also nicknamed "the Emerald City?"
2. The Hotel del Coronado's grand Crown Room is home to four spectacular crown-shaped chandeliers designed by Baum, which visitors can still enjoy seeing today.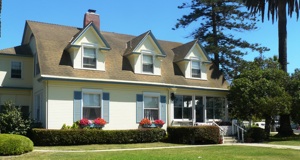 3. L. Frank Baum's historic Coronado home (1101 Star Park Circle), is a quaint yellow house that he rented during his stays. This is where he wrote three books in the Oz series: "Dorothy and the Wizard of Oz," "The Emerald City of Oz" and "The Road to Oz." Baum also wrote sections of "The Marvelous Land of Oz" while staying in Corornado. Local tip! From the sidewalk, see if you can spot the face of the Wicked Witch peering out from the side of this home.
4. Be sure to stop by the Coronado Museum of History and Art (1100 Orange Avenue) to see the three First Editions Oz books by Baum. Admission to the museum is free. Oz Fans! Be sure to visit the museum's gift shop, which has many unique Wizard of Oz gifts and souvenirs.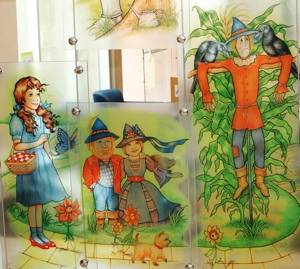 5. The Wizard of Oz Glass Art Exhibit at the Coronado Public Library, (640 Orange Ave) where Baum's storybook jumps off the pages onto nine huge glass panels depicting Dorthy, the cowardly Lion, Scarecrow, Tin Man, Glenda the Good Witch, Munchkins and more.
6. Want more fascinating facts and interesting tidbits about Coronado and Baum's time on the island? Book a historic guided walking tour from Coronado Touring. The tour departs Thursdays and Saturdays from Glorietta Bay inn and travels through downtown Coronado stopping at fun sites along the way.
7. If you need a place to stay, consider spending the night in the "Author's Study" at bed and breakfast 1906 Lodge at Coronado Beach. This room features framed art prints of the glittery Ruby Slippers, Dorothy meeting the cowardly Lion and original book cover of The Wizard of Oz book, plus an autobiography on Baum. Fun Fact! L. Frank Baum's great grandson stayed at the 1906 Lodge in 2009.
Thanks to the San Diego Convention & Visitors Bureau for supplying these fun things to do in Coronado, CA!