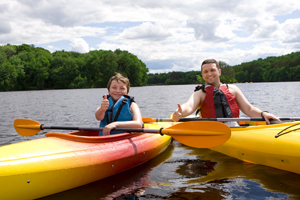 Keeping children safe while on board a boat—any boat from a canoe to a cruise ship—means observing the same, sane rules you use at home and away but with important differences.

First, boats move up and down, side to side. They can lurch unexpectedly and sometimes violently. When a boat suddenly goes aground it stops as abruptly as a collision, yet you probably never saw it coming.

Second, being on the water has its own dangers. Look away for only a moment and a child could fall overboard and perhaps be injured from the fall. A good family rule is to put on children's personal flotation device (PFD) as they leave the car and leave them until the boating day is over and everyone is back in the car again.

Third, boating is great fun. Being "rocked in the cradle of the deep" can put babies to sleep but also lull families into complacency. Before spending the night on board, review safety drills and fire escapes. They're required on cruise ships and are a smart idea too for the family boat. Such drills are far different from fire drills at home. For example, older children should know the locations of all escape hatches and how to open them.
They may also vary each night depending on whether you're at your home dock, an unfamiliar dock, or at anchor. At home, families choose a place to meet after everyone is safely out of the house. When boating, that safe place will be different each time.
Despite its obvious dangers, boating has unique delights for families. Children ages 8 and over can do chores and steer a course. Kids can learn salty skills as splicing, knot tying, and how to "flemish" and "flake" lines. Nothing teaches conservation better than running out of fresh water or having the "house" battery go dead. Without realizing it kids soak up meteorology, environmental sciences, navigation, teamwork and so much more.

Here's how to kid-proof your boat.
Adding guardrail netting (much like the soft netting used in playpens) is a big safety plus in keeping little ones from falling overboard. It's available from marine suppliers and catalogs.

Plug-in household night lights work when you're on shore power. At other times children can use chemical light sticks (e.g.Cyalume) to provide safe, cool, spark-proof emergency lighting. Install waterproof, shockproof, 12-volt LED courtesy lights at strategic spots around the boat. They're found at marine suppliers.

One or more carbon dioxide alarms are a must on any boat that uses fuel (cooking engine, generator). CO2 is not "seen" by smoke detectors or fuel "sniffers." You need dedicated CO2 alarms, preferably models that give both audible and visual signals. An alarm should be mounted in every sleeping compartment. Often the headaches and nausea of CO2 poisoning are mistaken for flu, so you're tempted to stay in bed at a time when it's crucial to get out into fresh air. CO2 tends to seek out low places so you're even at risk in the open air when running an engine or generator in a small lake or enclosed harbor.

To be Coast Guard compliant, you must have safety equipment on board including life vests. Better still, fit new vests every few years specifically for children's sizes including infants. The best PFDs can turn a body upright and keep the head above water, even if the person was unconscious when he hits the water. They aren't necessarily the most comfortable so a good compromise is to have two sets of PFDs: those that children wear all the time and those that would be put on in an emergency.
-----------------------
Janet Groene holds a Parenting Publications of America Gold Award for travel writing and an NMMA Directors Award for boating writing.
-----------------------
Debra Smiley Holtzman, J.D., M.A., a nationally recognized child safety expert and the author of "The Panic-Proof Parent: Creating a Safe Lifestyle for Your Family," offers these tips for child-proofing a boat.

Check for hazards in every part of the boat from your child's perspective.
Crawl around on your hands and knees. " Observe what looks tempting (from that angle) and what is within a toddler's reach," suggests Ms. Holtzman. "Check floors and carpets for buried dangers like pins or coins. Make sure all child safety devices are properly installed and well maintained. Check them frequently. Proper supervision is always required."

Meet Coast Guard safety standards.
Have all of the required safety equipment such as a fully stocked first aid kit, fire blanket, fire extinguishers, children's and adult life jackets and rescue equipment. Test the smoke alarms and carbon monoxide alarms and maintain them properly. If the Coast Guard pops a spot check on you and you pass easily, you'll look like a hero to your kids.

Use clear communication.
Hand over responsibility for the child just as naval officers hand over the helm. Sailors say "aye-aye" for good reason. When you and your spouse communicate any important message, give or receive an answer. Know who is in charge of the child so you won't suffer one of those "But I thought she was with you" tragedies.

Install latches and locks for drawers and cabinets.
To prevent strangulation, keep window blind cords and other cords, ropes or strings out of children's reach. Don't put your child's bed near a window or drapery.

Keep tools, batteries and machinery locked and out of the reach of children.
Lock and store poisonous materials, all sharp objects and flammable materials including matches, emergency flares, and lighters out of the reach of children. (Older, responsible children should be taught the dangers and proper use of flares and other lifesaving gear.)

Never store flammable materials near a heat source.

Use a spill resistant mug for hot beverages.
Don't hold or carry a child while holding hot foods or beverage, Holtzman advises. Use back burners on the stove and turn pot handles toward the back of the stove. Keep appliance cords from hanging down. (Children are naturally curious, she says, and may pull on cords, unintentionally pulling the appliance and its scalding contents on themselves.)

Keep hot food and beverages, glassware and knives away from the edge of counters and tables.
Set the hot water heater no higher than 120 degrees F. to reduce the chance of scalding. Supervision at bath time is important for the child's safety, and to prevent water waste.

Keep children out of the galley area when preparing meals.

Cover all unused electrical outlets.
Anchor furniture and safely secure objects that could fall on your children in raucous seas.

Install toilet locks.
A young child's weight is concentrated in the top half of the body. Leaning into a toilet or a bucket a child could lose its balance, fall forward and drown in as little as one inch of water.

Lock up firearms.
in the boat, keep them locked, unloaded and stored out of reach. Secure ammunition in a separate, locked location.

Published: June 2011