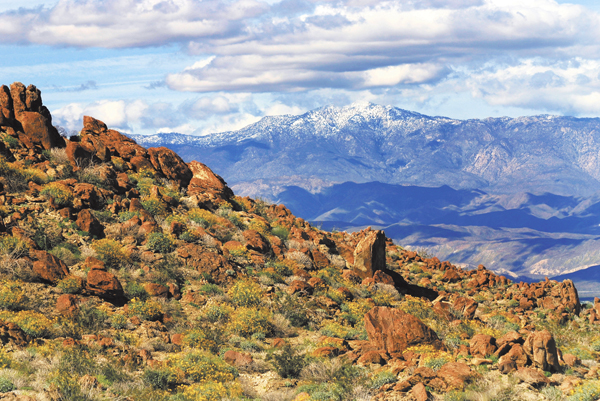 Borrego Springs may conjure up visions of sun-baked desolation, but a longer look reveals this small, unincorporated East San Diego community as a local treasure with a storied charm as colorful as a blaze of wildflowers after a storm.
The Borrego Springs lifestyle sways with the desert breeze at a slower pace. You won't find a single stoplight or chain store. You will, as the Chamber of Commerce accurately declares, find "solitude, sunshine, stars and so much more."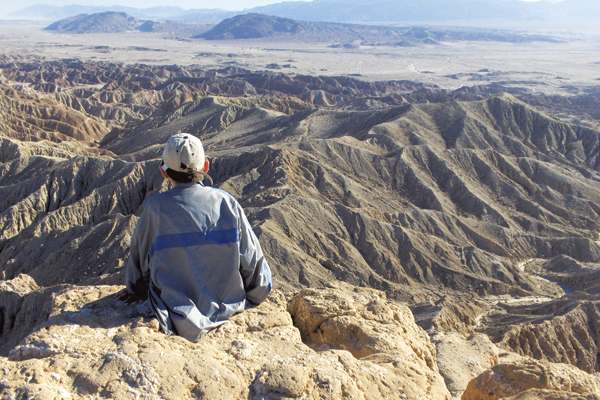 Exploring the Backcountry
We met with Joe Raffetto, owner of California Overland Desert Excursions. At 600,000 acres, Anza Borrego State Park is the largest desert state park in the United States. Only a small fraction of the park is accessible to family cars. California Overland unlocks some of the most beautiful sights in the farther reaches of the desert backcountry.
Raffetto is a wealth of geohistorical knowledge, sharing fascinating details about each point of interest with spry humor. He managed to keep our sons' attention (not always an easy thing) for three hours. As we moved deeper into the desert, we relished rare, quenching bursts of flowering color in a wash of browns, reds, greens and golds.
We rumbled past a few "closed area" signs—California Overland is authorized to be in these areas, and treats them with utmost respect. We arrived at Clark Dry Lake, which, according to Raffetto, was a shimmering, deep freshwater lake until about 8,000 years ago. WWII naval aviators trained here, and the rake stations, fortified positions for flight instructors and observers, remain standing. A wartime collision between two training aircraft left an impact crater, surrounded by small debris. The larger chunks were hauled out by the Navy, but we saw black, decaying rubberized fuel bladders, bits of wiring, scraps of fuselage and a few .50-caliber bullets and shells. As historic relics, visitors are not to remove these items, but Raffetto handed the pieces around for us to examine—a satisfying, tangible time capsule experience.
At Font's Point, the stunning Badlands formations are spliced with red earth from the Grand Canyon. The San Jacinto fault, the most active branch of the San Andreas, buckles through the Anza Borrego, with up to 230 quakes a day. Though most are imperceptible to visitors, the shifting landscape panorama tells its shaking tale.
Stellar Stargazing
Anza Borrego is one of only four designated Dark Sky Communities in the world and one of the Top 10 stargazing sites in the United States, according to USA Today. We were privileged to join noted astronomer, astrophotographer and author Dennis Mammana for a night of stargazing. Mammana has held planetarium positions at the Smithsonian Institution's National Air & Space Museum and San Diego's Reuben H. Fleet Science Center.
The full moon was magnificent but it was not ideal for stargazing. However, even with the bright gaze of the moon, Mammana guided us to a number of celestial sights with a telescope the size of a lanky child.
The visual treats included Albireo, a lovely bi-color double star at the beak end of Cygnus the swan, the brilliant stars in the Summer Triangle, Cassiopeia, Pleiades and the dazzling Double Cluster.
Then, with considerable effort given the bright moon, Mammana located the Andromeda galaxy and we were awed by ancient starlight traveling to us from beyond our home galaxy. We brought binoculars, lawn chairs and blankets, and were glad we did as winter temps drop quickly after sundown.
Mammana's patience and enthusiasm left us hankering to learn more about the cosmos. We'd love to return to Borrego Springs during a new moon to take full advantage of the blazing night sky.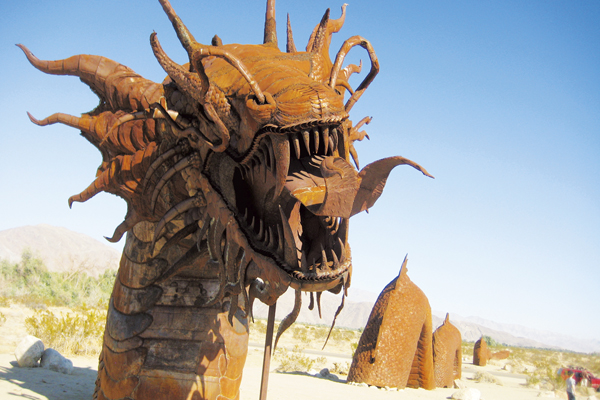 Glorious Galleta Meadows
From La Casa del Zorro we made our way to Galleta Meadows, to enjoy Ricardo Breceda's fantastical steel sculptures of animals both historical and mystical. Breceda's welded metal "sky art" menagerie must be seen to be believed. These muscular, passionate works create a jaw-dropping dreamscape. We journeyed along, stopping to marvel at a number of the creatures jutting high above the desert brush and cacti. We saw the 350-foot serpent, several of the horses, and original inhabitants of the desert, such as the Gompothere, Camelops, Merriam's Tapir, and Columbian Mammoth. Fossils from these prehistoric beasts have been found close to Borrego Springs.
The late philanthropist Dennis Avery (1940-2012) commissioned Breceda's works, a true gift for the generations. We were unable to see all 129 creatures and hope to make a return pilgrimage one day. As we drove away, we pondered how fluently these static metal forms convey movement and even emotion.
Our memories were filled with wonderful stories of the desert, the stars and time spent together as a family.
---
Borrego Springs — IF YOU GO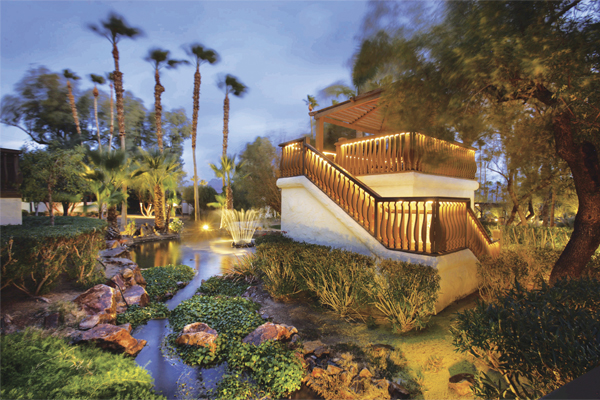 Anza Borrego Desert State Park
www.abdsp.org
Visit the site for must-read safety tips and info on the Visitors Center, camping and family-friendly trails.
Anza Borrego Desert Natural History Association Desert Store and Nature Center
652 Palm Canyon Dr.
www.abdnha.org
"Just for Kids" section, desert exploration activities.
La Casa del Zorro
3845 Yaqui Pass Rd.
Reservations: 760-767-0100
www.lacasadelzorro.com
Though La Casa del Zorro allows pets for an extra fee, pets are not allowed on desert hiking trails, due to dangers of wildlife, dehydration and scalded paws.
Dining:
The Butterfield Room: A romantic, candlelit restaurant. Dinner entrees priced at $30+; ample breakfasts are offered for $10-$15.
The Fox Den: More casual dining but still elegant with fire in the hearth. Dinners range $12-$15. Try the house-made "Fox chips."
California Overland Desert Excursions
www.californiaoverland.com
Layer up! Extremes in desert temperatures are to be expected, including depleting heat and cool winds. Lunch and dinner options available.
San Diego Tourism Authority
www.sandiego.org/eastcounty
Dennis Mammana: Stargaze Borrego
www.stargazeborrego.com
dennismammana.com
Borrego Art Institute
www.borregoartinstitute.org
Bike Borrego
www.bikeborrego.com


---
---------------------
Ondine Brooks Kuraoka is a writer who lives with her family in San Carlos.