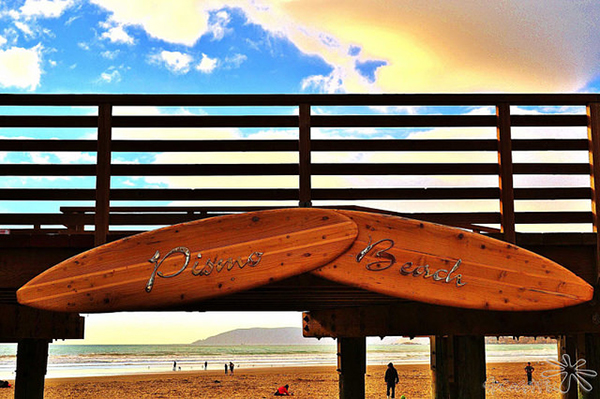 The laid back, friendly atmosphere of Pismo Beach makes it a great fall getaway or family road trip any time of year. Pismo Beach celebrates fall with a clam festival honoring the clam digging culture of its past, donned in the orange of thousands of monarch butterflies that start migrating to California in November. Don't miss an opportunity to dig into the fun and natural beauty that Pismo Beach offers.
Chowder's On at the Annual Clam Festival
This time-honored community tradition is filled with delicious flavors and family fun. The October weekend (Oct. 20-22) begins with an adults-only Wine Walk on Friday evening, featuring Central Coast wineries. Family fun begins Saturday with a parade, surf competition, clam chowder contest, live bands, and a beer garden for parents. Sunday, enjoy a clambake and shell dig with prizes for kids. To purchase tickets, visit www.pismoclamfestival.com. Don't delay—the event sells out each year.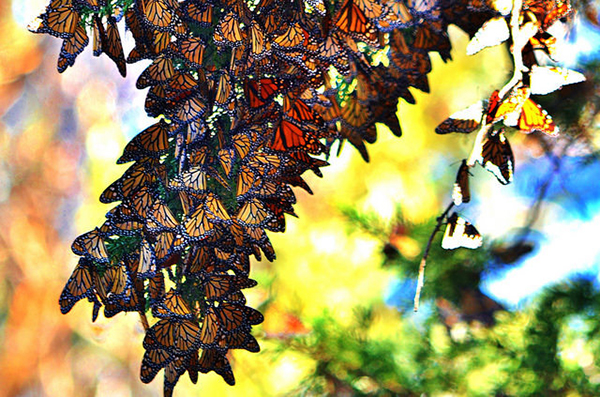 Fly High with Migrating Monarchs
Witness the wonders of Pismo Beach Monarch Grove. Each year from November through February, tens of thousands of monarch butterflies flutter around a small eucalyptus grove, one of the most active monarch sites in the nation. Kids are eager to experience the science of metamorphosis. The trick is to visit after the fog clears. When the sun is out, the butterflies are more active. To capture the beauty of this magical place, bring binoculars and a camera with a telephoto lens. A trip to the grove will only fill an hour of your day, but the memories will last. Open 10 a.m.-4 p.m. daily. Learn more at www.monarchbutterfly.org/butterfly-grove.
A Family Favorite: Old West Cinnamon Rolls
This small, unassuming shop has been baking up some of the sweetest, biggest breakfast treats in California for 40 years. Worth every calorie and the wait in line on weekends, enjoy their cinnamon rolls and an excellent cup of coffee. The "original" comes with cinnamon drizzle, but rolls are also available with cream cheese frosting, or topped with almonds, pecans or walnuts. Oh my, yum! https://oldwestcinnamonrolls.com
Picnic at Dinosaur Caves Park
Take the kids to play at Dinosaur Caves Park, located along the beach cliffs. Kids delight in climbing on sea creature structures and playing hide-and-seek among the huge dinosaur eggs scattered around the playground. Adults relish panoramic ocean views and expansive grassy areas. Pack a picnic for extra fun! Made with fresh Italian ingredients, the sandwiches at De Palo's Deli in Shell Beach (just off Hwy. 101) do not disappoint. The store also features freshly made mozzarella, roasted chicken salads and a huge wine selection. 2665 Shell Beach Rd. #L, Pismo Beach. www.pismobeach.org/288/Dinosaur-Caves-Par
------------------------------------------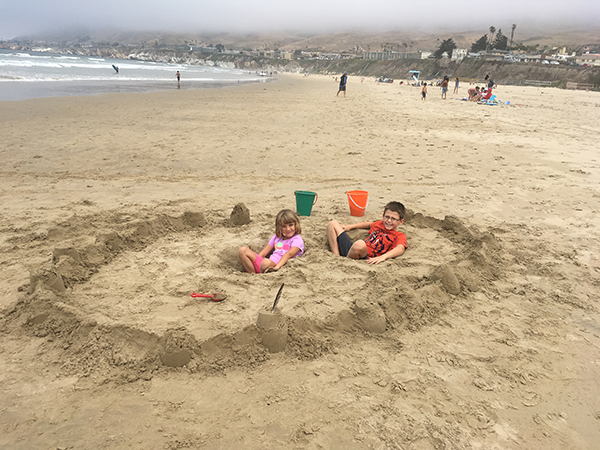 Where to Stay in Pismo Beach
Pismo Beach's SeaVenture Hotel offers an awesome beachfront experience: a mix of comfort and luxury, just steps from the sand. Bonus for kids: there's a play structure on the beach right in front of the hotel! Enjoy cozy rooms with fireplaces, feather beds, upscale details and breathtaking views. Many rooms have a hot tub on a private balcony. Hotel guests can upgrade their experience with a VIP Beach Set Up that includes set up of a beach umbrella or pop-up, beach chairs, towels and a table in front of the hotel. 100 Ocean View Ave., Pismo Beach. Learn more and make reservations at www.seaventure.com.
---
Cherie Gough is a freelance writer who loves exploring beaches with her family all year long. Photo credits: Kids in the sand - Cherie Gough. Butterflies and Surf Boards - Pismo Beach CVB
Published October 2017