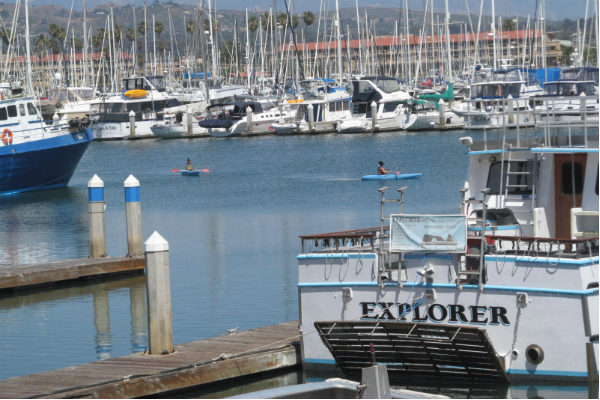 Here are family-friendly things to do in the beach town of Ventura, just a few hours up the coast from San Diego. Find more at http://visitventuraca.com.
WHAT TO DO
There is always something fun going on at Ventura Harbor Village (VHV). Nestled between the harbor and an awesome stretch of somewhat secluded beach, VHV has a collection of boutique shops, art galleries, restaurants and an arcade and indoor carousel for kids. Parking is complimentary. Check www.VenturaHarborVillage.com for the latest information and current events at the Village.

During our visit, my teen daughters and I rented kayaks from Ventura Boat Rentals (located right at the harbor, down the ramp from Coastal Cone). Exploring sea caves by kayak is not really our thing, so cruising through the waters of the peaceful marina was right up our alley. Well, except for when a huge yacht snuck up behind us and got our hearts racing briefly! We simply paddled to the side and let the yacht go by. A sea lion even swam alongside us for a while (just 10 feet away)—that was a real treat! Visit www.VenturaBoatRentals.com for rates on single or double kayaks, stand-up paddleboards or pedal boats.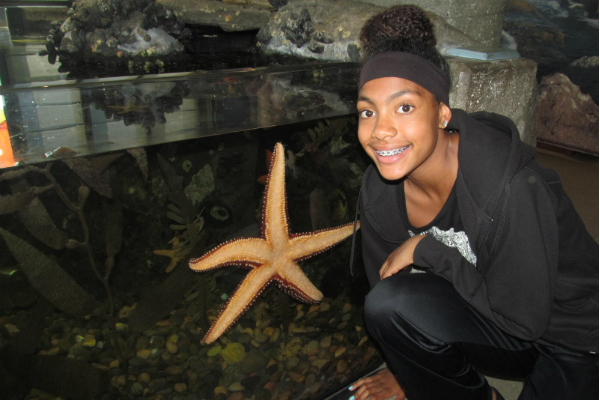 Be sure to take the kids to the Channel Islands National Park Visitors Center at 1901 Spinnaker Dr. (at the end of the VHV parking lot) to learn about local marine life and experience their ocean exhibit (new this year). We were very impressed by the clever transformation of a stairwell leading to the lookout tower, featuring beautifully painted murals and interactive displays. Kids can earn a free badge and patch (while supplies last) through the Junior Ranger Discovery Program when activities are completed in a booklet provided by a volunteer or park ranger on site. Exhibits and Junior Ranger materials are in English and Spanish. www.nps.gov/chis/

Having lunch at the Harbor? Be sure to stop at Boatyard Café for a sandwich, salad or delicious bowl of clam chowder. Kids menu available. www.theboatyardcafe.com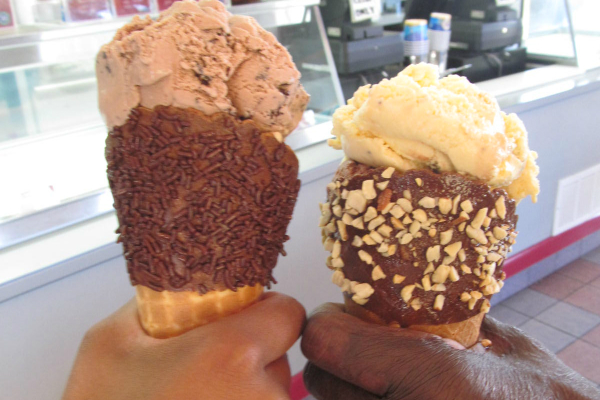 True confession: We went to Coastal Cone twice in less than 24 hours. Why, you ask? Dole Pineapple Whip, 40 flavors of Thrifty ice cream, homemade waffle cones, brownie sundaes and chocolate-covered bananas. Enough said. www.coastalcone.com

Rent beach cruisers or a surrey from Wheel Fun Rentals at the Marriott or Crowne Plaza and take a ride on the Ventura Beach Promenade (bike/walking path). Bike north a couple miles to Ventura River Estuary where you can spy birds and other wildlife.

Marina Park at 2950 Pierpont Blvd. is an absolute gem for families. It boasts a large grassy area, sand, two playgrounds (one with a pirate ship and zipline!), views of the bay and marina, a paved walkway, even beach access.

Outdoor enthusiasts and adventurers will want to spend a day exploring the Channel Islands. Whether you prefer to hike, camp, explore tidepools, take a kayak tour, embark on a wildlife cruise or go whale watching, there's something for everyone. Find information at www.islandpackers.com and read more about visiting the Channel Islands at www.SanDiegoFamily.com/travel/family-travel/1521.

WHAT TO DO—Downtown Ventura
Tip! The free Downtown Harbor Trolley runs Wed.–Sun. (varies on holiday weeks) between downtown and Ventura Harbor. It will pick up at several area hotels if requested in advance by the concierge. www.downtownventura.org/downtown-harbor-trolley

Shopping downtown was a trip highlight for my 13-year-old, Naomi. She loved the eclectic mix of unique boutique shops and thrift stores and could have spent several hours walking up and down East Main Street.

At first, my teens were less than enthusiastic about going to a museum. But I was intrigued by "The Changing Face of Abraham Lincoln," a collection of George Stuart Historical Figures that was on display at Museum of Ventura County on E. Main St. The one-room exhibit illustrated pivotal moments of Lincoln's life and presidency. Even Naomi was fascinated by the compelling sculptures and historic photographs. In fact, she was the last one to leave the exhibit. Check the website for current exhibit information and special kid-friendly events. Admission is free on the first Sunday of every month. www.venturamuseum.org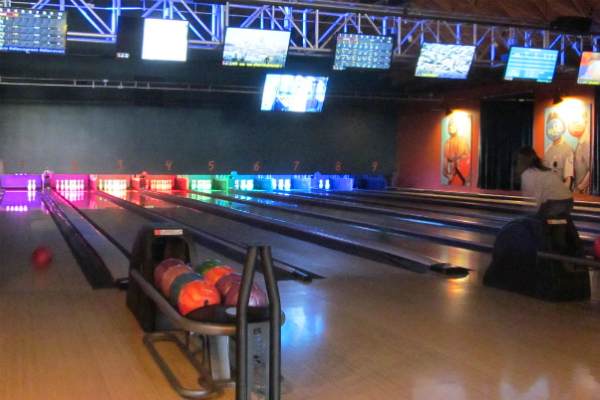 We learned a new term on our trip: a "boutique bowling alley" has fewer than 16 lanes and the focus is on serving great upscale food. That's what you'll find at Discovery Ventura at 1888 E. Thompson Blvd. The retro bowling lanes are super cool (pins are attached to strings!) and we had an awesome dinner, but we decided Discovery Ventura is best for date night, or ages 10 & up. They frequently host concerts and social events for adults, so be sure to check the schedule in advance. www.discoveryventura.com

GOOD EATS AND TREATS—Downtown Ventura
Locals recommend breakfast on the patio of Cafe Nouveau at 1497 E. Thompson Blvd. Try the Maple Bacon Beignets or Bananas Foster French Toast.

Snapper Jack's Taco Shack at 533 E. Main St. is a great little place to get friendly service and a tasty, quick lunch. Favorites are the crispy tacos and salsa bar. www.snapperjackstacoshack.com

Pick up a sweet or savory baked good from Sunflowers on the Square Bakery at 451 E. Main St., tucked away in the quaint El Jardin Courtyard. We enjoyed their freshly made chocolate chip, limoncello and snickerdoodle cookies during BOTH of our stops there.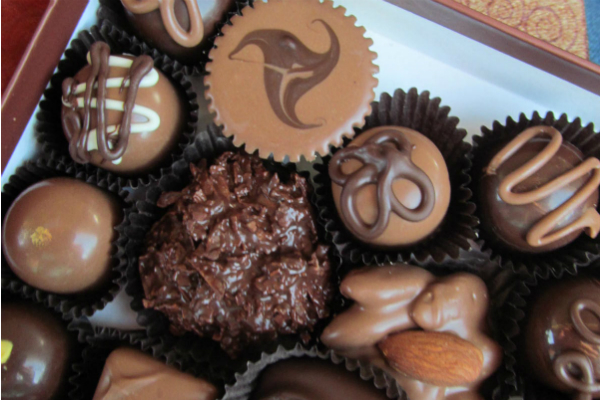 Love chocolate? Get a handcrafted gourmet truffle or homemade toffee at Trufflehound's Fine Chocolates at 607 E. Main St. www.trufflehoundsfinechocolates.com

Rocket Fizz Soda Pop and Candy Shop sells old school, hard-to-find candies that will take you on a nostalgic trip down memory lane. 105 S. Oak St., Ste. 100

WHERE TO STAY
We stayed at the Ventura Beach Marriott at 2055 E. Harbor Blvd. It has an ideal location one block from San Buenaventura State Beach and the beach bike/walking path; about a mile from Ventura Harbor Village and just two miles from downtown. Family features include a pool, koi pond, bike rentals on site and access to the free trolley (see below). We felt very welcome by the Marriott super friendly staff, who seemed genuinely happy to help. Be sure to ask about breakfast deals for families when you make hotel reservations. www.Marriott.com

The recently renovated Crowne Plaza Ventura Beach is located on the promenade, just steps from the beach, a beach playground and Ventura Pier where you can eat at Beach House Fish or Beach House Tacos. www.crowneplaza.com

Why not take a couple days this summer to do some exploring with your family? If you make a new discovery in Ventura (or elsewhere), tell me about it: This email address is being protected from spambots. You need JavaScript enabled to view it..

Find more information about visiting Ventura at visitventuraca.com.

----------
Lisa Gipson is the managing editor at San Diego Family Magazine. She lives in North County with her husband and two of their three daughters.
Published: June 2015