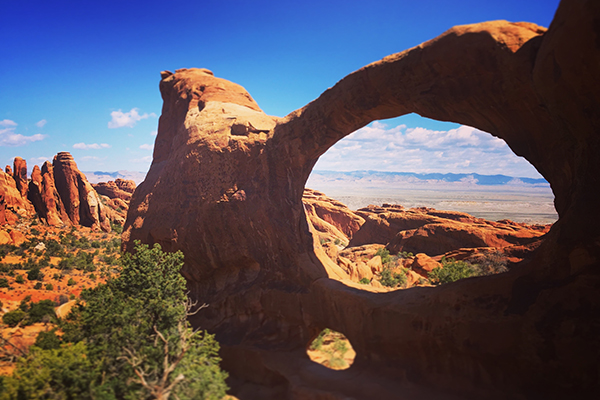 Arches National Park, located in southeast Utah, offers an abundance of geological wonders waiting to be discovered by visiting families. The park's scenic, red rock landscape is home to more than 2,000 natural stone arches, along with other impressive formations such as towering fins, spires, pinnacles and precariously balanced giant rocks. You'll find everything from peace and serenity to adventure and excitement at Arches. The park's unique features, awe-inspiring views, spectacular sunrises and sunsets, stunning night skies and inspirational hiking trails await your arrival. Perhaps it's time to plan your next family road trip.

"America's national parks offer wonderful, indelible experiences for every family. They're beautiful, they're inspiring, and they're fun! The parks are places to fall in love with nature and wildlife, to relive history, to take on challenges and share adventures, and to build family memories that will last a lifetime. Since 2016 marks the hundredth anniversary of the founding of the U.S. National Park Service, this is the perfect year to get to the parks." -- Ford Cochran, Director of Programming, National Geographic Expeditions

Travel Tips
Arches is situated approximately 780 miles from San Diego, about an 11-hour drive. If you don't mind the long haul and your kids are patient travelers, you could make it in a single day. For many, an overnight stop along the way is a better option. Note: The drive between Las Vegas and Arches is stunning; try to travel this portion during daylight.

With more than 1.4 million visitors per year, expect crowds at Arches National Park, especially during peak season (March­–October). Spring and fall offer the most pleasant weather. Whenever you go, plan to enter the park before 8 am or after 3 pm to avoid long entrance lines and congested parking. Note: Mornings and late afternoons offer the best lighting for photography.

Lodging & Food
Within the park, campers can make reservations for one of Devils Garden Campground's 52 sites. This campground offers fantastic views and surroundings, but fills up quickly during peak season. Make campground reservations at www.recreation.gov.

There are no food or lodging facilities inside Arches' borders, but the nearby gateway town of Moab has a variety of restaurants, motels, hotels, resorts and additional campgrounds. It may be helpful to find a hotel that includes complimentary breakfast and has a fridge in the room so you can quickly and easily depart for the day's adventures with full stomachs and packed lunches. Park picnic areas are located at Balanced Rock and Devils Garden.

Moab Burger Company & Atomic Lounge has a pleasant outdoor patio and kid's menu; Pasta Jay's lively ambiance offers tasty pizza and pastas. There's even an ice cream shop right across the street, in case you have room for dessert.

Learn more at www.discovermoab.com.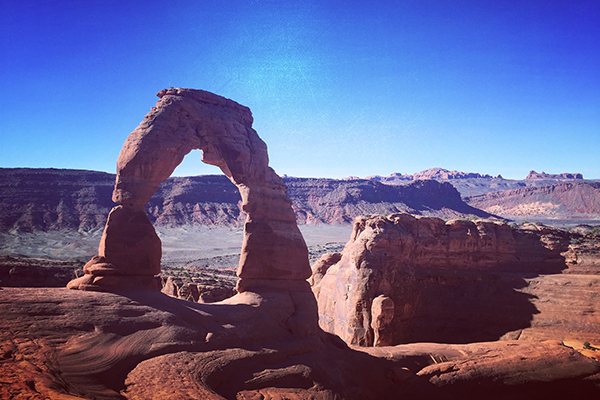 Scenic Drives
Navigating through Arches is a simple, yet sublime, experience. Try to drive the entire 18-mile main road, which ends at Devils Garden Campground. The road has clearly marked sites and parking areas for all the park's major attractions. Stop at as many overlooks, arches and trails as time permits. Don't miss the "skyscrapers" of Park Avenue, Balanced Rock, a view of Fiery Furnace, or Devils Garden areas. Be sure to also cover the two, short side roads—the first goes to the popular Windows section, the other to Delicate Arch's trailhead and viewpoints.

Hiking
While you can certainly enjoy Arches from a car, hiking the park's trails is the best method to explore the sites. Wear appropriate footwear and carry plenty of water; rangers recommend at least one gallon per day, per person. Stay on trails to protect the unique and delicate environment. And don't move the cairns (small piles of rock) that mark the trails.

For an easy stroll, explore the marvel of the Balanced Rock (0.3 mi) or walk along Park Avenue (1.0 mi, one way). Hike the popular Windows trail (1.0 mi) to get up close to multiple arches; this takes you to North and South Windows and Turret Arch. Return on the primitive trail to view additional perspectives.

If you're up for a half-day challenge, the Devil's Garden Trail is the longest in the park (7.2 mi). This trail takes hikers to Tunnel, Pine Tree, Navajo, Partition, Landscape, Double O and Private arches. Don't shortcut any of the trail offshoots—they are all worth the extra steps. You can return via the primitive trail for the full loop.

If there's time for only one hike, the iconic Delicate Arch is probably the one to do. This popular trail is rated difficult (inclines, open slick rock, exposure to heights) though is of moderate length (3 mi). Sunsets are extremely popular here; if you stay late, bring flashlights for safety on the way down. Sunrise and early mornings are great alternatives to avoid crowds. Note: Many people line up to get their photos taken in front of this arch; don't forget your camera!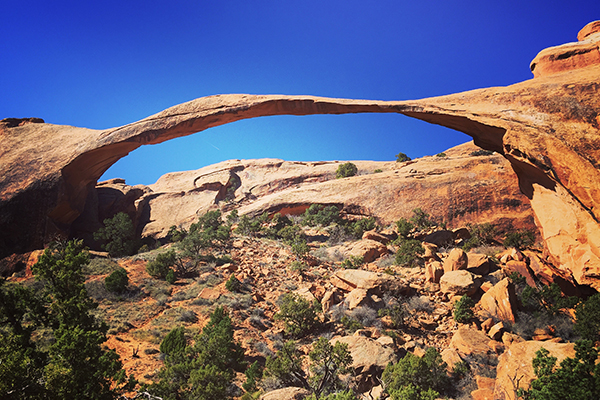 Other Activities
Ranger programs include guided walks, geology talks and evening programs. A strenuous, guided hike through the maze-like Fiery Furnace is a popular program, though children under 5 are not permitted.

Kids ages 6–12 can pick up a Junior Ranger booklet at the visitor center to complete and earn their Junior Ranger badges. Families are also invited to borrow Explorer Pack— complete with binoculars, hand lens, naturalist guide, notebook and activity ideas.

Definitely stop in the Visitor Center to learn how the arches formed and all about the park's flora (juniper, yucca, prickly pear) and fauna (mule deer, chipmunks, big horn sheep, ravens).

Biking within Arches is restricted to the roads and not allowed on any of the trails. Limited backpacking camping options are available. Most climbing opportunities require advanced techniques and day use permits; canyoneering expeditions are permitted. Note: Climbing of any type is forbidden on any of the arches.

Finally, although there is much to discover at this phenomenal park, the proximity of Utah's four other national parks—Bryce Canyon, Canyonlands, Capitol Reef and Zion—invite an even more memorable, multi-destination vacation.

Learn more about Arches National Park at www.nps.gov/arch.
---
Lisa Pawlak is a contributing writer who lives in Encinitas with her husband and two sons.
Published July 2016