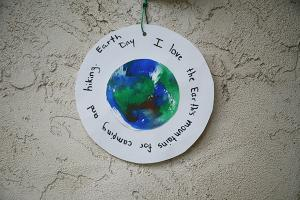 Celebrate Earth Day by doing an art project at home and participating in local Earth Day events around San Diego.
Discussion Points for Teachers/Parents
How to take care of the planet—Reduce, Reuse, Recycle
The origins of Earth Day
Color blending and mixing
The colors of the earth when viewed from outer space
Supplies
A bowl with a flat bottom (the larger the bowl, the larger the print will be)
White construction paper (12" x 12" or larger)
Blue, white, brown and green tempera paint
Marker or crayon
Hole punch
Piece of ribbon
Scissors
Directions
Turn the bowl upside down and put 3-4 drops of each color of paint (blue, white, brown and green) on the bottom.
Place the bowl paint side down onto the paper.
Press gently and give it a little twist (about 2/3 turn) so the paint blends a bit.
Lift the bowl off the paper—you just created a monoprint! Optional: Make 2-3 additional prints (on other pieces of paper) without adding more paint. In printmaking, these are called ghost prints.
Allow image(s) to dry.
Keeping the earth print in the center of the paper, cut a 3" border around it. Note: For a perfectly round earth, cut the print in a circle and mount it on a new piece of paper.
Write the ways you care for the earth (or what you love about it) in the border.
Punch a hole in the top and attach a ribbon for hanging.
Did you know? Earth Day began April 22, 1970 as a way to raise awareness about the environment and encourage people to help take care of our planet. Everyone can make a difference!
---
Alyssa Navapanich is an art enthusiast who teaches art to elementary school kids in North County.
Published April 2017