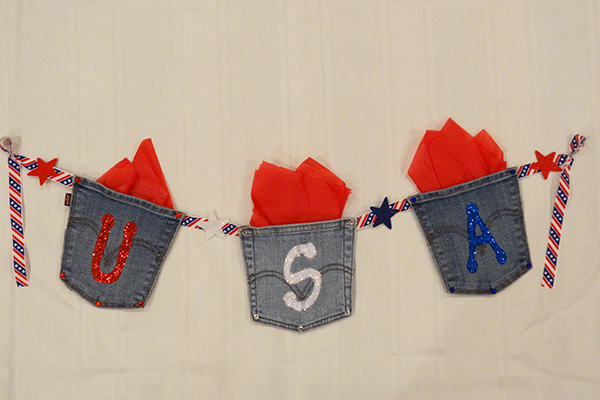 Ever wonder what to do with old jeans you no longer wear? This is a great DIY project that uses jean pockets to create an adorable patriotic banner to hang from Memorial Day through the Fourth of July. The project was inspired by the blog, That's What Che Said.
Supplies
2 pairs of jeans that have back pockets in similar sizes (without designs)
Scissors
Alphabet stencils (I used 3 ½" stencils from a craft store)
Tape
Stencil brush
Blue paint (fabric or multi-surface paint)
White paint
Red paint
Red, white and blue glitter (optional)
Red, white and blue rhinestones
Hot glue gun & glue sticks
Red, white and/or blue ribbon
Felt stars in complementary colors (I used precut felt stars with adhesive backing – easy!)
Red tissue paper (optional)
Directions
Cut out three back pockets just under the pocket seams. Keep the back part of the jeans so they are still functioning pockets.
Place a "U" stencil on one pocket, "S" stencil on another and "A" on the third pocket. Tape stencils down so they don't move.
With stencils in place, paint the letters on to the pockets with red, white and blue paint.
Optional: While paint is still wet, sprinkle glitter (in coordinating colors) on each letter or after paint has dried, brush with glue and sprinkle with glitter.
Remove stencils once paint has dried.
Glue rhinestones on each corner of pocket and bottom tip in coordinating colors.
Lay out ribbon, pockets and stars and space accordingly (approximate spacing between pockets is 3"). Ribbon ends can be any length you choose.
Glue ribbon to back side of pocket—do not glue the pocket closed!
Adhere stars on both sides of each pocket.
Optional: Place a piece of red tissue paper in each pocket and arrange so it's sticking out.
You're ready to decorate for Memorial Day or July 4! Hang your decorative banner on a mantle, wall, on the patio or in a doorway.
-------
Diana Buell is a local mom and crafter at heart. To see the original project that inspired her, visit www.thatswhatchesaid.net/jean-pocket-usa-bunting.
--------