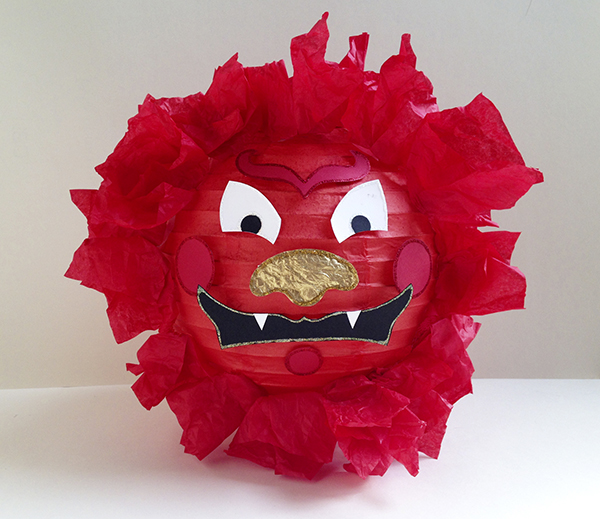 Light up a Chinese New Year celebration with this lively lantern -- a perfect project to do at home with the kids!

Supplies
Red paper lantern
Sheet of red tissue paper
1 sheet of office paper
Scraps of colored paper or cardstock
Glitter glue (optional)
Scissors
Pencil
Double-sided tape

Directions
1. Purchase an inexpensive paper lantern at a dollar, craft, party or import store.
2. Enlarge the pattern of the lion's features to fit the size of the lantern, and print it out onto a sheet of white office paper.
3. Use scissors to cut out the pattern pieces.
4. With a pencil, trace each piece onto the desired color of paper or cardstock.
5. Use scissors to cut out all the colored pieces.
6. If desired, draw around the edges of each shape with glitter glue.
7. Allow the glitter to dry completely and then adhere all of the features to the lantern using double-sided tape.
8. Now, use scissors to cut the sheet of red tissue into squares measuring approximately 5 inches each.
9. Pinch each square in the middle and fan the ends up to make the mane.
10. One at a time, use double-sided tape to attach each little "spray" of tissue to the lantern around the lion's face.
11. The Chinese lion lantern is now ready to join the festivities! Use one as a table centerpiece or make a bunch to hang from the ceiling or a tree.

More tips and ideas:
• Besides scraps of paper to make the features, try using felt or foam sheets.
• Decorate the lion even more by adding ribbon, beads, sequins, crystals or extra glitter.
• If glitter glue is unavailable, white glue covered in dry glitter works too.
• Tulle fabric, fake fur, gift wrap, curling ribbon or curled paper can be used instead of tissue for the mane.
• Make other matching decorations such as signs, banners, placemats, napkin holders, party hats, etc.
• Try making other animals and holiday decorations with paper lanterns.

----------
Pamela Maxwell is an artist, author and mother of two growing boys. Her craft and scrapbooking projects have appeared in numerous books and magazines. Photos by Pamela Maxwell.