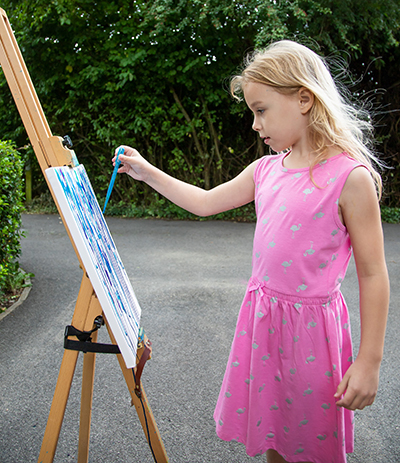 We don't know many kids who can resist jumping in rain puddles. And since we don't get rain puddles too often in San Diego, it's a particularly unique and special activity! Why not commemorate this favorite childhood pastime with an art project? Create a rainy scene using a fun drip painting technique, then personalize your masterpiece with your favorite photo.
SUPPLIES
1 canvas or sheet mixed-media paper attached to a clipboard
Easel or a place to prop up your canvas
Light blue, dark blue and purple liquid acrylic paint or liquid watercolors
3 paint pots
3 pipettes
Paintbrush
Camera
Printer
White printer paper
White glue
Note: This project can get messy, as some paint will drip off the canvas. I suggest doing it outdoors or on a protected floor.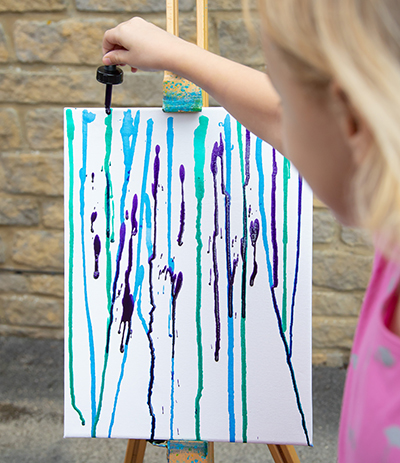 STEP 1: PAINT THE RAIN
Prop your canvas up on an easel or at an angle against a wall. Then prepare the light blue, dark blue and purple liquid acrylic paints by pouring small amounts of each color into paint pots. You will need one pipette for each color.
Using a pipette, drip one color at a time from the top of your canvas and watch as it dribbles down the front like rain. Note: Try to prevent drips from touching each other so the colors won't merge. Repeat using all the colors until your canvas is filled with "rain." When you are happy with the coverage, lay the canvas flat to dry. Once dried, if you feel your painting needs it, you can add more drips of blue paint.
STEP 2: PAINT A PUDDLE
Using a paintbrush and blue paint, paint a puddle shape near the bottom of your canvas. Flick a little color around the puddle to create a splash effect.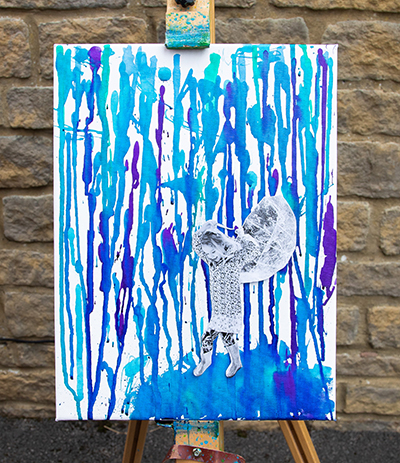 STEP 3: ADD A PHOTO
To personalize the rain painting, add a black and white photograph of yourself with an umbrella and rain boots. Have fun trying different poses and then print your favorite one. Cut out the photograph and glue it onto the canvas just above the puddle. Your rain painting is now ready to hang with pride!
Adapt the Project
If you don't have a photograph, you could draw or paint a picture of someone holding an umbrella to add to the painting.
Project and photo reprinted with permission from "Fun Painting Projects for Kids" by Louise McMullen. Page Street Publishing Co. 2022. Photo credit: Jen Allan Photography.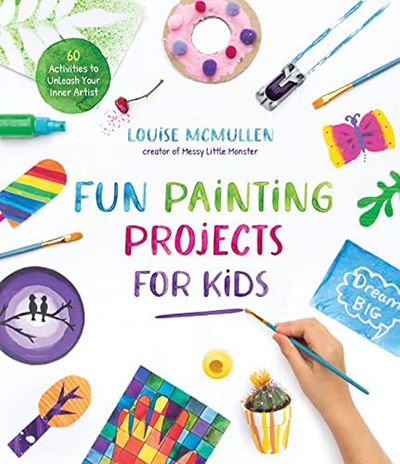 Find more great projects from Louise McMullen on IG @MessyLittleMonster; Order her book at www.messylittlemonster.com/2022/03/fun-painting-projects-for-kids.html.
-------------