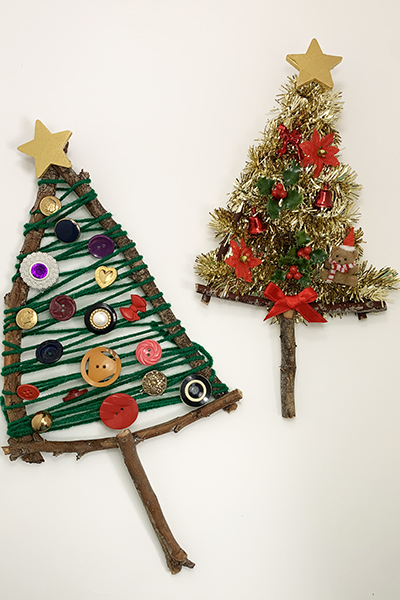 This is a fun Christmas craft for families that offers plenty of room for imagination and creativity! Use mini strands of tinsel to make glittery trees or twine for a more rustic look. Smaller trees can be used as place settings (glue them cardstock) or to add a personal touch to the top of wrapped gifts.
SUPPLIES
Pruning shears (to cut twigs from branches in your own yard)
4 twigs per decoration
Smaller tree: two 7.5 inches; one 6 inches; one 3 inches
Larger tree: two 9.5 inches; one 6.5 inches; one 4 inches
Hot glue
Scissors
Yarn, ribbon, raffia, tinsel or twine
Beads, buttons or miniature Christmas decorations
White or craft glue
One star per tree (I used a 3-inch wooden star, painted gold.)
DIRECTIONS
For each tree decoration, hot glue the top of the two longest twigs/sticks together to form an upside-down "v" shape.


Hot glue the medium-sized twig across the open bottom to make a triangle shape.


Tie one end of ribbon (or tinsel or yarn) to the top of the triangle. Wrap the ribbon around the outside and inside of the triangle to cover as much of the twigs as you want. Tuck the end in (under the last wrap around) to secure.


Hot glue the smallest twig perpendicular to the bottom stick to create a tree trunk.


Using hot glue, white glue or craft glue, attach buttons, beads or mini decorations.


Optional: Glue or tie a ribbon to the top, if planning to hang the trees.


Attach a star to the top of the trees.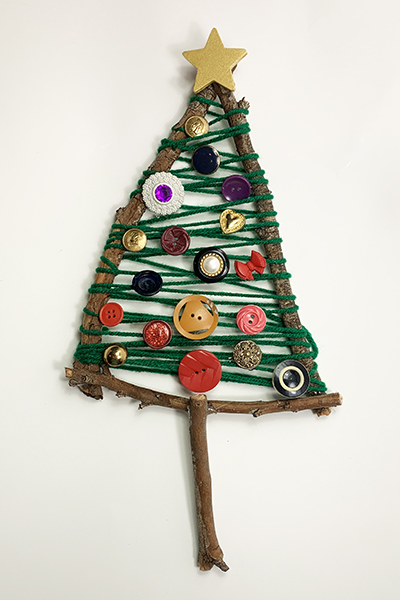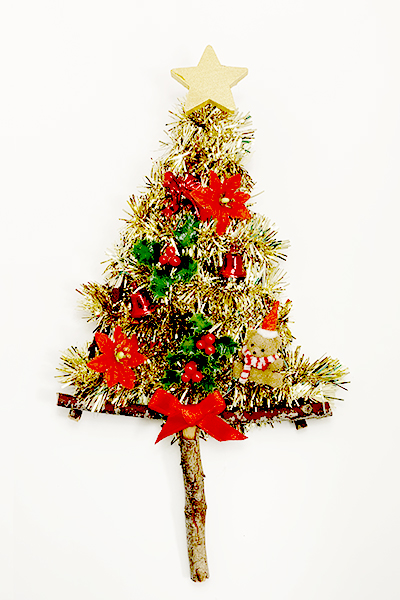 Alyssa Navapanich is a nationally recognized art educator who teaches art to elementary school kids in East San Diego County. She is the author of San Diego Family Magazine's "Art with Alyssa" column.
____________