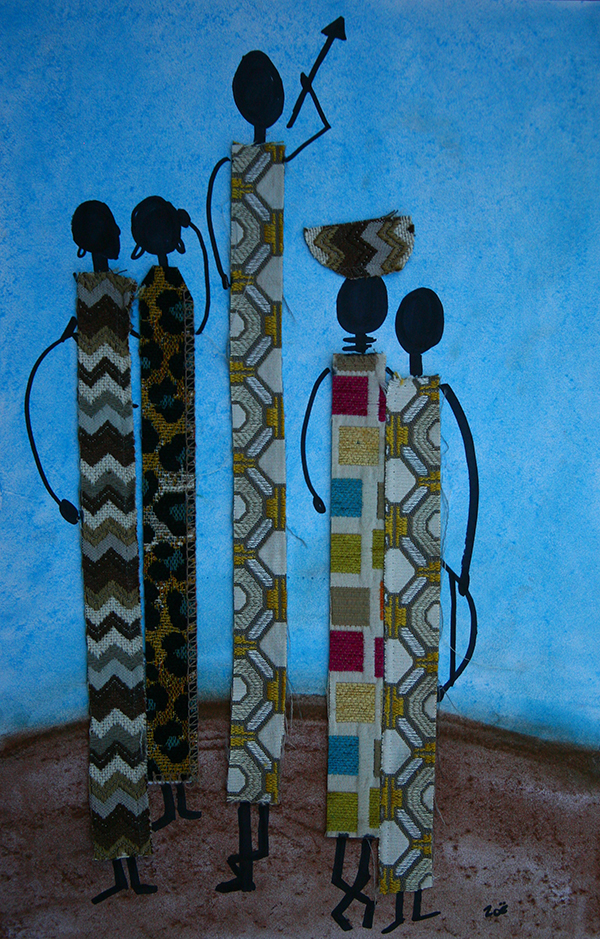 Celebrate diversity and families with this easy project that utilizes fabric scraps and materials you may already have. Consider framing the finished artwork and gifting it to a family member. The project is inspired by the artwork of California collage artist Angela Dallas.

Discussion Points for Teachers/Parents
Families: What makes a family, who is in your family, what is important about families, what traditions do you have?
Diversity: Cultures and traditions of others
Art: Texture, color, pattern, line and shape

Supplies
12 x 18 white paper
Scissors
White glue
Colorful fabric* (Pre-cut for younger children – see step 3)
Black marker
Chalk pastel, crayon or paint

Directions
Draw a curved line near the bottom third of the paper. This is the horizon line.
Using chalk pastel, crayon or paint, create a simple background of sky and ground.
Cut fabric into 1-inch x 8-inch strips for the bodies of the Maasai people. You may cut the strips in varying lengths to make the people taller or shorter.
Glue the fabric strips onto the page with white glue, staggering them to create visual interest.
Once dry, use black marker to add arms, legs, head and neck in a silhouette style.
Optional: Add additional elements such as baskets, earrings, necklaces, and swords.
Optional: Write a poem about your family to complement the artwork.

*I use fabric that an interior designer donates to my class from her showroom.
---
Alyssa Navapanich is a nationally recognized art educator who teaches art to elementary school kids in East San Diego County. She is the author of San Diego Family Magazine's "Art with Alyssa" column.