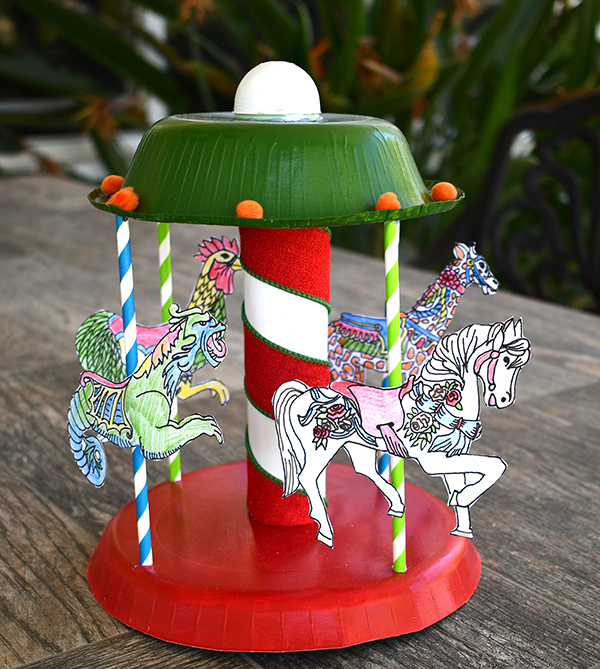 This project is inspired by the beautiful historic carousel that sits majestically in the northeast corner of San Diego's Balboa Park. Whether you're planning a whimsical birthday party, celebrating National Carousel Day (July) or just looking for a fun art project for the afternoon, family and friends will love making their own colorful creation. Print our hand-drawn illustrations of actual animals from the San Diego carousel below.
Supplies
One sheet of white cardstock
One sturdy paper plate AND paper bowl
Tempera or craft paint
Paintbrush
One paper towel tube
Ribbon or washi tape
One plastic beverage cap or plastic egg
4 striped or colorful paper straws
8 pompoms or beads
Craft glue
Scissors
Directions
Print carousel animals on cardstock from the pdf below. Color and cut out each one. Visit www.friendsofbalboapark.org/balboa-park-carousel to view the colors of the Balboa Park carousel animals or create your own color scheme.


Paint both sides of the paper bowl in a color that coordinates with your ribbon, straws or washi tape.


Paint the bottom of the paper plate. Trim the excess rim. This will be the base of the carousel.


Paint the paper tube and allow to dry.


Glue ribbon or washi tape in a spiral around the tube. Trim the tube to about 7 inches.


Glue the bottom of the tube to the center of the upside-down plate, standing straight up.


Glue the upside-down bowl (centered) to the top of the tube.


Measure the distance between the top of the plate and the bottom rim of the inverted bowl and cut the straws to that length. Glue each straw evenly distanced on the plate (at 12, 3, 6 and 9 o'clock), and glue the tops to the bottom of the bowl.


Attach a carousel animal to each straw.


Glue a pompom or bead over the top of each straw on the inverted bowl. Glue another one between each item for embellishment (see photo for reference).


Glue the bottle cap or half of a plastic egg to the top center of the carousel as the finial.
___________
Emily Dolton is a local artist and mom of two boys.
Print our hand-drawn illustrations of actual animals from Balboa Park's carousel here. Color as you wish.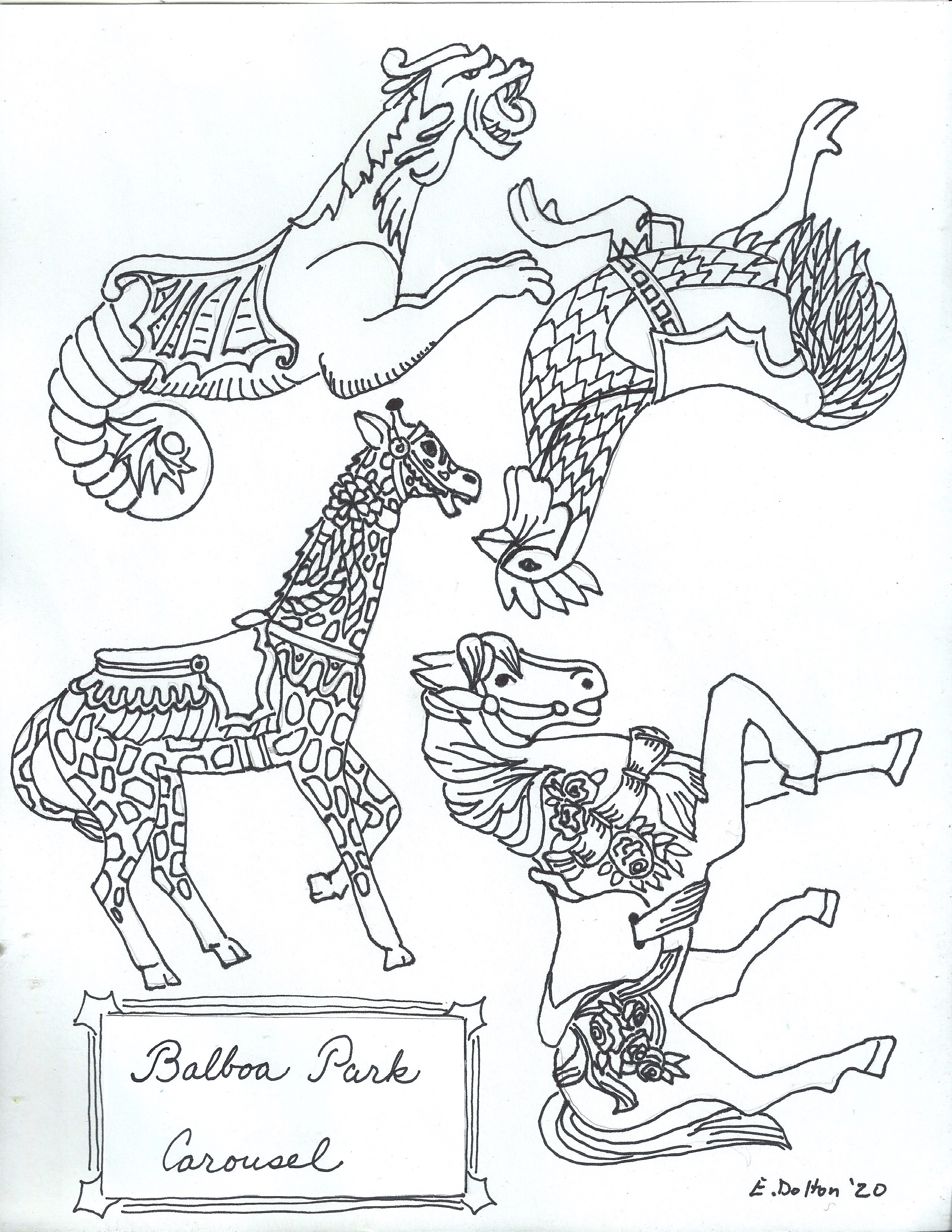 ___________