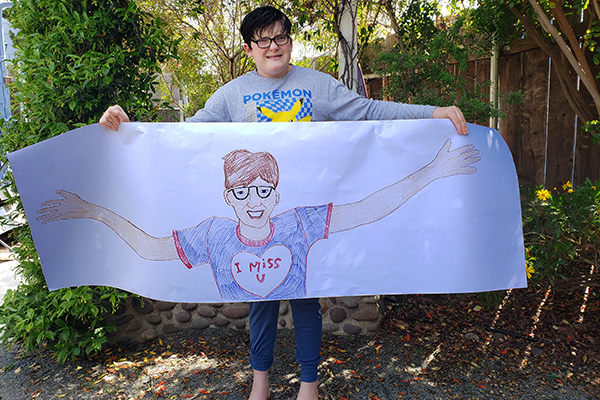 Don't you miss hugging people? Here's a clever DIY hug craft that lets loved ones know they are missed! Whether it's Mother's Day, Father's Day, Teacher Appreciation, a birthday or some other celebration, help kids make an adorable, personalized hug to send in the mail. The recipient will be thrilled!
Supplies
4-6 ft. craft paper (aka butcher paper) from roll or printer paper*
Pencil
Crayons, watercolors or tempera paints
Directions
Ensure the floor is free of dust and water.
Roll out enough paper to fit your child's outstretched arms.
Have your child lay down so that his chest, arms and head are on the paper, face up, with arms and fingers spread wide.
Use a pencil to trace your child's upper torso, arms, hands and head.
Touch up any squiggly or inaccurate lines. Have your child draw his facial features, clothes, jewelry, glasses and any distinguishing features such as dimples and freckles. Make it personal because your loved one is missing the things that make him unique!
Create space for a personal message in the center of the chest by drawing a large heart or tracing a plate. Have the child write a heartfelt note to the person they're sending the hug to.
Color or paint the portrait. Once dry, cut it out, following the outline of the portrait.
Fold the image until it fits inside a manila envelope.**
Be sure to write "open carefully" on the exterior of the envelope.
*If using printer paper:
Needed: 12-15 pieces of printer paper and giftwrapping tape
Lay the paper out, landscape-style, three pieces high and five pieces wide.
Tape the pieces together with clear, giftwrapping tape, the full length and width of each piece.
Flip the entire paper over so that the tape side is touching the floor. Your paper should now be 25.5 inches tall and 55 inches wide.
Add more paper if needed, depending on the size of your child.
Continue project as instructed above.
**Mail your hug portrait:
Place the folded portrait in a manila envelope. If you don't have one, the U.S. Postal Service offers free priority mail envelopes which also work. Visit www.usps.com and follow the instructions to print postage and/or order free shipping supplies.
Watch our how-to video, complete with expert tips on how to draw symmetrical facial features!
Emily is a local artist and mom of two boys.
–––––––––