The whole family can help make this cheerful tree to countdown the days to Christmas!

Supplies
2 sheets of heavyweight scrapbooking paper or cardstock (12" x 12")
Scraps of plain and decorative papers
Tub of air-dry or modeling clay
Paint stir stick or 12" wood ruler
Piece of burlap, fabric, felt or paper (about 3" x 12")
Gift shred/grass (optional)
1½" and 2" circle punches or templates
Star template (optional)
Number stickers or stamps
Pencil & scissors
Double-sided tape
Paper or cellophane tape

Directions
Cut two large triangle "trees" from the scrapbooking paper, drawing them first with a ruler and pencil, if needed.
Use a 1½" circle punch (or a circle template, pencil and scissors) to cut out 11 circles from scraps of plain paper.
Use number stickers or stamps or simply write numbers 1–11 on each of the paper circles.
Use double-sided tape to adhere the numbered circles to the front of one the triangles.
Draw star shapes (or trace a template) onto a scrap of plain paper and onto a scrap of decorative paper and cut them out.
Add the number 12 to the plain star and adhere it to the top of the numbered triangle tree.
Use a 2" circle punch (or a circle template) to make "ornaments." Cut 11 circles from scraps of decorative paper and set them aside along with the decorative star.
To create the tree trunk, lay the numbered triangle face down and use tape to secure the paint stick (or ruler) to the center of it, leaving 4" extended beyond the bottom of the triangle.
Use double-sided tape to attach the other paper triangle over the stick and back of the first triangle.
Trim a piece of burlap (fabric, felt or paper) to wrap around the container of clay; use tape to secure it.
Add the year to the front of the wrapped tub using number stickers.
Open the tub and carefully insert the wood trunk of the tree down into the center of the clay.
If desired, cover the clay with decorative gift shred/grass.
Place the decorative circle ornaments and star into the tub around the tree trunk and choose a prominent place to display the Christmas countdown tree.
Each day, pick out a pretty ornament and tape it into place on the tree, saving the star for Christmas day!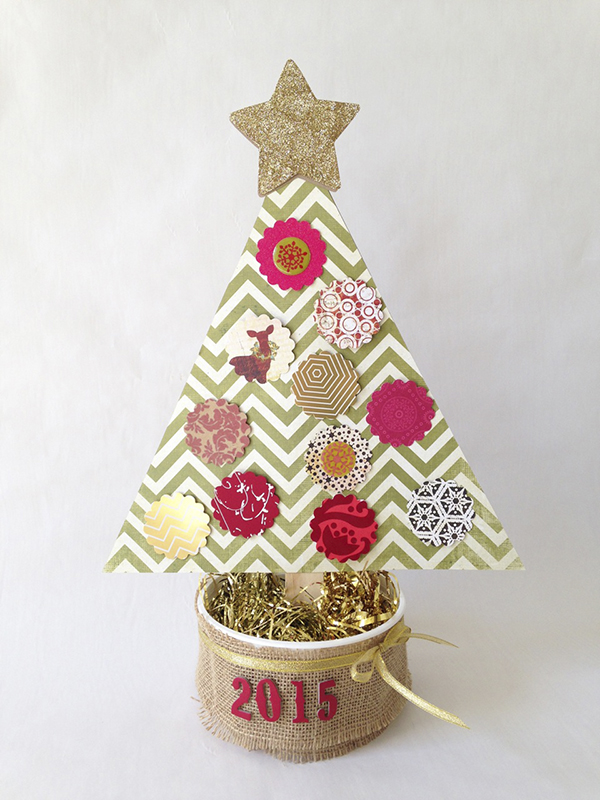 More Tips and Ideas
Embellish each ornament with pictures of the items in the 12 Days of Christmas song (a partridge, a swan, a golden ring, etc.).
Make smaller ornaments (or a bigger tree) to countdown all 25 days to Christmas.
Wood paint stir sticks are free at the paint counters of hardware/home improvement stores.
The 12" x 12" sheets of scrapbooking paper can be repalced with painted cardboard.
Cut the ornaments from fun family photos (instead of paper).
If circle punches or templates aren't available, trace around bottle caps.
Cover the paint stick/ruler with burlap twine or printed paper.
Cut the ornaments from old greeting cards or festive magazine pictures.
Decorate the ornaments even more with stickers, glitter or sequins.
Make gift shred/grass by cutting skinny strips from paper, gift wrap or old book pages.
Make a winter themed countdown tree with silver and blue colors and snowflake ornaments.
Craft a natural themed countdown with paper pinecone and flower ornaments or make it a "treats" theme with paper cookies, candies and cupcakes.
On each ornament write a fun Christmas activity to participate in every day.
Make a new tree each year and display them together for fantastic holiday décor.
Create the entire tree, trunk and base from wood and pin on ornaments for a countdown that can be re-used every year.
Make smaller versions (using yogurt cups as bases) and use them as table place cards and/or treat cups.
If a tub of clay is not available, use an empty food tub or tissue box and secure the tree trunk with lots of tape and add rocks or dried beans to weigh it down.
.
---

Pamela Maxwell is an artist, author and mother of two growing boys. Photos by Pamela Maxwell.