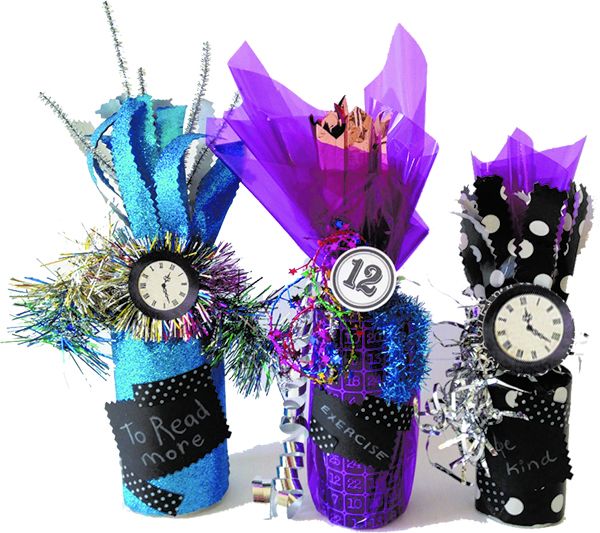 Ring in the New Year with fun and festive DIY noisemakers (resolutions are optional)!

Supplies
Empty aluminum soda or juice cans
Pennies, small rocks, dried beans and/or jingle bells
Leftover gift wrap, ribbons/bows and assorted holiday decorations
New Year's numbers and/or images*
Small pieces of black cardstock
Clear cellophane tape
Decorative paper tape (optional)
Scissors
White pencil or pen

Directions
Add some pennies, small rocks, dried beans, jingle bells (or any small items that will make noise) into an empty and dry aluminum can.
Wrap the can in gift wrap, gathering it at the top and securing it with tied ribbon and/or clear tape.
Use scissors to trim the top of the paper if desired.
Decorate the wrapped can by tying scraps of ribbon and garland around the gathered gift wrap.
Use tape to attach an image*, such as the number 12, the year 2015, a clock, a New Year's greeting or a first name.
Cut a small rectangle from black paper and attach it with clear or decorative tape to the front of the decorated can.
Use a white pencil or pen to write a New Year's resolution on the black label.
Repeat the steps above to make as many noisemakers as desired and use them to decorate for New Year's Eve.
At midnight, vigorously shake the can and resoundly ring in the New Year and the resolution! 

*Images can be drawn, cut from magazines or printed from the computer.
---

Pamela Maxwell is an artist, author and mother of two boys. Photos by Pamela Maxwell.