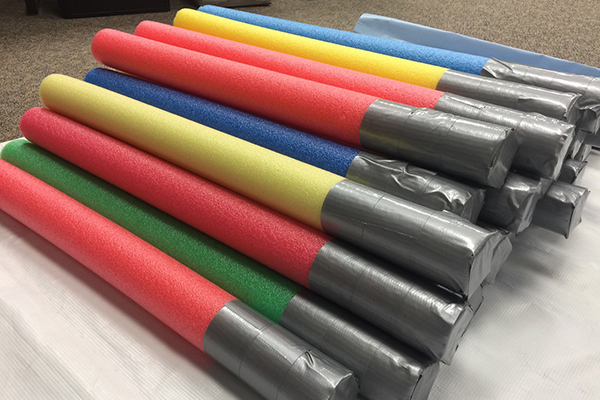 May the "fourth" be with you (the force, that is)! Whether you're celebrating Star Wars Day on May 4 or hosting a Star Wars-themed birthday party, these easy DIY lightsabers are a hit with kids! Note: These "lightsabers" don't actually light up, but they make great party favors or outdoor summer toys.
(Makes 2)
Supplies
One six-foot pool noodle
Serrated (bread) knife or retractable utility knife
Scissors
Silver duct tape
Red, yellow or white round stickers or binder hole reinforcements
Optional: Washi tape and/or black duct tape
Directions
Use the knife to cut pool noodle cleanly in half.
Using scissors, cut a 6-inch piece of silver duct tape and place over the freshly cut end of the pool noodle to cover the hole. Smooth down as thoroughly as possible. If the noodle is thicker, cut a second 6-inch piece and cross over the end in the opposite direction so the end of the noodle is completely covered.
Wrap 8-inch pieces of silver duct tape around the same end, until approximately 7 inches of the noodle is fully covered. This is the base of your light saber (the hilt).
Use round stickers and other colors of tape to create authentic and personalized buttons and grip vents. Be creative!
Most importantly, prepare to join the Jedi in the fight against the Empire. May the 4th be with you!
Emily Dolton is a local artist, mom of two boys and self-proclaimed Jedi master.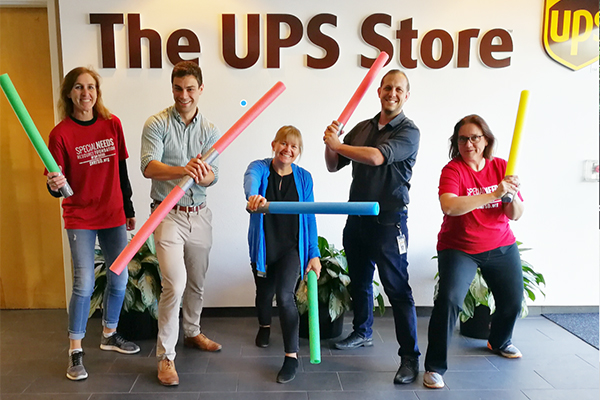 Thank you to volunteers at UPS who helped us make light sabers for Day of Play!
__________