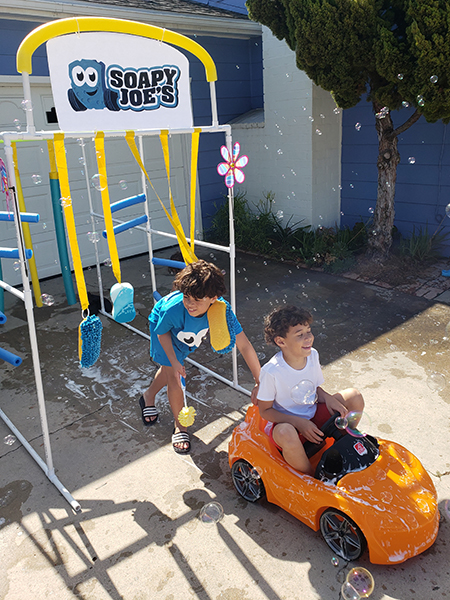 This fun, do-it-yourself kiddie car wash keeps kids and their ride-on toys cool and clean. Add a spray hose, mild dish detergent and a bubble gun for hours of outdoor playtime. Total cost of materials purchased at local home improvement and bargain stores is about 50 dollars. Bonus: The car wash can easily be broken down and stored until next season.
Supplies
Nine 10-foot segments of ¾" PVC pipe (Pro tip: Buying 10 may save a few dollars.)
14 PVC tee connectors (¾")
2 PVC cross connectors (¾")
4 PVC 90-degree corner elbows (¾") with corresponding adapters
Large, colorful sponges
6 pool noodles
Brightly colored duct tape
Zip ties
Foam core, vinyl or plastic tablecloth for banner
Waterproof markers or craft paint
Optional: Colorful pinwheels and plastic grass skirts
Bubble toys
Buckets
Dishwashing wands with sponge puffs
Directions
Cut PVC using a pipe cutter or small-toothed saw, as follows:
Eighteen 36-inch lengths
One 48-inch length
Six 12-inch lengths
Two 4-inch lengths
One 34-inch length
Two 28-inch lengths
Four 26-inch lengths
Print and follow our "blueprint" below for assembly.
Attach sponges and pool noodles to the cross bars using long strands of duct tape (safer than zip ties). Create water-resistant long strands by placing duct tape back-to-back. Thread zip ties through sponges and loop the duct tape through the zip tie. (See photos for reference.)
Make a banner (using vinyl or a plastic tablecloth makes the sign reusable and waterproof).
Attach banner with zip ties to a pool noodle.
Optional: Decorate car wash structure with pinwheels zip-tied to PVC pipes.
Grab buckets, bubble toys and dishwashing wands and have some good, clean fun!
If it's windy, weight the car wash with sandbags for safety, or use tent spikes or turf spikes to anchor piping to a grassy area.
____________
Emily Dolton is a local artist and mom of two boys.
Print assembly blueprint here: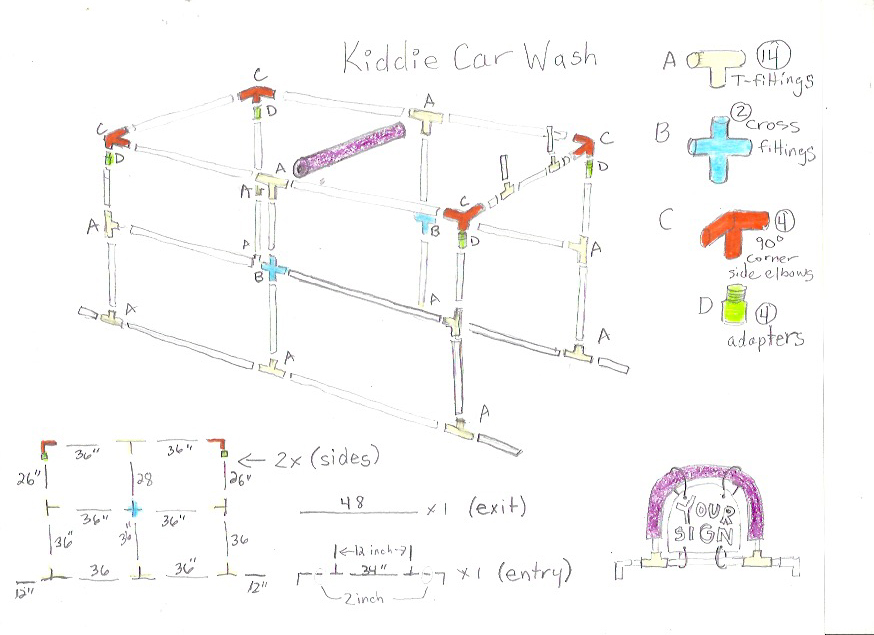 ____________