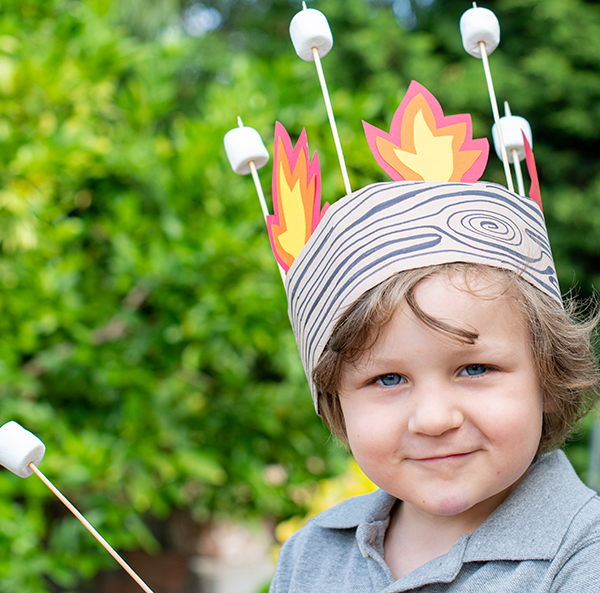 Nothing says camping like a gooey s'mores goodness, so it's only fitting that kings and queens of the campfire wear s'mores-themed crowns. Here are instructions to make campfire crowns for your family, featuring real marshmallows on skewers (the ones on the crown are not for toasting!).
Supplies
Scissors
Black marker or crayon
Brown paper grocery bag or brown painter's paper
Red, orange and yellow card stock (or crayons if you have none)
Glue
Stapler
4 six-inch skewers or straight sticks
4 marshmallows
Directions
Measure the circumference of your child's head and add three inches for overlap. This will be the length of the headband. Cut a six-inch wide band from a paper bag or craft paper roll in the length you just measured (including the 3 inches).



Fold the paper in half so the width of the band is three inches.


Create a wood grain look on the exterior of one side of the band with a black marker or crayon: Draw a 1½-inch spiral, slightly oval in shape. Add one or two more, to simulate knots in the wood. Extend the lines of the spiral straight out to the edge of the paper. Draw slightly straight lines from one end of the paper to the other, following around the knots. Retrace random parts of the lines to vary their thickness. See photos below.



Print flame template below on white cardstock or paper. If you don't have colored paper, color flames with crayons. If using colored cardstock, trace the outer edge four times on red paper. Cut out four red flames. See photos below for reference.



Cut away the section of the white template labeled "1" and trace the remaining smaller template four times onto orange paper. Cut out four orange flames.



Cut away the section of the white template labeled "2" and trace the even smaller remaining template four times on yellow paper. Cut out four yellow flames.



Glue each yellow flame to each orange flame, and each orange flame to each red flame.


Open the folded headband like a hot dog bun and glue four flames spaced two inches apart to the inside back of the band, so that the flames appear to be burning on the log.


Glue a skewer between each flame. Fold the two halves back together and glue them shut. Let dry.



Assemble the crown by stapling the ends to fit around your child's head.


Push a marshmallow onto each skewer.



Be sure not to stand too close to the fire with your crown on. Let the wild campfire rumpus start!
Download flame printable here and follow the instructions above: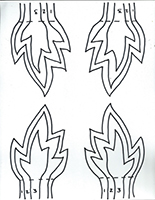 ________
Emily Dolton grew up camping in the Adirondack Mountains of New York and prefers her marshmallows very crispy.
________