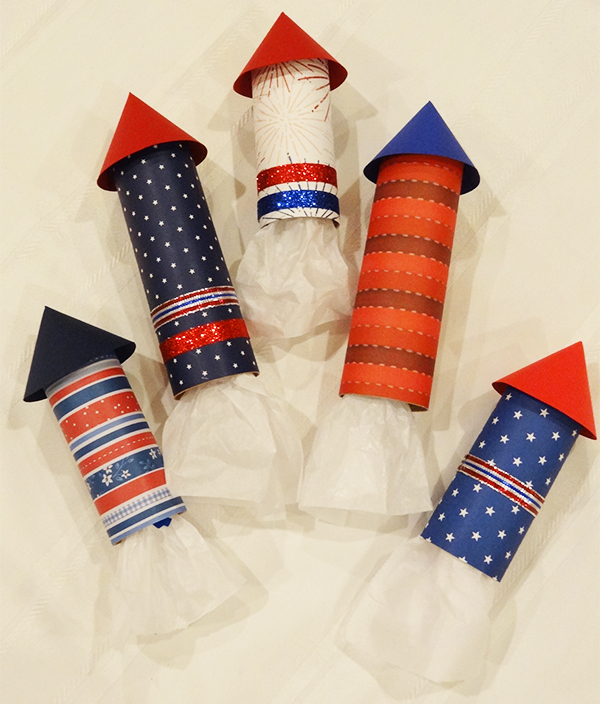 Looking for a fun activity for your Fourth of July party guests? Rocket Party Favors will do the trick (or make them ahead of time). Fill with red, white and blue candies, metallic star necklaces or other patriotic trinkets. The project was inspired by the blog, All Things G&D.
Supplies

Empty toilet paper rolls

Ruler
Decorative paper in patriotic prints
Scissors
Double-sided tape
Decorative ribbon (optional)
Red & blue cardstock
Scotch tape
Glue gun
White tissue paper
Curling ribbon

Candy or other patriotic treats/trinkets
Directions
Rocket body
Measure the height and diameter of the paper rolls and cut decorative paper to fit.
Use double-sided tape to adhere a piece of decorative paper to each roll.
Embellish rocket with decorative ribbon, if desired.
Top of rocket
Cut 4″ circles from cardstock.
Cut one slit to the center of each circle.
Overlap cut edges to form a cone.
Adhere inner edge with tape.
Adhere outer edge with double-sided tape.
Use a glue gun to attach the rocket top to the body of the rocket.
Filler
Cut tissue paper into 10" squares – one for each rocket.
Place candy or other treats in center of tissue lengthwise and roll it up.
Secure both ends with curling ribbon, leaving one end of the tissue longer than the other (so that the long side sticks out of the end of the rocket).
Stuff filler into the rocket body.
--------
Diana Buell is a local mom and crafter at heart. To see the original project that inspired her, visit www.allthingsgd.com/2014/06/4th-of-july-candy-rockets.
--------