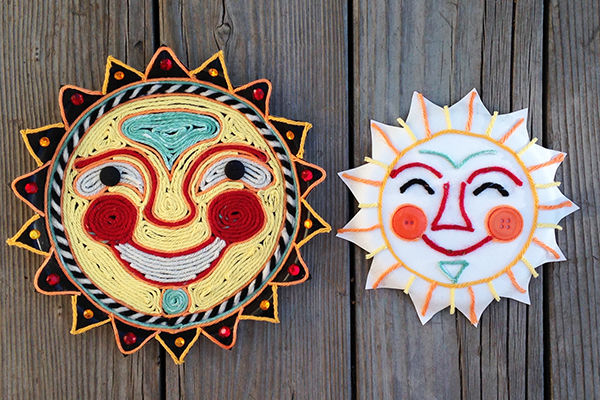 Brighten up a spring or summer day with a smiling sun craft made with colorful yarn and glue. This project also makes a festive Cinco de Mayo decoration. Get creative and make your own unique design!

Supplies
Paper plate (white or colored;small or large)
Scraps of yarn
White glue
Pencil
Scissors
Buttons and/or plastic jewels (optional)

Directions
Cut a triangle border around the edge of a plate; if needed, draw guidelines onto the plate first.
Using a pencil, draw a simple face (and other designs, if desired) onto the front or back of the plate. (Look at pictures online of clay sun art from Mexico for inspiration.)
One feature at a time, "write" over outlines with a thin line of glue and gently place a piece of yarn over the glue. Repeat until all main features (eyes, nose, mouth, cheeks) and other designs are outlined in yarn.
For a simple sun, glue on button eyes or cheeks and stop here.
For a more complex sun, continue to add glue and yarn to each feature and shape until the entire sun is covered.
If desired, adhere jewels and other embellishments.
Allow the glue to dry completely; then hang the happy sun and enjoy!


More tips and ideas:
Makes a great decoration for a Cinco de Mayo celebration!
Young kids can work on smaller, simpler suns while older kids and adults make larger, more detailed ones.
Not much glue is needed to attach the yarn, only thin, small lines are neccessary.
The thicker the yarn, the easier and quicker the project.
The yarn's shape and placement can be carefully adjusted with fingers before the glue dries.
Punch a small hole at the top of the sun and tie on a length of yarn for easier hanging.
For a more festive sun, tie a lot of colorful "tails" of yarn or ribbon to the back of the plate so they hang from the bottom.
Small pom-poms or sequins would make cute alternative embellishments.
Give the suns more character by adding mustaches, eyelashes or lips.
Paper, felt, glitter glue or dimensional paint writers could work in place of yarn.
For a more natural, plain clay look, use only burlap twine and brown yarn.
Try making flower shapes too.
Youngest children can cover simple shapes (sun, cactus, hat, boot) in just one color of yarn without any details or designs.
Make multiple smaller suns.
Make coordinating party vases or candle holders by wrapping empty bottles or jars in matching yarn.

---
Pamela Maxwell is an artist, author and mother of two growing boys. Her craft and scrapbooking projects have appeared in numerous books and magazines. Photos by Pamela Maxwell.