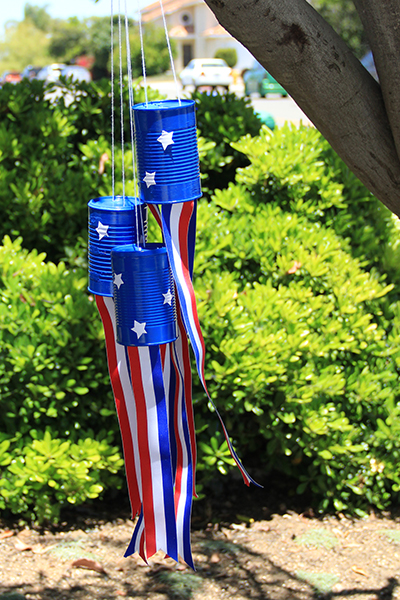 Decorate your yard this Fourth of July with do-it-yourself Stars & Stripes Windsocks, a great upcycling project that turns metal cans into patriotic indoor or outdoor décor.
Supplies
3 (or more) clean metal food cans
Blue and white acrylic paint
Paintbrush
Water cup
Optional: white star stickers (or paint stars on with white paint)
Red, white and/or blue ribbon OR red, white & blue striped ribbon
Glue gun or glue dots
Hammer
Nail
Twine or string
Something to cover work area
Directions
Clean and dry cans.


Paint exterior of cans completely in blue paint. If more than one coat is necessary, allow to dry between layers.


Once the cans are dry, apply white star stickers or paint several white stars onto each can.


Allow to dry completely.


Using the hammer and nail, punch two holes in the flat end of the can, carefully thread a length of twine through the holes and tie together to create a loop. This is what will be used to hang the windsocks.


Cut red, white and blue (or striped) ribbons approximately 12 inches long. The number of ribbons needed varies with the width of the ribbon.


Attach several strips of ribbon inside the open end of the can with glue dots or hot glue.


Arrange as desired.
Continuing the discussion (for parents/teachers):
Link arts and crafts to literature to enhance a themed project or lesson. Here are suggested books for Fourth of July:
Happy Birthday America by Mary Pope Osborne
Apple Pie 4th of July by Janet S. Wong
Celebration by Jane Thomas
–––––––––––
Alyssa Navapanich is an art enthusiast who teaches art to elementary school kids in North County.
–––––––––––