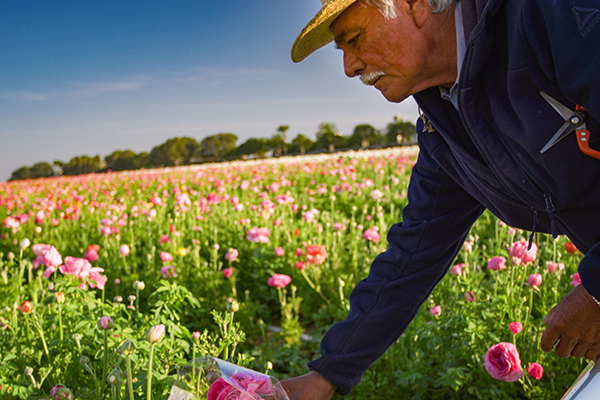 Looking for fun ways to celebrate Earth Day (April 22)? There is a variety of family-friendly Earth Day activities happening both in person and virtually. Take a look at the list of events below and check back periodically for updates! (Photo credit: FlyByPhotograph)
Earth Day Events 2021
The Flower Fields. Revel in the colorful wonders of nature in this floral paradise filled with nearly 50 acres of Giant Tecolote Ranunculus flowers. Through May 9. Pre-purchased tickets only. Visit website to purchase tickets and for more information regarding COVID safety protocol. 5704 Paseo Del Norte, Carlsbad. www.theflowerfields.com
VIRTUAL Backyard Composting Webinar Series. Apr. 6: Build Your Own Traditional Compost Bin, Apr. 13: Starting Your Traditional Compost Pile, Apr. 20: Bokashi & Composting, Apr. 27: Troubleshooting, Harvesting, and Using Traditional Compost. The weekly series will cover how to DIY build your own compost bin, what to add for optimal decomposition, utilizing the bokashi method, and how to harvest and use your finished product. 6–7 pm. Solana Center for Environmental Innovation, 137 N. El Camino Real, Encinitas. Register at www.solanacenter.org.
19th Annual Creek to Bay Cleanup. Get into action this Earth Day by participating in the 19th Annual Creek to Bay Cleanup on Apr. 24. Register to be a part of the largest single-day environmental action event in San Diego County by removing polluting litter and debris from your community. Volunteers of all ages are invited to grab buckets and work gloves and walk your block. Registration begins Apr. 1 at www.cleansd.org/event/creek-to-bay-cleanup.
Kids in the Garden: Earth Day Festival. Apr. 24, 10–11 am. $5. Pre-registration required at This email address is being protected from spambots. You need JavaScript enabled to view it.. Alta Vista Botanical Gardens, 1270 Vale Terrace Dr. www.altavistabotanicalgardens.org
Spring-in to Camping Earth Day. Set up your tent and explore the park at your own pace. Hike the many trails, drop a line to catch a fish, cruise the lake on a motorboat, or simply relax by your campsite, and take in all the natural beauty that Lake Poway offers. Apr. 23-24. 1 pm Fri.-10 am Sat. $26 per car. 14644 Lake Poway Park, Poway. www.poway.org



Find more Earth-friendly activities in San Diego Family's Earth Day Pinterest Board
Find more great activities all month long in San Diego's Best Day-to-Day Calendar.
Updated: March 2021
----------