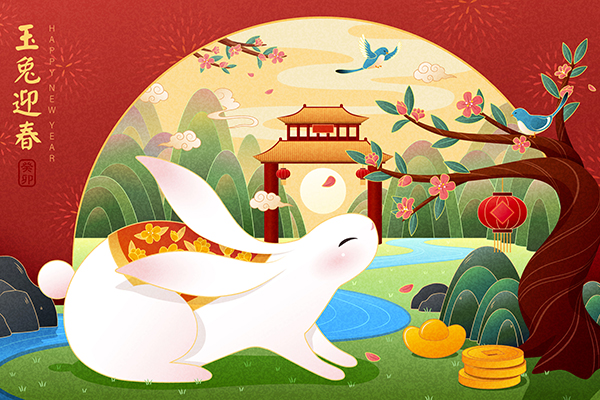 2023 - The Year of the Rabbit
Celebrate Lunar New Year, a festival that begins with the first new moon of the lunar calendar and includes religious ceremonies, family gatherings, traditional dances, fireworks and more.

Events and Themed Activities:
FREE Chinese New Year Festival. Lion dances, ethnic food, cultural performances, crafts and more. Jan. 21 & Jan. 22, 11 am–5 pm. International Cottages, 2191 Pan American Rd. W., Balboa Park. www.chinesenewyearfair.com
FREE 2023 SD Lunar New Year Festival. Folk and traditional performances, arts and cultural exhibitions, lion dances and firecrackers, costume contests, oracle readings, photo opps, kids' activities and more. Jan. 20, 5–10 pm, Jan. 21, 11 am –10 pm and Jan. 22, 11 am – 8 pm. Free admission and parking. All proceeds will be used toward the construction of the Boat People Garden, a community mini-park to be built near the festival's site. Jeremy Henwood Park, 4455 Wightman St., City Heights. www.facebook.com/sandiegolunarnewyear
FREE Crafting Culture: Traditions of the Chinese Lunar New Year. Presented by the San Diego Chinese Historical Museum. Learn the tale of how the Chinese zodiac came to be! We will also discuss the Chinese tradition of having a New Year's Eve dinner, placing a couplet at the door, using firecrackers, and saying auspicious phrases during the Chinese New Year period. Jan. 28, 1-2:30 pm. College-Rolando Library, 6600 Montezuma Rd. https://sandiego.librarymarket.com/event/crafting-culture-traditions-chinese-lunar-new-year
FREE Lunar New Year Lion Dancers. Enjoy an amazing traditional Lion Dancing performance with stunts and music! Jan. 20, 10-11 am. College-Rolando Library. 6600 Montezuma Rd. www.eventbrite.com/e/lunar-new-year-lion-dancers-tickets-483532076457
FREE Celebrate Lunar New Year at the Poway Library. Enjoy fun for the whole family with balloon animals, crafts and entertainment. A special Lion Dancers performance will begin at 3 pm. Jan. 28, 1:30 – 3:30 pm. 13137 Poway Rd.
FREE Lunar New Year AXIS Event. This family-friendly event will celebrate the start of the Year of the Rabbit with cultural performances by local dancers. Jan. 23, 5:30-7:30 pm. The Old Globe's Copley Plaza, Balboa Park. https://www.theoldglobe.org/edp-pages/2023/axis-event-lunar-new-year/
FREE San Diego Chinese New Year Fair. Celebrate the Lunar New Year with traditional and cultural performances, crafts, a lantern parade and more. Feb. 4, 10 am–7 pm & Feb. 5, 10 am–5 pm. Third Ave. & J St., downtown San Diego. www.sdcny.org
Lunar New Year at San Diego Zoo and Safari Park. Guests at both parks will have the opportunity to enjoy a myriad of Lunar New Year activities, including the chance to share their wish for wildlife by hanging it on the wishing tree. Participants are encouraged to pick up a red envelope that includes a special keepsake, or create their own paper cutting—a celebrated tradition during Lunar New Year—making a paper lantern or a pair of rabbit ears. Feb. 4 & 5, 9 am–5 pm. San Diego Zoo, Balboa Park and the San Diego Zoo Safari Park, 15500 San Pasqual Valley Rd., Escondido. Details: sdzwa.org/lunar
FREE Lunar New Year - Lion Dance Performance. Celebrate the new year in the traditional style with an amazing lion dance performance at Pacific Highlands Ranch Village Square. Jan. 21, 10:30-11 am. 13490 Pacific Highlands Ranch Pkwy. www.facebook.com/events/498753525733891/?ref=newsfeed
FREE 38th Annual Lion Dance and Firecracker Show. Jan. 29, 11 am. Vien Dong 4 Supermarket, 5382 University Ave.
FREE Lunar New Year Celebrations at San Diego Public Libraries. Lion dances, storytime, Mandarin language lessons, cultural enrichment, arts and crafts, celebrations and more. For the complete schedule and participating libraries visit www.sandiego.gov/public-library/culture/lunar.
FREE Korean American Heritage & Lunar New Year Celebration. Themed crafts and multiple photo opportunities followed by San Diego Korean American Folk Dance Association performance and San Diego Korean Pungmul Institute performance. Jan. 28, 12-4 pm. Neil Morgan Auditorium, San Diego Central Library. 330 Park Blvd. https://sandiego.librarymarket.com/event/korean-american-heritage-celebration
FREE San Diego Tết Festival (Hội Chợ Tết San Diego). Lion dances, taiko drums, cultural village, carnival rides, kids art contest, Kids Got Talent and more. Jan. 27-29. Mira Mesa Community Park, 8575 New Salem St. www.sdtet.com
FREE Lunar New Year Celebration. Join us for a fantastic presentation about Lunar New Year by the San Diego Chinese Historical Museum! The presentation will last approximately 1 hour followed by a short craft time. Recommended for ages 5-11. No registration necessary. Crafts while supplies last. Jan. 19, 4-5:30 pm. Rancho Bernardo Library, 17110 Bernardo Center Dr. https://sandiego.librarymarket.com/event/lunar-new-year-celebration
FREE Lion Dance Performances at Select San Diego City and County Libraries:
FREE Story Times at Select San Diego Public Libraries.
Just for Fun

Celebrate by making Chinese food at home. Here are delicious recipes for chicken lettuce wraps and fried rice.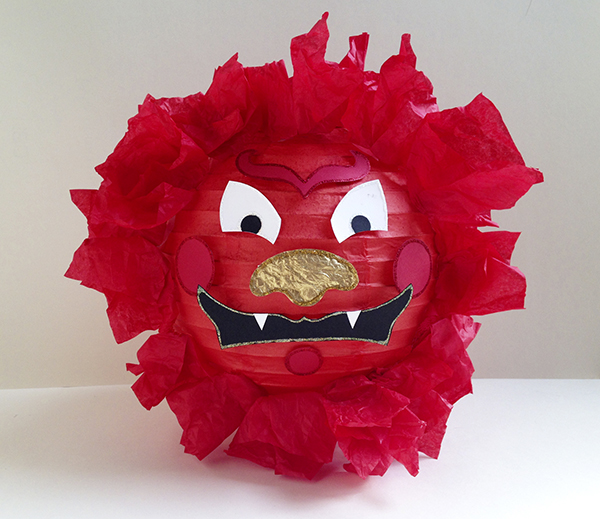 Learn how to make a festive lion lantern for Chinese New Year!
Other Traditions

Firecrackers and fireworks are a traditional and important part of any New Year's festival in China. The loud sounds of firecrackers are believed to scare away bad spirits, ensuring prosperity and good luck in the New Year. Similarly, the colorful lion and dragon dances are believed to frighten away the ferocious monster "Nian," bringing peace and protection in the coming year.

Families and restaurants prepare a special menu to bring good fortune in the New Year. Fish signifies abundance, and chicken represents happiness and a long marriage. Sweets such as sesame balls and tangerines are served to bring prosperity. Making dumplings is a traditional New Year's activity and these scrumptious treats symbolize wealth and good fortune.

Gong Xi Fa Cai! Happy New Year!
---
Updated: January 2023