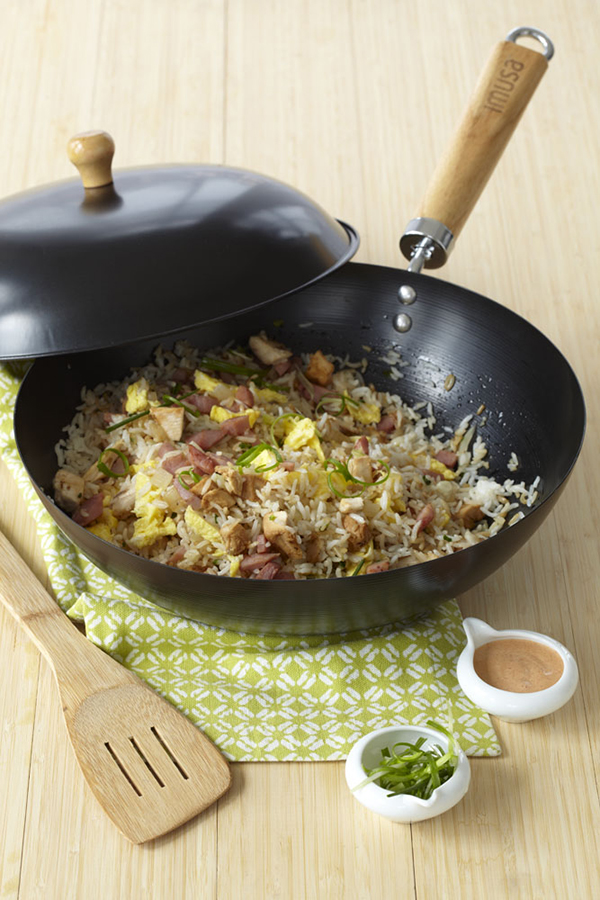 Make kid-friendly fried rice to celebrate Chinese New Year—or any time of the year!

Ingredients
3 tablespoons peanut oil
½ cup sweet white onion (like Vidalia), chopped
3 tablespoons scallions
2 eggs, beaten
1 chicken breast, cooked and diced (store-bought rotisserie chicken saves time)
1/3 cup thick sliced deli ham, diced
5 cups cooked jasmine rice that has been cooled to room temperature
3 tablespoons soy sauce (or more to taste)

Directions
1. Heat wok over medium high heat. Heat peanut oil; add scallions and onions and cook until translucent.
2. Add beaten egg and cook until lightly scrambled. Add chicken and ham.
3. Add rice and stir until all ingredients are well combined and the rice is very hot.
4. Add the soy sauce while stirring.
5. Serve immediately.

----------
Recipe courtesy of IMUSA, a leader in authentic and ethnic cookware. Discover their GlobalKitchen Asia line (featuring woks, dim sum steamers, etc.) at www.imusa.com.