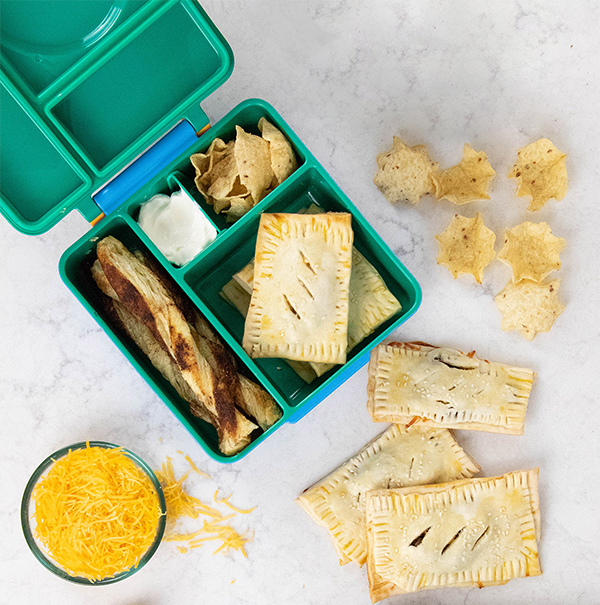 Looking for a creative or unique lunch box idea? Take "tacos" to go with these tasty Taco Pop Tarts! The recipe calls for ground beef and cheese, but feel free to experiment with fillings that appeal to your family. The kids will love this alternative to traditional school lunches.
Makes 12 servings.
INGREDIENTS
4 boxes refrigerated pie crusts (total of 8 pie crusts), at room temperature
1 tbsp Colavita Olive Oil
½ lb. ground beef
½ tsp. chili powder
½ tsp. cumin
½ tsp. onion powder
¼ tsp. garlic powder
½ tsp. oregano
½ tsp. salt
1 tsp. pepper
1 cup frozen corn, thawed
1 cup canned black beans, drained
1 cup shredded cheddar cheese
1 egg, beaten with 1 tbsp. water
DIRECTIONS
Preheat oven to 350 degrees and line two baking sheets with parchment paper.
Working with one crust at a time, unroll onto work surface and cut into six 3" x 4" rectangles. Repeat with remaining crusts; cover with a towel to keep from drying out.
In a large skillet over medium-high heat, heat olive oil until hot, but not smoking. Add beef and cook, breaking it up with a wooden spoon, until completely cooked through (about 10 mins.).
Stir in all seasonings; add corn and beans and cook for 2–3 minutes more. Remove from heat and let cool until warm.
Place six pie crust rectangles on one of your prepared baking sheets.
Top with a spoonful of beef filling, followed by a handful of shredded cheese.
Top with six more crusts and gently press around the edges. Use a fork to crimp and seal; make a few small incisions in the top to allow steam to escape.
Brush with some beaten egg and water. Repeat with remaining crusts and fillings.
Bake for 15–20 minutes or until golden brown. Serve immediately or let cool and freeze for longer storage.
Recipe published with permission from Colavita. Colavita products can be purchased at San Diego retailers such as Whole Foods Market, Albertsons, Sprouts Farmers Market and Ralphs.
____________