It took me six weeks after giving birth to twins to get back to a brewery. Believe me, I wanted to go sooner, but a few things got in the way (mostly two infants). We loved going to breweries before the girls were born, and I still wanted to get out on weekend afternoons after they arrived. The only (admittedly fun) challenge? Finding the right breweries for our family.
So, what makes a brewery family friendly?
Outdoor space—a place where kids can be kids
Welcoming staff
Family-friendly environment (lawn games, koi ponds, etc.)
Good beer and food
Here are my kid-friendly brewery recommendations:
_______________________________________________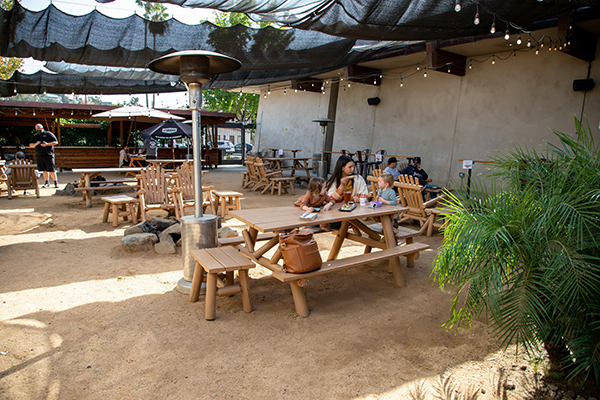 Belching Beaver Tavern & Grill
302 E Broadway, Vista
www.tavern.belchingbeaver.com
The outdoor patio is completely enclosed, which is great for parents of toddlers. Also, there is a kids menu available.
Favorite Bites & Brews
Tater Tot Dam
Hop Stickers
The Homemade Brownie Sundae is delicious.
Brews: "All In" and "Me So Honey"
Insider Tips
Call 15 mins. before arrival to add yourself to the wait list.
The patio has a sandy floor, so the kids will get dirty; dress appropriately.
_______________________________________________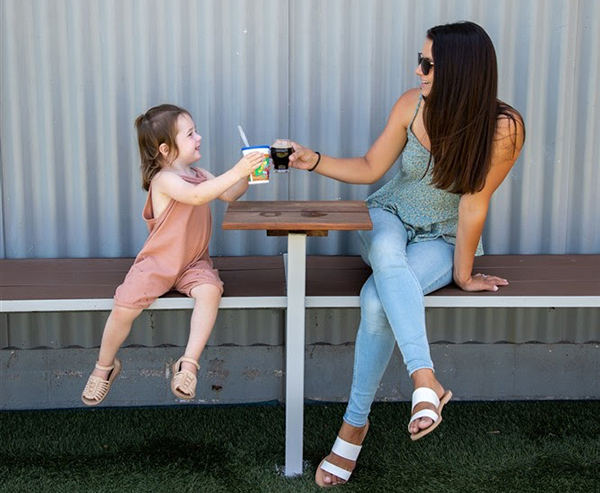 Viewpoint Brewing Co.
2201 San Dieguito Dr., Ste. D, Del Mar
www.viewpointbrewing.com
Great refreshing brews, a menu anyone can find something delicious on, and views overlooking the San Dieguito Lagoon – what else could a brewery need? OH! A fabulous outdoor area for perfect for families! Viewpoint Brewing has been a favorite of ours for a few years, but about a year ago we moved closer to it (coincidence, I think not!) and it's become one of our staples. One of our girls actually took some of her first steps at Viewpoint – what does that say about us?
Favorite Bites & Brews
House Fries – I highly recommend them with the truffle oil.
Fried Chicken Sandwich – Big enough to share.
Big Hat Blonde – Very light and crisp.
Yeast Bound & Brown – Classic English brown with a touch of smoke.
Kollish-Kolsch – a little hoppy but not overwhelmingly so.
Opt for Mac 'n' Cheese on the Starter menu (vs. the kids menu). It's yummier!
Insider Tips
The view of the lagoon is beautiful – if you have energy filled kids upon arrival, do the short walk out to the viewpoint to get some of that energy out!
While the outdoor seating and area for families is perfect – it does open to a walking path that goes pretty far down. If you have a runner, be sure to watch out for the opening and bring a few toys to distract them!
The parking lot is small, but there's a paid lot right next door
_______________________________________________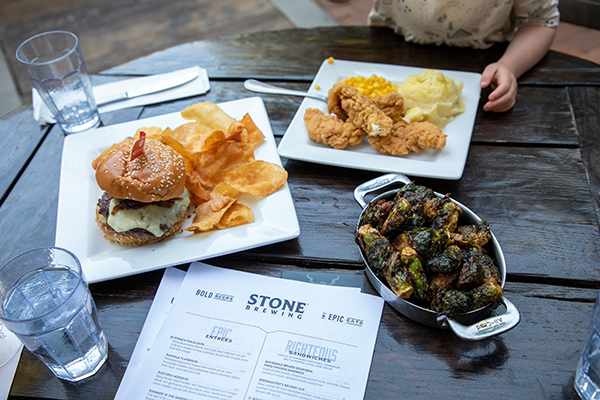 Stone Brewery World Bistro & Gardens
1999 Citracado Pkwy., Escondido
www.stonebrewing.com/visit/bistros/escondido
One of the most beautiful breweries in San Diego is also super family friendly! You'll find koi ponds, little waterfalls, plenty of outdoor seating and lots to explore to keep the kids happy. You really can't beat it—good beer and an outdoor patio to die for. It's always on our list of places to go with visitors.
Favorite Bites & Brews
Charred Brussels Sprouts
Fruity Goat Salad
Stone Buenaveza Salt & Lime Lager pairs nicely with the family-style taco pack.
Insider Tips
Grab a growler on your way out—many beers here aren't found anywhere else.
Pet-friendly patio
_______________________________________________
Duck Foot Brewing Co.
8920 Kenamar Dr., Ste 210, Miramar
www.duckfootbeer.com
This smaller tasting room is great because they have picnic tables and grass out front where kids can be kids. Bring a few toys and let them play while you check out their rotating drafts and food trucks. Since it's on the smaller side, make a reservation.
Favorite Bites & Brews
They have a rotation of food trucks; check social media @DuckFootBeer to see what's cookin'!
The Looker (honey blonde) hits the spot.
Secret Spot is a delicious Hazy IPA – but only have one. It's 7.4 percent!
_______________________________________________
Ballast Point
9045 Carroll Way, Miramar
www.ballastpoint.com
Ballast Point's sprawling indoor/outdoor restaurant (and robust menu) is great for families. The staff is fun and helpful, so be sure to ask for beer and food pairing recommendations.
Favorite Bites & Brews
Duck Nachos – I don't usually like duck, but YUM.
Bruschetta BLT – You had me at balsamic marinated tomatoes.
Signature Flights (four 4 oz. tasters for only $10). I like the California Kolsch, Sculpin, Wahoo White and Victory at Sea.
_______________________________________________
Gravity Heights
9920 Pacific Heights Blvd., Sorrento Valley
www.gravityheights.com
Gravity Heights has plenty of space on the turf or patio to unwind and hang out. The patio has lots of picnic tables and shade from the trees, making it enjoyable even on a hot day. Kids menu is available.
Favorite Bites & Brews
Tikka Masala Chicken Pie
Fried Chicken Sandwich
The "Crisp and Bright" beer flight. I like Sandbar Blonde, Magical Heights Fruited Sour, Take Two Pilsner and Pils D'Oro Italian Style Pilsner.
_______________________________________________
Local mom and San Diego blogger Sandra Page can be found adventuring on Instagram @playdatesandpints. Photo credit: Crystella Photography
____________