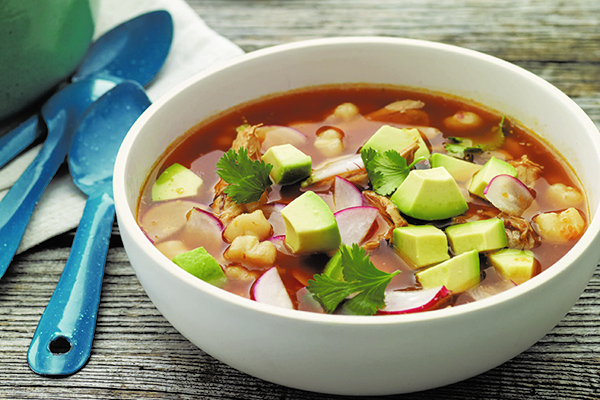 Melissa d'Arabian's Chicken-Chile Pozole

This brothy Mexican soup is chock-full of hominy, mild dried chiles, and shredded chicken or pork. Shredded chicken and mild New Mexico dried red chiles make this soup weeknight and kid-friendly. If you want a spicier version, try adding a dried chipotle chile (or two).

Serves 4
Preparation time: 10 minutes (plus 30 mins. to soak chiles)
Cooking time: 25 minutes

2 dried New Mexico red chiles (or Guajillo chiles, for more heat), stems discarded
1½ cups boiling water
2 garlic cloves, peeled
½ medium white onion, coarsely chopped
2 teaspoons fresh oregano leaves
Juice of 1 lime, plus 1 lime cut into wedges
1 teaspoon kosher salt
4 cups low-sodium chicken broth
2 15-ounce cans white hominy, rinsed and drained
1½ pounds cooked white meat chicken or pork, shredded
½ avocado, pitted and diced
3 radishes, thinly sliced
1 cup fresh cilantro leaves

1. Place the dried chiles in a medium bowl and cover with the boiling water. Cover the bowl with plastic wrap and set the chiles aside to soak for 30 minutes, turning them occasionally to make sure they are completely submerged.

2. Transfer the chiles and their soaking liquid to a blender. Add the garlic, onion, oregano, lime juice and ½ teaspoon of the salt; purée.

3. Pour the chile mixture into a large soup pot and bring to a simmer over medium-high heat. Reduce the heat to medium-low and simmer, stirring occasionally, until the sauce is thick, 15-20 minutes.

4. Stir in the broth and return the mixture to a simmer. Stir in the hominy and the chicken. Season with the remaining ½ teaspoon salt and continue to cook until the chicken and hominy are warmed through, 7-10 minutes.

5. Divide the pozole among four soup bowls and sprinkle with the avocado, radish slices and cilantro. Serve with a lime wedge.

PER SERVING: Calories 463 / Protein 57g / Dietary Fiber 9g / Sugars 1g / Total Fat 11g

----------
Reprinted from Supermarket Healthy: Recipes and Know-How for Eating Well Without Spending a Lot. Copyright © 2014 by Melissa d'Arabian. Photographs © 2014 by Tina Rupp. Published by Clarkson Potter, an imprint of Random House LLC.

Celebrity chef, TV host, best-selling author and San Diego mom Melissa d'Arabian is an expert on affordable and healthy home cooking. Melissa is well-known for her "Ten Dollar Dinners" show and cookbook, and as a judge on Food Network's "Guy's Grocery Games." Her cookbook "Supermarket Healthy" is available at www.melissadarabian.net/books/supermarket-healthy.