Easy Three Kings Cake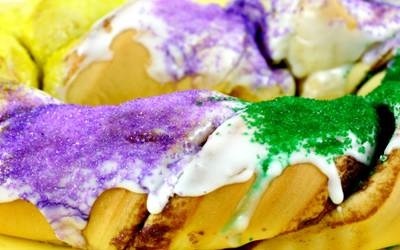 This easy version of Three Kings Cake is a cinnamon-roll ring with icing and sprinkles on top. Don't forget to bake the (bake-safe) plastic baby into the cake!
Makes 8-10 servings
1 (16-oz.) can refrigerator biscuits
1/4 cup melted butter
1/4 cup sugar
1 tablespoon cinnamon
White or cream cheese frosting
Colored sugar or sprinkles
Preheat oven to 325 degrees. Line a cookie sheet with foil to make cleanup easier. Open the biscuits and lay them flat on the foil. Press them into a large circle (about 12 inches) or giant rectangle. Brush the dough with butter, then mix sugar and cinnamon together and sprinkle evenly over dough. Roll the dough into a cylinder and pinch seams as tightly as possible to seal. Shape the cylinder into a circle and join the ends. Bake for 35 minutes. Let cool slightly, then spoon icing over top and let it drip down sides. Decorate top with colored sugar or sprinkles. YUM!