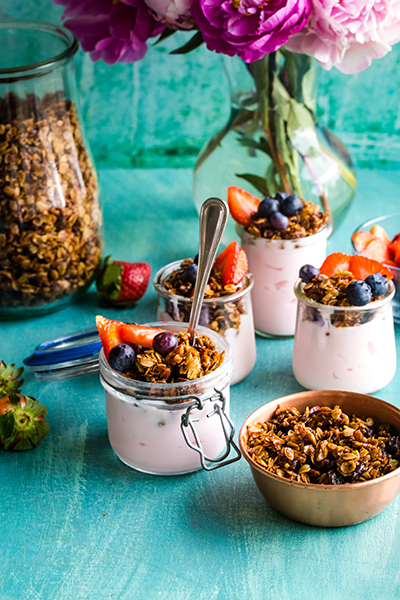 Looking for a healthier snack option for kids? Homemade granola is quick and easy to make, and more wholesome than many store-bought snacks. Bursting with flavor, this granola recipe includes oats, pecans, coconut and honey. One of my favorite ways to eat it is over yogurt and mixed with fresh fruit, which is a nutritious afterschool snack for kids or a delicious breakfast alternative.
Not all granola recipes are equal when it comes to being healthy. That's the great thing about homemade recipes—you get to choose what ingredients to use. Be mindful of refined sugar and other additives in store-bought granola.
This recipe makes a large batch (6 cups) — enough for a week of morning parfaits!
Ingredients
4 cups old fashioned rolled oats
½ cup packed light brown sugar
1 teaspoon kosher salt
½ teaspoon ground cinnamon
½ cup shredded coconut
½ cup chopped pecans
1 cup coconut oil (melted, then measured) or vegetable oil
¾ cup honey
1 cup raisins or other dried fruit, optional
Directions
Preheat oven to 300 degrees.
Grease a large baking sheet or line with parchment paper.
In a bowl, combine oats, brown sugar, salt, cinnamon, coconut and pecans.
In a separate bowl, mix together oil and honey; heat in the microwave for up to 30 seconds or until warm and mix again.
Pour into oat mixture and combine until everything is wet.
Pour onto lined baking sheet and spread out evenly.
Bake for one hour, gently tossing granola every 15 minutes.
When done, remove from oven and sprinkle with raisins, if desired.
Allow to cool completely; then break apart, if necessary.
Store in an airtight container for up to two weeks.
For granola parfaits, sprinkle granola over a bowl of yogurt and top with fresh fruit.
More ideas:
If you like additional seasoning, try adding a dash of nutmeg or ginger to mixture (before baking).
Eat the granola topped with milk or sprinkled over another cereal.
Use granola as a topping for desserts, waffles or pancakes.
Snack on it all by itself!
This recipe and photo were published with permission from Jackie Bruchez, The Seaside Baker.
____________